Political Advocacy Tracker is a roundup of what Christian activist organizations have been talking about over the last week.
Days before the mid-term election, activists are spending millions on advertisements and get-out-the-vote efforts.
CitizenLink is spending $1.5 million on television ads against Kathy Dahlkemper (D-Pennsylvania) and Joe Donnelly (D-Indiana), pro-life Democrats who supported the health care law. CitizenLink is also airing radio ads in 19 other congressional races.
"It's easier to get better pro-family laws if you've got candidates elected who are better pro-family candidates," said Focus on the Family's Tom Minnery. "We try to stay out of the rank partisanship. We are a Christian ministry here. We need to guard our tone. It is not as harsh. Hopefully, it is not harsh at all like some of the nasty ads that can be seen everywhere."
The group teamed up with the Susan B. Anthony List on a television ad against Dahlkemper. The ad states:
The fate of Obamacare came down to a few key votes,
legislation that uses our tax dollars to pay for abortions.
And Kathy Dahlkemper had a choice to make.
Protect life or side with President Obama and Speaker Pelosi.
And she chose them.
Kathy Dahlkemper betrayed you and voted for the biggest expansion of abortion in decades.
Votes have consequences, Congresswoman.
"I'd call it telling the truth about the President's healthcare law," said Minnery.
In contrast, founder of Focus on the Family James Dobson (who now hosts a new radio show called Family Talk) said in a recent newsletter, "At stake are policies that should concern millions of Americans, including federal funding for abortions, amnesty for illegal aliens, open homosexuality in the military, further assaults on religious liberty, and universal health care legislation amounting to rationing and the denial of medical services for older Americans."
Sojourners president Jim Wallis called for an end to negative campaigning (he acknowledged that the call to change was quixotic).
"Give us all a break! We're sick of the attacks, the innuendos, the outright lies, and the prophecies of doom if the other candidate gets elected; and the same commercials over and over again," said Wallis. "What if you took down all your negative ads, stopped the angry and poisonous mailings, cut it out with all of the robocalls, and took all the money you saved and gave it to the poor?"
Other groups have side-stepped specific issues or endorsements in favor of a general push for voters to go to the polls. The Southern Baptist Convention's Ethics & Religious Liberties Commission (ERLC) is concluding its forty days of fasting and prayer for the election by focusing on voter turnout.
The American Center for Law and Justice is also making a get-out-the-vote effort, asking people to sign their "Pledge to Participate," a pledge to vote with specific principles.
"I will exercise my constitutional right to vote and will stand up for freedom of speech, expression, and religion and for a limited government bound by enumerated powers—constitutional principles that have made this country great … past, present, and future," the pledge states.
Culture Wars at the Ballot Box
National politics may be focused on the economy, the national debt, and President Obama, but that doesn't mean that battles don't include culture wars.
The Susan B. Anthony List has mailed 2.3 million pro-life voters in 42 House districts, most where the incumbent is pro-choice. The SBA is also targeting other candidates despite their records of pro-life voting and advocacy, including their vote for the Stupak Amendment (that would have banned federal funding of abortion in the healthcare law) and their co-sponsorship of the "No Taxpayer Funding for Abortion Act."
In Ohio and West Virginia, the National Right to Life Committee is campaigning against pro-life Democrats whose only mark against them was the final healthcare vote. In mass mailings, the NRLC does not mention any other votes, co-sponsorship, or advocacy by Driehaus (OH-1) or Rahall (WV-3). The only abortion-related issue is the passage of the healthcare bill, which was enough for the NRLC to endorse their Republican challengers.
While most of the focus has been on key congressional efforts, the culture war is also being waged in battles over ballot measures.
Colorado voters will decide on the only abortion-related ballot initiative. Amendment 62 would define "person" in the Colorado state constitution to apply "from the beginning of the biological development of that human being." One poll indicates that the amendment is likely to be defeated. Even if it passes, it will likely face an immediate challenge in the courts.
Voters will consider other social issues by going to the polls. Voters in Arizona, Colorado, and Oklahoma will vote on measures that would state that they should not be required to participate in some of the health care reforms passed by Congress. Colorado and Oregon will consider expansion of casino gaming. Oregon, Arizona, and South Dakota voters will also consider legalization of medial marijuana. And in California, an attempt to legalize the possession and sale of marijuana will be put to a vote.
Gay rights and traditional marriage are not on the ballot, but they reflect the key issue in three judicial elections in Iowa. The Iowa Supreme Court legalized same-sex marriage in 2009, and three of the justices are up for renewal. CitizenLink is one of the groups running radio ads against these justices. The justices are not running against opponents; the vote would simply remove them from the bench if they lose.
Related Elsewhere:
Earlier Political Advocacy Trackers are available on our site.
Christianity Today also follows political developments on the politics blog.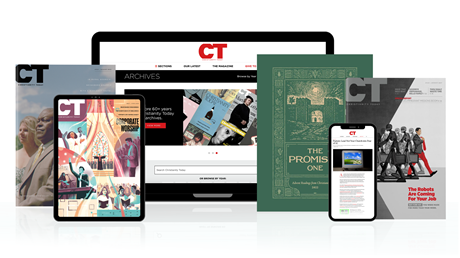 Annual & Monthly subscriptions available.
Print & Digital Issues of CT magazine
Complete access to every article on ChristianityToday.com
Unlimited access to 65+ years of CT's online archives
Member-only special issues
Subscribe
Final Election Push, Plus Extra Push against Health Care Proponents
Final Election Push, Plus Extra Push against ...