Political Advocacy Tracker is a roundup of what Christian activist organizations have been talking about over the last week.
Why Wallis Wore Purple
Recent suicides have sparked a wide media discussion on harassment, bullying, and beliefs about sexuality. On Thursday, President Obama released a video to encourage teens bullied because of their sexual orientation. The video is part of the It Gets Better project, a campaign in which over 2,000 gays, lesbians, and others have posted their statements to teens on YouTube.
"Don't feel like you're in this by yourself," said the President. "Things will get better and more than that: In time you're going to see that your differences are a source of pride and a source of strength."
Faith in Public Life (FPL) has highlighted some of the It Gets Better videos by people of faith, and noted that the It Gets Better project has been criticized because some videos are critical of religion and conservative politics.
"While it's certainly inaccurate to paint people of faith with a broad brush, it is true that many harassers believe they have explicit or implicit religious approval of their actions. When conservative religious leaders pull support from political candidates who apologize for hateful remarks and peddle pseudo-science lies in major newspapers to exculpate their intolerance from blame, it's not hard to see why some might look at religion suspiciously," said FPL's Nick Sementelli.
Sojourners president Jim Wallis argued that it was not enough for religious leaders to condemn all bullying and called for widespread condemnation of anti-gay harassment.
"To paraphrase Christ, if you oppose bullying, what reward will you get? Isn't everybody against it? If all you do is say that you shouldn't harass someone until they kill themselves, are you really doing more than others?" Wallis wrote. "The fact that bullies target gay and lesbian people should mean that Christians give extra attention to protecting and standing up for them. The fact that any community or group of people is regularly the target of harassment and hate means Christians should be on the front line of defense against any who would attack."
On Wednesday, Wallis wore a purple ribbon as part of Spirit Day, a day to raise awareness of those who have taken their lives as a result of bullying based on their sexual orientation.
"I wore purple because I am a follower of Christ," said Wallis.
Focus on the Family president Jim Daly also emphasized the role Christianity does and doesn't play in the recent tragedies.
"To violate the dignity of another person, in any form or fashion, is to contradict the very basis of gospel-centered living," Daly wrote on CNN's Belief blog. "And to suggest that an orthodox understanding of Christianity encourages abuse against homosexuals is a sad misreading of the very tenets of the faith. Unfortunately, professed non-believers are not the only ones prone to misunderstanding and misapplying those tenets. The truth is, some self-described Christians do not act in Christ-like ways toward those who are different than they are. Some think God sets certain behaviors aside as 'super sins'; homosexuality, they believe, is of a higher (or lower) order than adultery or covetousness or lying or gossip; put more generally, they save their harshest judgments for the sins they don't struggle with themselves. That is not biblical Christianity in practice."
Chuck Colson of BreakPoint and Prison Fellowship warned that "the gay lobby may well use this tragedy to try to further its agenda and silence those who oppose them." He condemned bullying and reiterated his call "to refrain from disdainful condemnation of those who yield to sexual immorality."
"First, we must absolutely, positively condemn harassment and bullying in all of their ugly forms," said Colson. "Second, we must absolutely, positively defend biblical morality in a way that rejects condemnation—and invites conversation and conversion."
Family Research Council (FRC) president Tony Perkins agreed. "The Christians and pro-family leaders I know are unanimous in believing that no person, especially a child, should be subjected to verbal or physical harassment or violence—whether because of their sexuality, their religious beliefs, or for any other reason. Such bullying violates the Christian's obligation to love our neighbor as we love ourselves, and receives no support from the pro-family political movement," said Perkins.
Perkins questioned the claim that the suicides were the result of society or traditional sexual beliefs. Instead, he placed blame squarely on gay rights activists.
"Some homosexuals may recognize intuitively that their same-sex attractions are abnormal—yet they have been told by the homosexual movement, and their allies in the media and the educational establishment, that they are 'born gay' and can never change. This—and not society's disapproval—may create a sense of despair that can lead to suicide," Perkins said.
Mike Adams made a similar point on the American Family Association blog. He listed recent cases of Christians on college campuses who have reported being sanctioned or discriminated against for their religious beliefs on sexuality. Adams said none of the eight "Christians who were bullied by gays and gay activists" committed suicide. Adams said they didn't "because they have centered their lives around Jesus Christ, rather than their sexual identity. And no amount of bullying can change my mind about that."
Don't Ask Don't Tell Redux
The military's ban on gays serving openly was overturned and then reinstated, at least for now. Last week, a U.S. District Court found the "Don't Ask, Don't Tell" (DADT) policy unconstitutional and ruled that it be removed immediately. Judge Virginia Phillips did not permit a stay of her decision while the case was being appealed. This week, the Ninth Circuit Court of Appeals put the decision on hold until after it considers an appeal.
FRC's Tony Perkins supported the stay on the decision. "In the middle of two wars, it's wrong to treat the military as a political yo-yo. Every American should find it offensive that Judge Phillips and liberal politicians would use the military to advance their radical social agenda," said Perkins.
Doug Carlson of the Southern Baptist Ethics & Religious Liberty Commission agreed.
"If Congress won't do it, the courts will. That's the brazen attitude of a federal judge who has decided to take military matters into her own hands by throwing out two centuries of military protocol against homosexuals in the armed forces," said Carlson. "With no military experience of her own, she presumes to be better positioned than our officers in harm's way to hand down new military social policy, untried in the more than 200-year history of the U.S. armed forces. This is a dangerous crusade."
Concerned Women for America president Wendy Wright said, "[DADT] is based on convincing evidence that homosexuality is incompatible with the military. This arrogant judge ignored the evidence to impose her ill-informed and biased opinion on our military, endangering the morale, health, and security of our military at a time of war."
Chuck Colson said that regardless of one's opinion on the policy, the decision to change the policy should not be made by the courts. Colson said he fears that it is likely that the Supreme Court will ultimately decide and will find that DADT is unconstitutional.
"How I hope and pray that I am wrong, and that the Supreme Court will decide that the courts have no business pre-empting the debate over the great moral issues of our time," said Colson.
Odds & Ends
• CitizenLink's Chad Hills recounted a political corruption scandal in Alabama that included legislators voting for pro-gambling legislation in exchange for money. "Gambling mixed with politics is toxic," said Hills. "What a shame—such an ugly ending to such promising futures, if only they hadn't touched gambling's tainted money. The lure of gambling money during political campaigns is great, so the character of the people we elect to office must be greater."
• The Liberty Counsel will be back in court today to defend its lawsuit against the new healthcare law. "The Department of Justice has argued that Congress can force everyone to buy insurance in order to make it affordable to all. This socialist mentality would allow Congress to nationalize anything on the assumption that all must pay in order to make the object of regulation affordable to all. The power of the federal government to regulate has limits. This healthcare law is far beyond those limits," said the Liberty Counsel's Mathew Staver.
• According to a poll of the National Association of Evangelicals (NAE) large board of directors, 48 percent have personally met with at least one of their senators or representatives. NAE president Leith Anderson said, "Some may say the motivation is primarily political persuasion. I think it is primarily good Christian citizenship."
Related Elsewhere:
Earlier Political Advocacy Trackers are available on our site.
Christianity Today also follows political developments on the politics blog.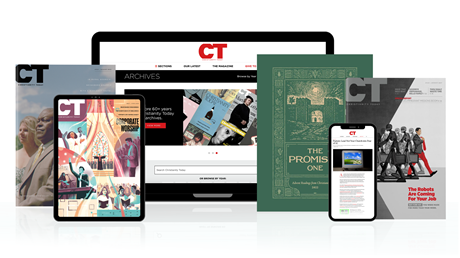 Annual & Monthly subscriptions available.
Print & Digital Issues of CT magazine
Complete access to every article on ChristianityToday.com
Unlimited access to 65+ years of CT's online archives
Member-only special issues
Subscribe
Bullying Blame
Bullying Blame