NFL quarterback Brett Favre's wife, Deanna Favre, has seen a lot. She chose not to abort their out-of-wedlock baby, she watched her husband battle an alcohol and pain killer addiction, she fought breast cancer, and she has experienced the spotlight again in recent weeks. Brett Favre met with NFL officials on Tuesday over allegations that he sent sexually explicit text messages and pictures to a woman who worked for the New York Jets. Deanna Favre declined to address the allegations against her husband, but she spoke with Christianity Today on how faith has helped her through the current news cycle and during her struggle with breast cancer. Favre also addresses these ideas in her new book called The Cure for the Chronic Life, which she co-authored with Shane Stanford, a pastor who has detailed his experience living with HIV. Favre spoke with Sarah Pulliam Bailey this morning about how her faith has been a central part of her response to her life's struggles.
You've gone through a lot with breast cancer and having a spotlight on your family. What are the appropriate emotional responses to suffering? For instance, can one be angry?
I dealt with that when I lost my brother in October 2004, and four days after I buried my brother, I was diagnosed with breast cancer. I was furious. I had a lot of fear and disappointment, and coming from a strong faith background, I couldn't believe these things could happen to me, to my family. That's what the "chronic life" is. You start to turn inward, and these patterns, despair, and depression cause us to turn inward and focus on ourselves. The message in the book and what we're hoping is to help people turn outward. The focus then is on others.
You wrote about how one of your friends told you, "Sure you have cancer inside your body, but you also have Christ." You wrote, "I will never forget those words. They were simple, to the point and incredibly true." How did your faith shape your response to breast cancer?
I think at that moment I realized, this isn't about me. God obviously didn't give me cancer, but he certainly prepared me for it. I knew there was a bigger plan. I knew that God had a reason, a plan for this, and a reason that I had it. It just opened my eyes, and when I went to my treatments and sat in the waiting room with different women, just watching these women or men going through cancer and treatments. They were sicker than me. They were maybe alone. … I started to notice other people. I also overheard conversations like, "I don't have insurance. What am I going to do, how am I going to pay for this?" There was one shot that you get the day after a treatment. I believe you have to pay up front for that one, and it's like $3,500. I thought, Wow, this is just crazy. When I was younger, I was a single mom, and if I had gotten breast cancer then, I didn't have insurance either. So I decided I would start a foundation to help women who were going through breast cancer without insurance.
How do you cope with suffering as a Christian compared with someone who might not have faith?
I think we always see the way out. Our strength obviously comes from God. We see the better way. People who don't have faith, I think they just get stuck; they don't see a way out. In the book, I hope we can lead those people maybe to Christ. They'll realize there's more to life. There's a better life, and God has a purpose and a plan for them and [can] provide hope.
Your co-author is a Methodist pastor, and you've talked about your Catholic faith. Do you think Protestants deal with pain and suffering differently than Catholics do?
I don't think so. I don't really relate my relationship with Christ to religion. Christ is the church. I'm sure we all deal the same way. We pray and look for guidance and answers [come] through Christ and God through our faith.
You wrote, "It wasn't until my bout with breast cancer that God truly showed me the importance of really responding to the needs of others. And it was during this revelation that I learned that 'response' is a Scriptural method or tool that God uses to move you through your own struggles and to redefine your priorities and life." Do you have specific Scripture passages you use to help you deal with struggles and priorities?
Oh gosh. Right now I have on my fridge Isaiah 41:9-13. I came into [my publicist's] room holding two other Scriptures in my hand: Joshua 1:9 and Luke 9:23-25. Jeremiah 29:11 — I mean, I can go on and on. There are several that I cling to that make me feel better.
What is the role of counseling in all of this? Should someone go see a religious leader or a counselor for their struggles?
Shane should probably answer that because he does counseling.
Shane Stanford: Deanna is a great listener, and she's very humble. Humility is a wonderful tool in being a counselor because your own ego is not involved in it. Whether she's a professional, I know she's a good friend because her friends say that. She meets people where they are. She knows that faith is the magic bullet, I like to say. If you can get people talking in that place and that part of their soul, it opens a whole level of possibilities.
At what point should people seek help?
Shane: As a professional counselor, the first conversation should be with that trusted friend, the person you're in a community with. It is perfectly acceptable to go to counseling immediately. It really is a personal issue in terms of comfort level. If you can talk to someone, whether that's in a professional setting or an accountability setting with a friend, that's what we talk about in the book. We say, no one should try alone, cry alone, or die alone. The point of the book is that left to yourself, you will turn inward. You want to be able to turn outward. That's where God does the most profound work.
With your husband's career, your family has been in the spotlight. Do you think handling suffering would be different if you weren't in the spotlight?
Sometimes it is hard to deal with these issues publicly, losing my brother, the breast cancer. Knowing I was going to lose my hair, knowing that everybody knew I was going to wear a wig. It's difficult to step in a public area and have people looking at you and think, That's the wig. You feel like you're in a fish bowl. As long as you stay true to your faith and who you are, you can get through anything, even the spotlight.
You decided to wait to get married several years after your first child, and you said in your last book, Don't Bet Against Me, "We were always totally against [abortion]," adding that adoption also was not a consideration.Was your Catholic faith a factor in deciding how to handle having your child?
Definitely, faith played a role in [opposing] abortion. I've always heard that growing up. That's just not acceptable. It's just not the answer, in my eyes. I couldn't imagine. I know there are some cases where adoption works for some people. I'm not saying that's a bad choice. I think it's a good thing sometimes. I probably wasn't quite mature enough to raise a child. I was 20 years old. Still, I think I was very able. That was something I wanted to do. I couldn't imagine not having her in my life.
You said it was important for you to have that time before you and Brett got married: "It was my 'life chance' and it gave me the strength and courage to know that, if I needed to, I could make it on my own." How has that changed the way you've responded to things over the years, like your breast cancer or Brett's alcohol and painkiller addiction?
By the time we got married, I was 28. I did have a little more life skill, a little bit of wisdom under my belt. I guess it made me stronger, more independent, and it could've definitely contributed to later things I faced.
You wrote "Yet thankfully, after much prayer, a lot of tough love, and an unbelievable will, Brett kicked both the painkillers and the alcohol. He is, today, the man I first fell in love with and the best father and husband one could imagine. But his journey … our journey … reminds me that all of us are susceptible to the broken places of our soul, and none of us chooses to walk into a shattered life." What do you recommend to women whose husbands struggle with something like addiction to alcohol or painkillers?
A lot of times, they [husbands] won't admit the problem. That's the first step, is getting them to admit the problem. Then it's realizing that it is a disease. It's like cancer or any other disease. You have to treat it that way and you have to get help for it. You can't be an enabler. You have to put your foot down and make sure they are willing to do that. If they continue to stay in that pattern, that's just not a healthy life.
Does your faith differ from your husband's? Is he as serious about faith as you are?
That's a good question. He's been participating in church as long as we've been married. He's not as public as I am. Some people are comfortable talking about their faith, and some people just aren't. Growing up Catholic — he grew up Catholic as well — we didn't stand on the street corner or visit houses like some of the churches in our area. It's more of a personal thing with Catholics. For me, continuing Bible studies, meeting different people who God placed in my life on purpose, brought me out of my shell and helped me communicate more about my faith. Now I'm proud to do that. It gets tough sometimes in the spotlight. This is the reason God had me here. This is my platform.
You've told several of the morning show hosts that you are handling this time through faith. Can you be more specific?
I basically handle every struggle, every day of my life, when I get up in the morning, there's devotion, when I go to bed at night, there's prayer. When I eat, there's prayer. Everything I do is centered on faith. Every struggle I face is handled that way. The many struggles we face don't stop, I'm sure something else will come. Your faith just gets stronger and stronger, and it gets easier to deal with things.
Related Elsewhere:
The Cure for the Chronic Life is available from ChristianBook.com and other book retailers.
CT recently spoke with Max Lucado, who wrote the forward for The Cure for the Chronic Life.
CT also recently spoke with Joni Eareckson Tada about suffering and breast cancer.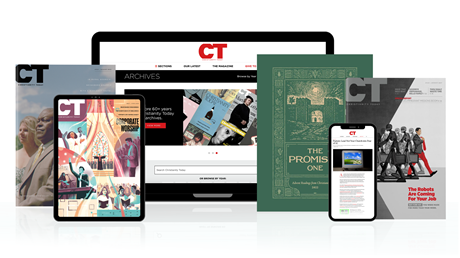 Annual & Monthly subscriptions available.
Print & Digital Issues of CT magazine
Complete access to every article on ChristianityToday.com
Unlimited access to 65+ years of CT's online archives
Member-only special issues
Subscribe
Q&A: Deanna Favre
Q&A: Deanna Favre