The future remains uncertain for North Korea and its Christians following Kim Jong Il's appointment of his son, Kim Jong Un, to the rank of four-star general on Monday and as vice chairman of the Workers Party of Korea's central military commission on Tuesday.
The appointments place the 27-year-old, with no prior military or leadership experience, on what is believed to be the path to be his father's successor.
The rapid succession of Jong Il's youngest son is expected to continue the dynasty that began with the reign of Kim Jong Il's father, Kim Il Sung, who ruled for nearly 50 years. Kim Jong Il took over when his father died of a heart attack in 1994.
Observers remain skeptical about any change the appointment of Jong Il's heir apparent can bring to a county notorious for human rights violations.
"Surely, a person with Western education cannot be as evil and non-caring as Kim Jong Il," said Sam Kim, executive director of the Korean Church Coalition for North Korea Freedom. "[Yet] Kim Jong Un has not earned the true respect from North Korea's communist party leaders to effectively govern North Korea. As such, he will be nothing more than a figurehead and his uncle, Chan Sung Taek, will be the person who is really in control.
"Unfortunately, Chan Sung Taek is just as ruthless as Kim Jong Il," he said. "As such, Christians can expect to face the same level of persecution."
North Korea holds an estimated 150,000 to 200,000 prisoners for political and religious reasons, according to the U.S. State Department's 2009 report on international religious freedom. An estimated 40,000 are religious prisoners treated worse than other inmates, according to the 2010 annual report of the U.S. Commission on International Religious Freedom.
Open Doors, an international ministry that supports and strengthens persecuted Christians, has placed North Korea at the top of its World Watch List of the worst persecutors of Christians for eight years.
In a press release, Open Doors USA president Carl Moeller called for Christians to "pray that the change will be a positive one for the Christians there."
"We need to continue to not only pray, but also advocate for those brave Christians who live under brutal and nightmarish conditions with no basic freedoms," Moeller said.
Those nightmarish conditions include imprisonment and death.
In August, AsiaNews reported North Korean police raided a house in Kuwal-dong in Pyungsung county, Pyongan province, and arrested 23 Christians. The three leaders of the underground church were executed and 20 members were sent to a labor camp.
Norbert Vollertsen, a German doctor and human rights activist who practiced medicine in North Korea from 1999 to 2001,witnessed human rights violations in such camps.
Vollertsen hesitated to speculate about what a leadership change could mean.
"Right after Kim Il Sung passed away and Kim Jong-Il took over, so many foreigners predicted the coming collapse of the [North Korea] regime—and right after Egon Krenz in former East Germany took over the leadership from Erich Honecker, everybody predicted that the [German Democratic Republic] and the Berlin Wall would last forever," Vollertsen wrote in an e-mail. "I would like to not participate in the guessing-game anymore, but rather try to encourage the Christian community worldwide to do something in order to end the dictatorship in North Korea."
Humanitarian groups that work with Christians in North Korea do not expect to see any changes for the first few years after Jong Un's succession.
"In the short run, the succession can be viewed as a bad thing for Christians in North Korea," said Kim. "Borders are likely to be tightened, the activities of the few scattered aid workers will likely be more closely monitored, and many may even be expelled."
Some remain hopeful that Jong Un will be different from his father.
Paul Estabrooks, who wrote a book about North Korea for Open Doors and visited the country in August with a group of North American Christians, is hopeful things will improve given that Jong-Eun was reportedly educated in Switzerland and may have Western influence.
He noted the country, whose capital Pyongyang was once known as the "Jerusalem of the East" but today tops the list of Christian persecutors, is an enigma because of the elaborate church ceremony he and the group were invited to attend in Pyongyang during their visit.
"They have an attitude of wanting a race that is so pure that it is homogeneous," Estabrooks said. "As many as three generations of a family can be in camps for being Christians."
During the visit, Estabrooks was surprised he and the group were able to openly pray and sing, even in the presence of a North Korean colonel.
"We prayed for the country, we prayed for its leaders, and we prayed for our brothers and sisters in Christ."
Related Elsewhere:
Recent Christianity Today articles on North Korea include:
What Robert Park Learned in North Korea | The activist on why he entered the country & what he hopes for now. An exclusive interview. (Aug. 30, 2010)
Feeding Hope Under a Rogue Regime | Christian outreach to North Koreans helps to keep millions from starving. (Aug. 14, 2009)
World's Worst Persecutor | Will U.S. diplomatic shift and Graham visit help Christians? (Nov. 18, 2008)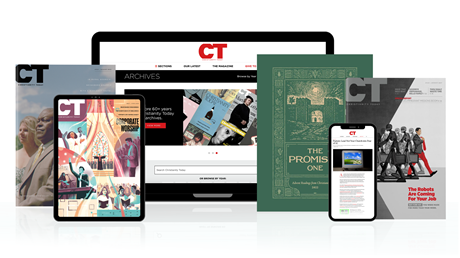 Annual & Monthly subscriptions available.
Print & Digital Issues of CT magazine
Complete access to every article on ChristianityToday.com
Unlimited access to 65+ years of CT's online archives
Member-only special issues
Subscribe
North Korean Christians Unlikely To Fare Better Under New Leader
North Korean Christians Unlikely To Fare Better Under New Leader