I flew into Pyongyang, the capital of North Korea, on June 3, just days after the rogue nation-state had set off a nuclear explosion, conducted missile tests, and declared its truce with South Korea null and void. During my travels, two American journalists were put on trial for infringing on North Korean territory; their conviction and sentence to 12 years imprisonment were announced just after I left.
As a journalist, I never believed the extremely insular Democratic People's Republic of Korea (DPRK) would let me in. For years, Dean Hirsch, president of World Vision International, wanted me to witness his organization's work there. I scoffed. "Do you know how long it takes on the Internet to find out what I do for a living?"
Despite international tensions, North Korea is cautiously open toward a handful of Christian humanitarian groups, including World Vision. A five-person delegation from the relief agency received visas at the North Korean embassy in Beijing and flew to Pyongyang the same day.
Inside the airport, we were required to surrender our cell phones until our departure. Two government minders escorted us to the capital. At our 40-story hotel in central Pyongyang, we saw only a handful of guests. Our first evening, we stood at the hotel door and asked to cross the street for a closer look at a fast food restaurant. Our request was denied.
When we went for a morning walk, minders told us which streets we could walk on and for how long. Photographs and conversations with pedestrians were off limits. We were allowed to visit World Vision projects to ask questions and take photographs.
Legacy of Suffering
At 5 a.m. each morning, loudspeakers throughout Pyongyang began broadcasting music. Two hours later an alarm would sound, and the loudspeakers would switch to a hectoring female voice urging workers to greater effort in the coming workday (so our minders explained), interspersed with short bursts of martial music. This would go on for an hour.
We saw squads of flag wavers greeting workers as they entered their offices, and school bands playing on street corners to cheer their parents on to more diligent work.
The nation's capital city has broad streets but almost no cars. Drab, grey concrete apartment and office blocks dominate the skyline. Most people travel on foot. Men and women dress in conservative Western apparel. There is no litter or graffiti anywhere. Pyongyang's boulevards seem eerily empty.
Propagandistic art is everywhere, on billboards, posters, and murals. Massive statues, towers, and plazas commemorate North Korean identity and achievement, including huge, idealized portraits of Great Leader Kim Il Sung, who died in 1994, his son and present head of state, General Kim Jong Il, and heroic marching workers and soldiers. In Pyongyang, Stalinism has never gone out of style.
In the mid-1990s, catastrophic floods triggered massive crop failure, malnutrition, and starvation; by some estimates, up to 3 million people died. In 1995, World Vision initiated famine relief for North Koreans. Hirsch remembers seeing obvious malnutrition during those early visits. One night, he sat in a hotel restaurant looking out over a completely dark Pyongyang. There was simply no power to light the city.
Negotiations to bring food aid into North Korea were fraught with difficulties. Other American and European agencies include Mercy Corps, Christian Friends of Korea, Global Resources Services, the Eugene Bell Foundation, Samaritan's Purse, and Fida International. Most have been active for a decade or more. Other major aid comes from the United Nations World Food Program, the United States, China, and Japan. North Korea remains unable to produce enough food to feed its 23 million people. But, according to Human Rights Watch, more families are bartering for food in small, private markets that the government tolerates.
Noodles, Politics, and Poverty
In recent years, the North Korean government has become slightly more open to trade, tourism, and outside influence. But its military remains a global threat due to its exportable nuclear capabilities, missile technology, and conventional forces.
The People's Army comprises an estimated 1 million soldiers, with 700,000 positioned near the border with South Korea. Western analysts, including the CIA, believe North Korea's "large-scale military spending draws off resources needed for investment and civilian consumption," according to the CIA's 2008 World Factbook.
Further, North Korea rejects normal accountability measures, so Western aid agencies worry that assistance intended for the poor might be diverted to the military. The government requires American agencies' visits to be planned far in advance, which makes it difficult for them to verify who actually benefits from American aid programs.
Mercy Corps' communications director, Joy Portella, told Christianity Today that as recently as May, her agency was able to visit its projects, which involve fisheries, agriculture, and medical care: "We were encouraged by the progress we found. We look forward to expanding our work in the future." Likewise, Fida International's program director, Olli Pitkanen, reported in an e-mail interview, "Since 2002, I have seen that once we have agreed on the plans with the various parties, the implementation is followed up together, and the aid reaches the needy. This would not be possible without having our staff present in the country."
World Vision's first famine initiative launched seven wet-noodle factories, providing lunches for nurseries and kindergartens. A staple in Asian diets, wet noodles cannot be stockpiled and thus potentially diverted to soldiers.
In 2008, under a U.S. grant, World Vision joined Mercy Corps and other agencies in providing large direct food shipments. But North Korea ended the program in February 2009, even though the agencies had delivered 169,000 metric tons of food to 900,000 people. Today, World Vision International supports small-scale village projects that provide food, clean water, and medical care. And World Vision—South Korea supports two large, technologically complex projects in Pyongyang, one that grows vegetables hydroponically, another that grows seed potatoes.
On our first full day in North Korea, we drove into the countryside to visit Dochi-ri, a village where World Vision has launched a pilot program. The late-spring countryside was beautiful, with fields and rice paddies folded between low green hills. Scores of workers were planting rice and cultivating corn with short-handled hoes. Many fields sported red flags flanking a large poster with slogans aimed at increasing farm production.
As we climbed a narrow road into the hillier country around Dochi-ri, we could see that every inch of ground had been planted. The soil appeared poor and the yields meager, but there was no fallow ground and the fields had no margins. Every effort was being made to grow more food.
World Vision's in-country director, Victor W. C. Hsu, says his agency insists on working in poor villages far from the capital because the most vulnerable children are there and not in Pyongyang, where the Communist elite live.
Our first visit was to an organic fertilizer plant built by World Vision for $278,000. Along with our minders, the local manager and an official from the ministry of agriculture accompanied us. The plant takes chicken manure and corn stalks and turns them into fertilizer. Hsu said that World Vision had not particularly wanted to support a fertilizer plant, preferring a more direct link to local children's health. But officials had made it a first priority. Whenever possible, World Vision cooperates.
We then paid a call to a nearby bakery and soymilk production facility, meant to produce lunches for local schools. World Vision provided the machinery, while the government provided the building and labor. We watched schoolchildren consume the factory's bread and soymilk. These students also had clean water from a new well run by solar pumps, a new school roof, solar panels for power, and new chairs, desks, and blackboards—all part of the aid program.
Most impressive was a gravity-fed water system, which transports spring water from the hills above the village to each home. World Vision water engineer Daniel Folta described the painstaking design process involving careful measurements in the field. (No GPS field measurements were allowed.) Some 600 villagers came out to dig by hand three miles of trenches three feet deep. The system has no pumps or vents and needs almost no maintenance, and Folta believes it will provide clean drinking water for decades.
Is There a Living Church?
Over the years, relations with North Korean leaders have had countless ups and downs. Several times World Vision all but pulled out. I asked Hsu the obvious question:
Why do you do it? Aren't you merely propping up a dictatorial regime?
"I would say that in some ways that is true," Hsu said. "But how can we help children unless we work with this regime?
"We have had reasonable access to the most vulnerable here since 1995. Malnourishment really has slowed. After a dozen years of frustration, headaches, and confrontation, humanitarian principles are better understood in the dprk. That is no small achievement. We have set precedent and benchmarks for the future."
Heidi Linton, executive director of Christian Friends of Korea, speaks of "enormous suspicion leveled against us in the early days. We are in a very different place today. We have people eager to work with us, because of the reality on the ground."
When I asked Hirsch why World Vision persists in North Korea, he said, "I put it under the idea of bearing witness, even in the most hostile environment. You need to leave some God-room. You saw our water engineers. They read the Bible every day in the car. They pray at the worksite."
In sometimes-testy meetings with high-ranking government officials, Hirsch explains World Vision's identity in straightforward terms: "We are Christian, and God loves all the children of the world, including the children of the dprk. That's why we are here—to help the children."
Under such high-security conditions, however, it is impossible to get a sense of a living church. Pyongyang is home to only four churches—two Protestant, one Catholic, and one Orthodox. Western staff members attend worship as often as possible, as do other expatriates, but it is not possible to have private conversations with any of the North Koreans present. No church buildings seem to exist outside the capital.
World Vision's Folta, who learned Korean while growing up in a missionary family, once worked alongside a North Korean man so consistently warm and kind that Folta finally asked him if he followed Jesus.
"No, why do you ask?" the man replied.
But, "even if he were a believer, he wouldn't have told me," Folta told me. North Korea shows no interest in allowing religious freedom. Many groups that do humanitarian work here are Christian. While this work is arduous, it is less so than it was a decade ago. Despite tense international relations, Christian witness endures.
Tim Stafford is a senior writer for Christianity Today.
Related Elsewhere:
Christianity Today has a special section on North Korea, including:
Q & A: Carl Moeller | The president and CEO of Open Doors USA updated CT on North Korea, which the group ranks as the world's worst persecutor of Christians. (April 20, 2009)
Gas-Powered Gospels | Christians in South Korea use helium-filled balloons to spread gospel tracts. (January 22, 2009)
World's Worst Persecutor | Will U.S. diplomatic shift and Graham visit help Christians? (November 18, 2008)
Have something to add about this? See something we missed? Share your feedback here.
Our digital archives are a work in progress. Let us know if corrections need to be made.
This article is from the August 2009 issue.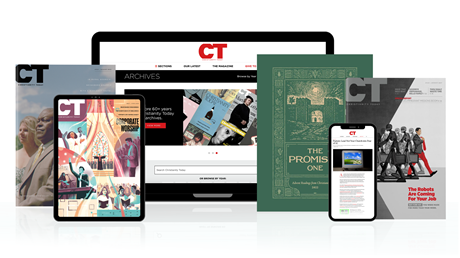 Annual & Monthly subscriptions available.
Print & Digital Issues of CT magazine
Complete access to every article on ChristianityToday.com
Unlimited access to 65+ years of CT's online archives
Member-only special issues
Subscribe
Feeding Hope Under a Rogue Regime
Feeding Hope Under a Rogue Regime