Political Advocacy Tracker is a roundup of what Christian activist organizations have been talking about over the last week.
The Manhattan Declaration is nearly one year old. The ecumenical document now has over 475,000 signatories who affirm that Christians need to take a stand on three issues: sanctity of life, traditional marriage, and religious liberty. Despite the economy, political activists continue to put these issues at the top of their agenda this campaign season.
Sanctity of life got some attention this week as President Obama responded to a question on late-term abortions. "There are a whole host of laws on the books that after a certain period, the interests shift such that you can have some restrictions, for example, on late-term abortions, and appropriately so," he said. (Obama has repeatedly said states can restrict late-term abortions, but has also repeatedly opposed specific legislation on the matter.)
In the same discussion, Obama discussed his faith. "I'm a Christian by choice," Obama said. "I came to my Christian faith later in life and it was because the precepts of Jesus Christ spoke to me in terms of the kind of life that I would want to lead. … We achieve salvation through the grace of God, but what we can do, as flawed as we are, is still see God in other people and do our best to help them find … their own grace. And so that's what I strive to do."
"The man we know as President may be a 'Christian by choice'—but he's far better known as the leader of a movement about 'choice.' And while his salvation may be deeply private, his agenda to advance abortion has been anything but," said Tony Perkins, president of Family Research Council.
"He has a vastly different understanding of biblical truth than I do," Perkins said. "Funneling billions of American dollars to the killers of innocent unborn life—life created by God and in His image—is not an 'expression' of the Christian faith, or most other faiths for that matter. It's a horrifying government-funded massacre."
Abortion may be a top priority for social conservatives, but it was barely mentioned in the Republican leadership's "Pledge to America," the GOP's most recent statement on its agenda.
CitizenLink's Tom Minnery called the Pledge "a good document," even though he would have wanted more on social issues. He was pleased that the document addresses federal funding of abortion. The Republicans said they would make the ban against federal funding of abortion permanent (it is currently voted upon annually) and make the ban against abortion funding in the health care bill law (it is banned through an executive order).
Minnery was less impressed with the Pledge's discussion of marriage, which was limited to a brief listing in the preamble. According to Minnery, "Republicans in Washington are scared of this issue."
Asked why, Minnery responded, "It's an ugly issue. The opponents, the gay activists, will call you hateful, homophobic, rightwing, fanatical. And The Washington Post and The New York Times editorials will call you something less than that, but not much less than that. Although they'll do it more politely."
Minnery said that he would like to see a marriage amendment to the Constitution. "But I have to tell you, even the conservatives in Congress don't have the stomach to put God's definition of marriage in the U.S. Constitution," said Minnery. "That's a fight for a later day, but that fight is coming."
For many conservatives, the battle over gay rights and marriage is an issue of religious liberty, but this week activists from the left, right, and middle joined together to take on the issue of religious liberty head-on. At issue was whether faith-based charities would be permitted to continue religion-based hiring.
A group of charities, colleges, and churches wrote a letter to the Senate which stated that they opposed efforts to "dilute the right of faith-based social service organizations to stay faith-based through their hiring."
The letter said: "We want to continue to serve the poor and victims of injustice—those suffering from famine, the homeless, people trapped in gang-infested communities, chemically-dependent citizens, victims of malaria, earthquake victims in Haiti, those widowed and orphaned by AIDS, among many others. We intend to continue working effectively with government in a constitutionally-sound and proven manner, but only if we can stay faith-based in mission, which means remaining faith-based in those we hire. The law has upheld this balance for nearly half a century."
The letter was spearheaded by World Vision, which recently won a court case on the issue of religion-based hiring. In addition to service providers and other faith-based groups, the signatories hailed from across the political spectrum: Samuel Rodriguez (National Hispanic Christian Leadership Conference),
Jim Wallis (Sojourners), Mark Earley (Prison Fellowship), Richard Land (Southern Baptist Convention's Ethics & Religious Liberty Commission), Jim Daly (Focus on the Family), Ron Sider (Evangelicals for Social Action), and Leith Anderson (National Association of Evangelicals).
"Government should not be in the business of sponsoring religion. This much is clear," Doug Carlson of the ERLC said. "But neither should it trample the right of religious charities that play by the rules to be given equal footing with secular charities that endeavor to carry out the same basic human needs programs."
The Alliance Defense Fund also took on the issue of religious liberty through its third annual "Pulpit Freedom Sunday." The ADF urged pastors to endorse candidates from the pulpit as a kind of double-dog-dare for the IRS to take away their nonprofit status. The ADF believes that if a church were stripped of its not-for-profit status, the courts would overturn the ban on church endorsements.
"The question at stake is: Who should decide what is preached from the pulpit? Government bureaucrats and regulators, or the church and its leadership?" asked ADF president Alan Sears. "True, many churches may not want their pastor addressing political topics—but that's for those members, not outsiders, to decide."
Chuck Colson agreed. He supported Pulpit Freedom Sunday and the possible lawsuits it may involve. "Many Christians have an understandable fear of the overuse of litigation. But that does not prevent Christians from making appropriate use of litigation when warranted," said Colson. "The approach ADF is using is simply the only realistic way to have an unconstitutional IRS rule removed from the books when the IRS won't do it on its own. Far from being a rash project put together by people eager to engage in litigation, this approach has been painstakingly thought out. It is the wisest and most effective course—indeed, the only one that has promise."
Odds & Ends
• Last Friday, Glenn Beck once again spoke about Sojourners president Jim Wallis. Beck warned that Wallis's involvement with policymaking was "dangerous."
"All the preachers that surround the president, they are progressives and they are big government progressives," said Beck. "When you combine church and state, and you take a big government and you combine it with the church, to get people to do the things that the state wants you to do, it always ends in mass death."
Chuck Gutenson, chief operating officer for Sojourners, responded. He criticized Beck's laissez-faire politics and cited the example of progressives in the 19th century.
"They did not let the opponents dissuade them from their sense of calling and their belief that the work they were doing was simply to take seriously the idea that we are not to twist Scripture to be a support to our own self interest, but rather that we are to twist our own self interest until it aligns with God's intentions," said Gutenson. "They did not back down then, and I expect we will not now, regardless of how often the other side deploys its trite and hackneyed comparisons to Hitler."
• Michael Ly wants you to befriend a Muslim. Writing on the New Evangelical Partnership for the Common Good blog, Ly wrote: "I want to encourage you to make a new friend today, a friend that also happens to be Muslim. Jesus says love your neighbor as yourself … and also your enemies! I realize that for many, Muslims in America are viewed as enemies, but for those who view Muslims this way the command is still the same: Love."
Related Elsewhere:
Earlier Political Advocacy Trackers are available on our site.
Christianity Today also follows political developments on the politics blog.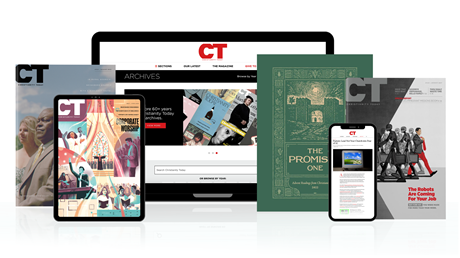 Annual & Monthly subscriptions available.
Print & Digital Issues of CT magazine
Complete access to every article on ChristianityToday.com
Unlimited access to 65+ years of CT's online archives
Member-only special issues
Subscribe
Read These Next
Trending

American Christians Should Stand with Israel under Attack

While we pray for peace, we need moral clarity about this war.

From the Magazine

God's Promises Are Clearest When We Turn Out the Lights

Christians have every reason to reduce light pollution.

Editor's Pick

Don't Miss These African Christmas Hits

Jam out this season to highlife, Afrobeats, jazz, a cappella, R & B, rap, dance, and hip-hop artists from Nigeria, South Africa, and more.
Campaigning for the Manhattan Declaration
Campaigning for the Manhattan Declaration