Political Advocacy Tracker is a roundup of what Christian activist organizations have been talking about over the last week.
Helping Beck Bash Social Justice
Activists responded again to Glenn Beck's criticism of social justice. This time, however, Beck had help from some evangelicals. Jerry Falwell, Jr., chancellor of Liberty University, and Peter Lillback, president of Westminster Theological Seminary, joined Beck's television program on Tuesday.
In March, Beck received national attention for his attacks on churches that promote social justice and on Sojourners president Jim Wallis.
On Tuesday's show, Beck called on church leaders to "stand up for individual rights." Beck, a member of the Church of Jesus Christ of Latter Day Saints, said the gospel is about individual salvation only.
"It's individual salvation. The Lord doesn't call us up, review our salvation and go, 'Ok now hang on just a second. Now serving group number 10!' It's individual. Your church is either for socialist government or the living of the gospel. It's either about God or government. Tonight you're going to find out which is which," said Beck.
Introducing his interview with Falwell and Lillback, Beck said, "I don't care what God it is that you worship or what church you go to. We just need to get back in to correct principles."
Lillback said that "social justice is taking away each individual getting his due … It's liberalism in the cloak of Christianity."
Noting how well Beck helped increased sales of Lillback's recent book Sacred Fire, Lillback told Beck, "I hope your influence will really impact our culture in this area, and that is we need to remember what the scriptures say about justice."
Lillback also encouraged the audience to read and sign the Manhattan Declaration. "If we don't stand boldly for [religious liberty], there will be no real church, no free speech. There will be no 'Glenn Beck' show," Lillback said.
Falwell said that pastors need to be reminded that Jesus taught personal charity. He cited the parable of the talents as evidence that Jesus valued the free market and capitalism. Beck received an honorary doctor of humanities degree from Liberty last week before giving the school's commencement address.
Falwell was not alone this week in referring to Jesus' parable to discuss social justice. The day before the Beck broadcast, the American Family Association's (AFA) Bryan Fischer said the talents parable runs counter to "the worldview of Jim Wallis."
"Bottom line," said Fischer, "Jesus, as much as Wallis will hate to admit it, had capitalism in his DNA."
Efrem Smith wrote on Sojourners' God's Politics Blog that this interpretation of the parable is wrong because it roots the gospel in "individualism and capitalism."
"The church is called to make disciples and to do justice and love mercy," said Smith. "Let the Word of God drive the evangelical church and its theology, not a political talk show host."
Wallis responded to Beck's show with a point-by-point critique. He also said he still welcomed a dialogue with Beck about social justice.
Glenn, this line of attack against the faith community is a wrong one for you. I thought you might have realized that in the flood of responses from so many pastors and church leaders (including your own Mormon church) to your earlier accusations that social justice is "code" for Marxism, socialism, and Nazism. You're wrong, and I thought you were beginning to see that. But I guess I was wrong, as you have gone on the warpath again against the community of faith. This is about our faith, not our politics; and the truth is that your attack is really just about your politics.
Cracks in Immigration Unity
One of the few policy issues that is receiving support from conservatives, moderates, and liberals within evangelicalism is immigration reform.
Last week, the National Association of Evangelicals put an ad in Roll Call, a newspaper read by many on Capitol Hill. The advertisement listed support from evangelical leaders for immigration reform that "respects the God-given dignity of every person; protects the unity of the immediate family; respects the rule of law; guarantees secure national borders; ensures fairness to taxpayers; [and] establishes a path toward legal status and/or citizenship for those who qualify and who wish to become permanent residents."
In a separate document on "just assimilation policy," leaders from the Liberty Counsel, Church of God in Christ, National Hispanic Christian Leadership Conference, The Call to Conscience, and the Southern Baptist Convention's Ethics & Religious Liberty Commission (ERLC) endorsed similar principles for reform.
Some activists are balking at such reforms. They are instead backing the new immigration law in Arizona.
The AFA's Jeremy Wiggins supports Arizona's law and criticized President Obama for speaking out against it. Wiggins said Obama would like to "open the borders up completely, grant amnesty to every illegal immigrant already here, give them a driver's license and health care, and put them on welfare. All while we are paying for it."
The American Center for Law and Justice (ACLJ) is writing a brief supporting the Arizona law, and has formed a Committee to Protect America's Borders. Jay Sekulow said, "We believe Arizona has a right to secure its borders - protect its citizens - something the federal government has repeatedly failed to do. This new law is a sound, constitutional move to secure our borders." Sekulow said the law prohibits racial profiling and supports federal immigration law.
Odds and Ends
• The biggest story in the world of pro-family politics was the surprising resignation of Rep. Mark Souder (R-Indiana), an evangelical and pro-family advocate. Souder had filmed a video on abstinence education policy, where he is interviewed by staff member Tracy Jackson, with whom he had an affair. The only mention of Souder's resignation among pro-family political activists came from Elijah Friedman who provides the "Millennial Perspective" for the AFA. "Sexual sin and other forms of sin can ruin a political career, but more importantly they can ruin a Christian's witness. That is a lesson that we all should take to heart," said Friedman.
• Tuesday was primary day for Pennsylvania, Kentucky, Arkansas, and Oregon. The mishmash of results provided little clarity on how this fall's election may go, but the Family Research Council (FRC) Focus on the Family Action, the 700 Club, and the AFA provided rundowns of the results.
• Tony Campolo criticized the pro-Israel stance held by some evangelicals on Sojourner's blog. "The most serious threats to the well-being of the Palestinians in general, and to the Christian Palestinians in particular, come not from the Jews, but from Christian Zionists here in the United States," said Campolo. He called for a two-state solution that returns the 1967 borders and greater freedom for Palestinians.
• Tony Perkins, president of the FRC, has taken a small step back from his charge last week that Kagan has an "incredibly hostile view of the military." He said this week that Kagan does not oppose the military "simply because they are the military;" instead she opposes the military "because they have not yet bowed to the demands of the militant homosexual movement." Perkins further said that Kagan wants the military to fight terrorism, but her priority is "to use the military to advance the left's radical social policy more." Kagan's Senate hearings will begin on June 28.
Related Elsewhere:
Earlier Political Advocacy Trackers are available on our site.
Christianity Today also follows political developments on the politics blog.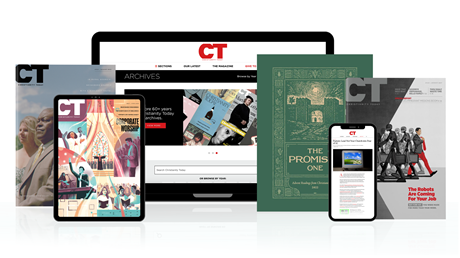 Subscribe to Christianity Today and get access to this article plus 65+ years of archives.
Home delivery of CT magazine
Complete access to articles on ChristianityToday.com
Over 120 years of magazine archives plus full access to all of CT's online archives
Subscribe Now
Glenn Beck's Gospel
Glenn Beck's Gospel