true
The filmmakers behind the Narnia movies, admitting they "made some mistakes" with 2008's Prince Caspian, believe they have righted the ship for The Voyage of the Dawn Treader, coming to theaters in December.
After the first Narnia film, The Lion, The Witch, and The Wardrobe, earned almost $750 million worldwide in 2005, Prince Caspian—a big disappointment to many fans of the beloved books by C. S. Lewis—earned about half as much. Domestically, Caspian made just $141 million, far short of its reported $225 million production budget.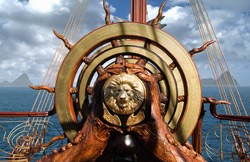 But since then, Walden Media (which produced the first two films) and Disney (which distributed them) have parted ways; Walden is now partnering with 20th Century Fox for distribution. A new director, Michael Apted, replaces Andrew Adamson, who helmed the first two Narnia films (and is a producer for Dawn Treader). Those changes, and a renewed commitment to the message of the books, have filmmakers optimistic.
"We made some mistakes with Prince Caspian, and I don't want to make them again," said Mark Johnson, a producer on all of the Narnia films. He said Caspian lacked some of the "wonder and magic of Narnia," was "a little bit too rough" for families, and too much of a "boys' action movie." He said it's "very important" that filmmakers regain that magic for Dawn Treader, now in the editing stages—and he's convinced they've found it: "I want to climb on the rooftops and say we have a wonderful Narnia movie."
Johnson and execs from Fox and Walden did the next best thing, inviting 100 Christian leaders to a "Narnia Summit" held Feb. 16-18 in Los Angeles, where they showed clips from Dawn Treader and went through the entire script. Apted was flown in from London to join producers Johnson, Micheal Flaherty, and Douglas Gresham for the presentation to an audience of Narnia fans—potentially their biggest critics.
Invitees included representatives from big churches (including Tim Keller of New York's Redeemer Presbyterian and Mark Brewer of Bel Air Presbyterian), parachurch organizations (like Young Life, Focus on the Family, and Youth for Christ), publishing companies (Relevant and Group among them), Lewis experts (like Stan Mattson of the C. S. Lewis Foundation), and online fan sites (NarniaWeb, Narnia Fans).
"You could call it the world's largest accountability group, so we were definitely nervous," said Flaherty, president of Walden Media. "We had folks with an encyclopedic knowledge of C. S. Lewis and the Narnia books. But we went through every line of dialogue and every scene with them to make sure it was a really faithful adaptation."
Looks 'very compelling'
The verdict? Decidedly thumbs up, according to those attendees we spoke with.
"What we saw on film, and some of the behind-the-scenes stuff, was pretty exciting," said Steve Bell, executive vice president of the Willow Creek Association, who attended with wife Valerie. "It looks very compelling, a nice treatment.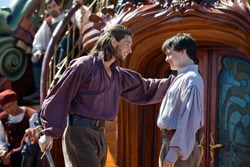 "There seems to be a high level of respect for the material. My sense was that they really want to go to the authenticity of C. S. Lewis, maybe more so than ever. They're very aware that they have to turn the corner from Prince Caspian. They know that the ball got dropped, and they're trying to recapture that momentum."
"They're clearly making an effort to say that they respect and understand the spiritual focus of the book in a way that perhaps [Prince Caspian] did not," added author Philip Yancey, who attended with wife Janet. "They don't seem to be cutting any corners; they're throwing the whole ball of wax at this, and that's a good thing. If they can capture the universal love for these books, it'll be great."
Kathy Keller, wife of Redeemer Presbyterian senior pastor Tim, arguably has the most personal ties to Narnia of the invitees: She corresponded with Lewis in her young teens (four of his replies are printed in C. S. Lewis' Letters to Children), became a Christian solely as a result of reading Lewis, wrote her college thesis on "C. S. Lewis' Mythopoetic Understanding of Literature," and today regards the author "as my personal mentor, my touchstone for clear and effective writing, and my private possession."
(Editor's note: Some of the rest of this story includes mild spoilers if you haven't read Voyage of the Dawn Treader.)
What they need to get right
Keller is most concerned "that they get Aslan right" in Dawn Treader, and says she was mostly satisfied with what she saw and heard. "I'm glad the final interaction between Aslan and Lucy was there in its unadulterated entirety, because I consider that the pinnacle of the entire seven books." (Near the end of book, Lucy is sad that Aslan is sending her back to her world, and sobs, "How can we live, never meeting you?" Aslan assures Lucy that he's very much in her world, where he has "another name. You must learn to know me by that name. This was the very reason why you were brought to Narnia, that by knowing me here for a little, you may know me better there.")
Jerry Root, a Lewis expert and a professor at Wheaton College, agrees with Keller, saying if they don't get that scene right, "they might as well close up the shop and produce no more films, for they will not be Lewis' stories any more."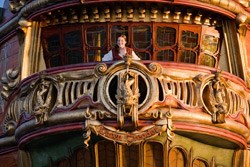 Keller says that they got another critical scene right: The "un-dragoning" of Eustace, which many consider the highlight of the story. (In the book, the selfish boy Eustace turns into a dragon due to his greed; it is only through confession and penitence, and the Christ figure Aslan's help, that he is able to shed the dragon skin and become human again.) Keller says she learned that writers originally wanted Eustace, still in dragon form, to fight a sea monster and "earn" his return to human form. But she says Flaherty, a committed Christian, "put them straight that you don't earn grace, you receive it once you are humbled and aware of your need."
Flaherty told CT, "This book is the most theological of them all. There are more complex themes, particularly grace, that aren't easy to get right [in a movie]. We must've spent an entire day talking about grace, and the importance of showing that it can't be earned; it has to be given. This is something that Eustace can't do on his own; he has to ask Aslan to do it for him. I think it's a really powerful illustration of grace."
Can an agnostic director "get" it?
But Keller and others aren't entirely without their concerns. One was the curious decision to hire a professing agnostic, Apted, to direct the film. Though Apted's professional credentials were never in doubt—he has helmed a James Bond movie (The World Is Not Enough) a critically acclaimed documentary series (Seven Up through 49 Up), and several biopics (Coal Miner's Daughter, Gorillas in the Mist, and Amazing Grace, the story of British abolitionist William Wilberforce)—some wondered if his agnosticism would prevent him from "getting" the spiritual and theological meat of the books.
Media analyst Mark Joseph, who did not attend the Narnia event but has closely followed the films, wrote in an online essay, "Saving Narnia," that the choice of Apted "compounded" the problems born in Prince Caspian. Joseph wrote that Apted showed that he was "out of touch with the types of fans who made up Narnia's base when he seemed to brag to reporters about gutting Amazing Grace … of its religion." Joseph wondered, "Does the director of a film with religious themes have to share those beliefs? Not necessarily. But just as the openly gay Gus Van Sant was a smart choice to direct Milk, a film about an openly gay man, as opposed to, say Clint Eastwood or Mel Gibson, so it's probably just common sense that films such as Narnia or Amazing Grace are best directed by people who at the very least aren't ashamed of their religious heritage, or seem to exult in stripping the religion out of faith-based stories."
Flaherty addressed that concern: "Can an agnostic director get the deeper meanings of the book? The answer is yes, because this agnostic did. Our interest was always to find the best director, and without a doubt, Michael Apted was the best director for this."
Johnson, who has produced more than 50 films (Rain Man, The Notebook, The Rookie) added, "My experience in movies—whether it's about theological, political, racial, or national concerns—is that often you get the most original perspective and the most faithful embracing of themes through somebody who on paper probably isn't the right person. I've worked with directors who at first glance are perhaps not the right person for the material, and they end up revealing the material in a way that somebody who would've been more likely could not. Michael Apted absolutely delivered, and I believe was able to very faithfully translate the book into film."
Michael Ward, author of Planet Narnia: the Seven Heavens in the Imagination of C. S. Lewis (Oxford University Press), said, "I think an agnostic or for that matter an atheist could do a good job adapting the book, since the requirements are literary sensitivity, sympathetic imagination, and aesthetic judgment, not commitment to Christ. The vital thing is that he immerses himself in the book, and maybe even some of the better literary criticism about the book, and resolves to be faithful to its spirit."
"It's curious to me that [Apted] was attracted to this story," added Yancey, "but it's not that he can't make a great film. I think at that level of craft, they're able to kind of 'assume the form' and work within it, whether they believe it or not."
Apted himself was not available to be interviewed at this time.
Keller had another concern about the scripting of Dawn Treader.
"I was less than enthusiastic about the imposition of an invented quest to recover the seven swords of the seven lords to undo some evil magic of a new witch," she said. "It is a fairly innocuous addition, but as a purist I would have been happier without it." (CT has since learned from Walden that the "new witch" is not in the final version of the film, but was scrapped during script discussions.)
Problems with
LWW, Caspian
Purists, whom some have jokingly called "the Narnia police," had minor issues with The Lion, The Witch, and The Wardrobe, and major issues with Prince Caspian.
"In LWW," said Ward, "the death and resurrection of Aslan was ruined, because it was intercut with another scene showing preparations for a battle. In the book the battle is short and heard about mostly in retrospect. The climax of the book is the grand coronation, not the battle, but the filmmakers went to town with the battle, dragging it out, introducing polar bears and rhinoceroses to show their CGI capabilities, and then relegated the coronation to a minor epilogue-like moment. This completely unbalanced the feel of the tale.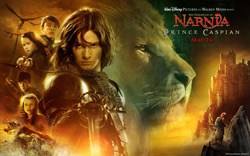 "In Caspian, they didn't understand that the story is very largely about what constitutes true chivalrous behavior. All the teenage angst between Peter and Caspian was completely off-key.The overblown siege of the castle, introduced into the middle of the film, made it feel like Lord-of-the-Rings-lite. The director didn't seem to understand that Lewis' books have their own integrity and their own very precise internal logic, which is different from that of Tolkien's saga. Narnia is not simply Middle Earth for preteens. It is its own carefully constructed world—a more delicately and artistically imagined world, and therefore needs to be handled with greater sensitivity. Alas, I thought [director] Andrew Adamson was mostly tone-deaf when it came to these two adaptations."
Root added, "The worst element in Prince Caspian was when Lucy sees Aslan for the first time on her return to Narnia. In the book she exclaims, 'Aslan, you're bigger!' Aslan responds, 'I am not. But every year you grow, you will find me bigger.' In the movie, this was seriously compromised to, 'Aslan, you've grown!' Aslan replies, 'Every year you grow, so shall I.' It is a horrible compromise of Lewis and really bad theology."
But Root says he also found much to like in the first two films, and says he has "high hopes" for Dawn Treader: "While I haven't agreed with everything that has been done so far with the films, I have largely been appreciative of the effort and for the most part I have enjoyed them. Whenever Hollywood makes a Christian-friendly film, I am encouraged. Furthermore, if someone's first exposure to Lewis' work is through a film and that drives them back to the literature, I am pleased."
* * *
The Voyage of the Dawn Treader opens Dec. 10, 2010. See our coverage of the first two Narnia films, The Lion, The Witch, and The Wardrobe and Prince Caspian. Also see our profile of Philip Anschutz, the billionaire behind Walden Media and these films.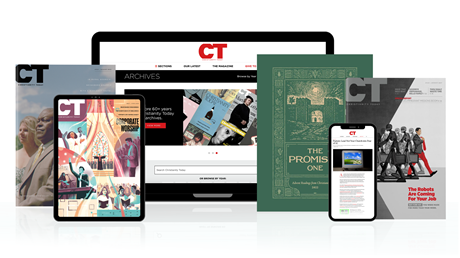 Annual & Monthly subscriptions available.
Print & Digital Issues of CT magazine
Complete access to every article on ChristianityToday.com
Unlimited access to 65+ years of CT's online archives
Member-only special issues
Subscribe
Will 'The Dawn Treader' Float?
Will 'The Dawn Treader' Float?