Thanks to both faithful readers and stumble-upon visitors of the CT women's blog for making March a very successful month so far! We reviewed three new books that opened up important discussion about gender-based education, the toxic cosmetics industry, and race-based injustice in American history. We also heard from a number of new Her.meneutics bloggers, including Ellen Painter Dollar, Amy Julia Becker, and Michelle van Loon. And, of course, Joni Eareckson Tada's concerns about the now-passed health care bill got a lot of attention.
Stay tuned to Her.meneutics this spring as we talk to Nashville-based counselor Marnie Ferree about female sex addiction, review a forthcoming book on Jane Austen's Christian faith, and ask whether plus-size models are any better than rail-thin models. And if there are topics you'd like to see us cover, e-mail editors Katelyn Beaty (kbeaty[at]christianitytoday.com) or Sarah Pulliam Bailey (spulliam[at]christianitytoday.com).
(10) A Black Maid's Expose, by Sarah Pulliam Bailey // Comments: 10
First-time novelist Kathryn Stockett's The Help uses compelling narrative to illustrate the power of truth telling.
(9) Citing Modesty, Two Women Refuse Full-Body Scans, by Katelyn Beaty // Comments: 15
Pope Benedict and Muslim scholars have warned that the scanners—slated for major U.S. airports—violate principles of human dignity and chastity.
(8) Eliminating Suffering or Eliminating People? by Amy Julia Becker // Comments: 10
When genetic testing threatens our common humanity.
(7) Gay Marriage Leads D.C. Archbishop to End Foster Care Program, by Julia Duin // Comments: 64
Catholic Charities has given its caseload of 43 children, 35 foster families, and 7 staff members to a Maryland-based family-care agency so as not to disrupt client care.
(6) Pregnant Olympians Are Not "Selfish," by Caryn Rivadeneira, guest blogger // Comments: 10
Women like Kristie Moore show that parenting well and taking healthy risks are not mutually exclusive—especially when taking risks means obeying God.
(5) Lead in Your Lipstick, Carcinogens in Your Hair Color, by Stephanie Krzywonos, guest blogger // Comments: 12
Most of the personal care products you use every day are damaging your health, argues Samuel Epstein in Toxic Beauty.
(4) Why Boys Are Failing in the Classroom, by Michelle van Loon, guest blogger // Comments: 10
The author of Why Boys Fail says females now have an unfair academic advantage in most schools—and that the pendulum needs to swing back.
(3) "Why Don't You Just Adopt?" by Ellen Painter Dollar, guest blogger // Comments: 19
The frequent question assumes that adoption is both easy and morally superior.
(2) Health Care Bill Concerns, by Joni Eareckson Tada, Religion News Service // Comments: 58
Protecting the least among us in health care reform.
(1) Are Chick Flicks "Emotional Porn"? by Laura Leonard // Comments: 26
It depends on how you view them.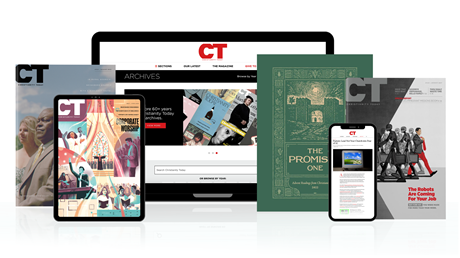 Annual & Monthly subscriptions available.
Print & Digital Issues of CT magazine
Complete access to every article on ChristianityToday.com
Unlimited access to 65+ years of CT's online archives
Member-only special issues
Subscribe
Top 10 Posts of the Past 30 Days
Top 10 Posts of the Past 30 Days