true
Despite the film's name, The Last Song—which opens this week—marks several firsts for bestselling author Nicholas Sparks. A number of his novels have been adapted into movies, including The Notebook, Message in a Bottle, and A Walk to Remember, but this is the first time Sparks has written the screenplay himself. It's also the first of his 15 published works to make it to the big screen within the first year of publication, and the first time he's written a story with a particular actor in mind—in this case, Miley Cyrus.
For all these milestones, Sparks says he's most excited about the themes in The Last Song, a film that focuses on an estranged father and his teenage daughter, and the summer they spend trying to reconnect. "You've got faith, forgiveness, family," Sparks explains. "If you get it just right, these are themes that touch viewers, because they recognize them in their own lives."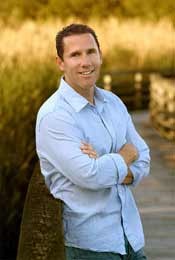 These themes also reflect Sparks's Christian beliefs. "Nobody's perfect, except for Jesus. So if nobody's perfect, then everyone needs forgiveness for something they've done in the past," explains Sparks, who co-founded a Christian school with his wife and a friend, and calls his faith "fairly strong."
"This story taps into the fact that there's a universal need to be forgiven because you want to feel accepted, understood, and loved. It's the idea that, 'I'm not perfect, but from this moment forward I'm going to try my best to be better. I know I'm doomed to failure, but darn it, I'm going to try.' These struggles are universal. And that's what I try to write: stories that are universal."
The Miley Factor
While the universal themes in The Last Song are familiar territory for the bestselling novelist, the path to penning these themes was a bit unusual for him. The genesis of The Last Song was a conversation Sparks had with producer Jennifer Gibgot. She was looking for a film that would provide Miley Cyrus a more dramatic role than her wildly popular Hannah Montana character.
Cyrus was a big fan of Sparks' previous novels-turned-films The Notebook and A Walk to Remember and was hoping to star in something similar. "His work has great, positive messages," Cyrus says. "To me, the best thing is that kids love it, but it's also mature enough to appeal to adults. It's unusual to find that kind of balance." And for the singer/actress who's made a name for herself with a young fan base and is quickly approaching adulthood (she turns 18 in November), that balance is important.
"We've been planning when the transition would take place, when I would leave Hannah Montana behind and do something else," Cyrus says. "I have to be careful that I don't lose the Miley Cyrus factor by doing other characters. But I also want to extend my audience and give myself new challenges and not be the same character over and over."
So she met with Sparks several times to discuss her role in The Last Song, sharing specific desires for the character. The result is Ronnie Miller, a recent high school grad whose parents are divorced, who's recently gotten in trouble with the law, and who, in her fog of teenage angst, has given up on her talents at the piano and her plans to attend Julliard. At the outset of the film she's been forced to leave her home in New York City to spend the summer (along with her younger brother) with her estranged father in his small Southern beach town.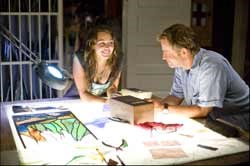 "Both the screenplay and the novel were written with Miley very much in mind," Sparks says. "But I write to write a great story and I had to balance those things. The finished product is definitely not a Hannah Montana movie. It's an ensemble piece with a talented cast that will appeal to audiences of all ages. Ronnie is a really compelling female character going through things that a lot of teenagers are going through. She's forced to really grow and mature through the course of the film."
Family Dynamics
While part of that growing and maturing includes a romantic relationship with a local boy named Will (played by Australian TV star Liam Hemsworth, with whom Cyrus has been linked romantically off screen), the crux of The Last Song is actually the father-daughter relationship. At the beginning of the film, Ronnie and Steve haven't spoken for three years, ever since Steve left the family. But now their close quarters in Steve's cottage by the ocean and their shared love of music starts to melt that animosity.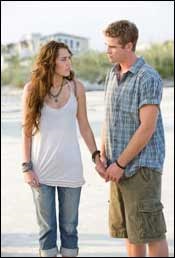 It's this parent-child dynamic that attracted director Julie Ann Robinson, who makes her big-screen debut with The Last Song. "My response to the material was greatly affected by the fact that I'm a parent," explains Robinson, mom to two sons, ages five and 18 months. "You see parents making mistakes in this film. When you are a child, you expect your parents to be perfect, and when you're a parent, you realize you are just a person and you do make mistakes. That strand of the story really resonated with me and I think everyone will understand and relate to it."
Robinson, whose previous credits include several critically acclaimed BBC television movies and American television episodes of Grey's Anatomy and Pushing Daisies, was brought in at least in part for her ability to "walk the line between drama and melodrama," according to Sparks. Robinson says she was drawn by a script that made her cry. "I'm a sucker for a great story, and this is a great story," Robinson explains. "A friend of mine called Nick 'an architect of emotion.' I think that's a nice way of putting it. He really understands the way people feel and think."
Greg Kinnear, who plays Ronnie's dad Steve, also appreciated the emotional and familial bonds in the movie: "Nicholas Sparks has an incredible sensitivity toward families. He's written an interesting story about people who at the onset seem to have very little chance of connecting. In the end, not everything is tied up in a perfect bow—which is a lot like real life."
Faith and Film
While The Last Song the movie focuses largely on Ronnie's story arc, The Last Song the book (which Sparks wrote after the screenplay) spends more time on Steve's journey—especially his spiritual journey.
In the book, Steve is broken and lost after his divorce and after his fledgling music career dries up. He returns to his hometown—Wrightsville Beach, North Carolina—to regroup. Through continuous conversations with his pastor, frequent reading of his Bible, and long conversations with God, Steve returns to the Christian faith of his youth. Hardly any of this is in the movie.
"I really wish I could have put more of Steve's journey in the film, but I just didn't know how to do that," explains Sparks. "His journey in the book was largely introspective, and it's very difficult to film introspection. And it's tough to capture a spiritual journey without becoming heavy-handed."
Sparks says the spiritual touches are still there in the light shining through the stained glass window and in Ronnie playing Steve's song in church. He admits the faith themes are very subtle. "But sometimes I think the best messages are the ones that are subtle," he adds.
Perhaps the biggest testament to Sparks's faith is what's not in The Last Song. When asked how his faith impacts his storytelling, he responds, "There are certain things I don't write about. I don't generally use a lot of profanity in my novels. I don't write about teenagers going all the way. I know it happens, but I don't write that. I don't write about adultery. I don't shy away from faith if it's intrinsic to the story. Where do these boundaries come from? My morality. And where does that come from? My faith."
Sparks also explains that he's not the only one shaping his stories for the big screen, even when he's the one writing the screenplay. "The simple fact is that I'm not an island. Other people are involved—directors, actors, studio execs. Everyone wants to put in what they think is important for the film. So some things get changed. It's just the nature of the beast."
Still, Sparks, who's created a successful brand of fairly clean stories, says he gets very little push-back when he writes about matters of faith. "It all comes down to loving God and loving your neighbor as yourself. That's what I mean when I talk about faith and when I write about faith. I don't care if you're Jewish or atheist, most people agree with the second part of that statement—about loving others as yourself. So I get very little push-back."
And at least with The Last Song, Sparks got the last word. As soon as he finished his draft of the screenplay, he set to work on the book, which debuted at number one on the New York Times and USA Today best-seller lists. "I got my shot in the novel," he says with a smile.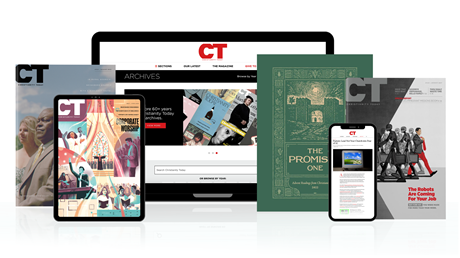 Annual & Monthly subscriptions available.
Print & Digital Issues of CT magazine
Complete access to every article on ChristianityToday.com
Unlimited access to 65+ years of CT's online archives
Member-only special issues
Subscribe
'Everyone Needs Forgiveness'
'Everyone Needs Forgiveness'