true
The Last Song is a Nicholas Sparks story, which tells you several key things about the film: Two unlikely people will fall in love. Someone will heal from a past hurt. A key character will die. And this will all transpire in a lovely waterfront locale. (See The Notebook, Message in a Bottle, A Walk to Remember, Nights in Rodanthe, and Dear John for previous examples.)
In The Last Song, the locale is a small Southern beach town, where divorced single mom Kim Miller (Kelly Preston) is dropping off her two kids at dad Steve's (Greg Kinnear) place for the summer. The kids are Ronnie (Miley Cyrus), an angry and rebellious recent high school grad, and Jonah (Bobby Coleman), her happy and quirky little brother.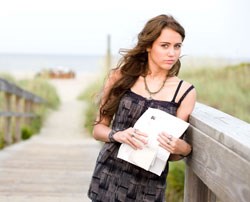 While Jonah is thrilled to spend a summer with his dad exploring the beach, flying kites, and building a stained glass window together, Ronnie is angry that she's been torn from her home in New York City and forced to spend a summer with her estranged father. While she feels he "bailed" on the family when her parents split, she in turn has bailed on their shared love of the piano. Once on track to attend Julliard, Ronnie is now set on a music-less future adrift in her personal sea of teenage angst.
When Ronnie meets a fellow black-clad, pierced girl with the lovely nickname Blaze (Carly Chaikin), she begins to think the summer just might be bearable. They hang out sharing sullen looks at the Shiny, Happy Beach People and stay out late with Blaze's scum of a boyfriend. All the while Steve and Jonah enjoy their Summer of Americana Fun.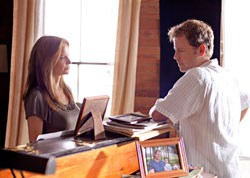 But then Ronnie warms to the advances of Will (Liam Hemsworth), the beach volleyball-playing mechanic she initially despised for being too hunky and happy. When Ronnie's aversion finally turns to adoration, they share the rest of the summer seemingly posing for Norman Rockwell paintings—singing in Will's pickup together, lazing in the sun on the pier together, carving their initials in a tree together, guarding the batch of sea turtle eggs they find behind her dad's house. Together. It's all very sweet and chaste and sickening (if you're under the age of 17 you can probably drop that last adjective).
When we're not watching scenes straight from the Teenage Love Story Playbook, we catch glimpses of a slow and silent truce between Ronnie and her dad, Steve. Filled with the joy of first love, Ronnie can't really stay mad at her patient and longsuffering father. They begin chatting, and playing the piano together, and finally discussing old family wounds.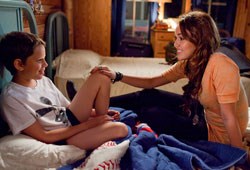 Ronnie and Steve's relationship is by far the most compelling part of the film. All other clichÉs and familiar plot lines aside, watching these two finally forgive each other and reconnect is nice. It's done in believable fits and starts, and they eventually build what seems to be a genuine friendship. All snarky comments aside, it is somewhat refreshing that Sparks continually delivers themes of forgiveness and redemption—offering inspiration in an industry awash in horror, bathroom humor, and Big Statement Movies.
The success of this father-daughter plotline is in large part due to Kinnear. His authenticity as a slightly lost man lonely for his kids is compelling. He keeps several scenes from being syrupy. Cyrus does a decent job in her first dramatic turn. She won't win any awards for her performance, but it's a wise and mostly believable step away from her Hannah Montana role.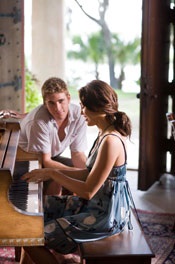 The Last Song flirts with a faith element in the form of a church fire in Steve's neighborhood. He decides to build a stained glass window to replace one that was destroyed in the fire, and you almost get the sense this mirrors the fact that he's in the process of restoring the faith of his youth. But if you want strong faith elements, read Sparks' book version of The Last Song, which he curiously wrote afterthe screenplay. (Our interview with Sparks and other cast members touches on the faith angle a bit more.)
At the end of the day, your opinion of The Last Song—and all Sparks movies, for that matter—will come down to your personal philosophy of movies. If you're most interested in films that are safe, inoffensive, and sweet, you'll likely enjoy The Last Song. If your favorite films are creative, thought-provoking, and compelling, The Last Song probably won't make your Best of 2010 list.
Talk About It
Discussion starters
Who do you most relate to in

The Last Song

? Why?
In talking about how their divorce affected their kids, Kim says, "We hurt them," and Steve counters, "We're human." What do you think of this conversation?
Have you ever been estranged from a family member? What led you to that point and what led you—or could lead you—to restoration?
Why do you think Ronnie keeps pushing Will away?
What do you think Steve is trying to accomplish by building the stained glass window for the church?
How has Ronnie changed by the end of the film?
The Family Corner
For parents to consider
The Last Song is rated PG for thematic material, some violence, sensuality and mild language. Ronnie and Will make out in several scenes, but it never goes beyond kissing. Blaze and her boyfriend, who are most likely underage, drink alcohol—though Ronnie refuses to join them. Blaze's boyfriend hits on Ronnie, though she refuses that offer too, and then he physically hits Blaze in another scene. Ronnie says the b-word in once scene, which is the worst of the "mild language." Ronnie has gotten in trouble with the law in the past, but she feels bad about it and is trying to mend her ways. One of the toughest plot lines for younger viewers is that a key character gets ill and dies at the end of the film. Other characters deal with this diagnosis and slow march to death.
Copyright © 2010 Christianity Today. Click for reprint information.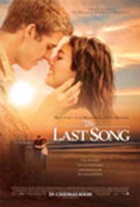 Browse All Movie Reviews By: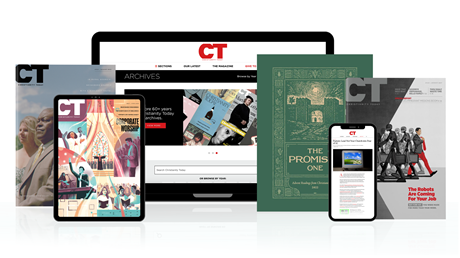 Annual & Monthly subscriptions available.
Print & Digital Issues of CT magazine
Complete access to every article on ChristianityToday.com
Unlimited access to 65+ years of CT's online archives
Member-only special issues
Subscribe
The Last Song
The Last Song