Imagine that you are a woman with an intractable medical problem. You awake each day desperate to find a way to live the life you have dreamed of. Your doctors have offered increasingly sophisticated, invasive, and expensive treatments, to no avail. You have depleted your savings, and your insurance coverage is inadequate to pursue further treatment.
You attend a seminar about a treatment that has helped other women with your problem. A raffle will award one attendee a free treatment from the seminar's sponsor. When the seminar ends, the speaker announces the winner's name to the hushed crowd. It is your name. Maybe, just maybe, your nightmare is over. This treatment could work. And you will not have to pay a dime for it.
Sounds like a dream come true, right? But what if the medical problem in question is infertility? And what if the grand prize is an in vitro fertilization (IVF) cycle that includes another woman's donated human egg? And what if the raffle, held in London and sponsored by an American clinic, was designed to market a kind of medical tourism, in which British women travel to America for IVF with donor eggs?
According to news reports, including this one from The Washington Post, the seminar's sponsor, the Genetics and IVF (GIVF) Institute in Fairfax, Virginia, insisted that they were not raffling human body parts, but instead offering free medical treatment. When I initially heard about the raffle, I was troubled by such blatant commodification of human reproduction. But I could not dismiss out of hand GIVF's claim that they were simply trying to help those who needed their services. Shortly after we got married, my husband and I met with the same GIVF physician who is quoted in the Post article. Because I have a genetic bone disorder, we explored conceiving via pre-implantation genetic diagnosis (PGD), which is IVF with an added step of testing fertilized eggs for a particular genetic anomaly. Although we never received treatment from GIVF, my experience there and later at a fertility clinic in Connecticut showed me that we cannot disparage all fertility clinicians as money-grubbing marketing machines.
Still, I am troubled by the ethical implications of the egg raffle. GIVF said that they have given away treatments at American seminars, to American women, without any fuss. To me, the fact that similar American giveaways generated little controversy, rather than revealing that the furor over the British seminar is overblown, actually uncovers a troubling aspect of fertility medicine: how much more market-driven, and how much less regulated, the American fertility industry is compared with its European counterparts.
In Britain, egg donors are reimbursed only for personal expenses, and must agree to allow children conceived with their eggs to contact them once the children reach age 18. American donors remain anonymous and are paid thousands of dollars. British women, with little access to donor eggs, are highly motivated potential clients for American clinics. In Britain, a government agency regulates reproductive medicine, developing mandatory guidelines for fertility clinics. In the U.S., oversight of reproductive medicine relies on clinicians' regulating themselves by creating voluntary guidelines and censuring practitioners who go to extremes. An example: the doctor who helped "Octomom" Nadya Suleman conceive octuplets by transferring six embryos during an IVF cycle—far more than voluntary guidelines recommend.
In reading about the IVF raffle, I am unsatisfied by the arguments on both sides of the debate. The detractors raise important alarms about the commercialization of reproduction, but perhaps fail to take seriously enough the motivations of infertile couples who are seeking a child to love, not a product to buy. The supporters' intentions to help infertile couples are worthy, but they appear a bit tone deaf in their refusal to acknowledge the market orientation of their medical specialty and the "ick" factor of raffling off a human egg.
Christians are obligated to care for everyone involved in fertility medicine—prospective parents, embryos, babies, and clinicians. Forming compassionate, educated positions on ethical questions is hard, especially when we take seriously the needs, motives, risks, and rewards affecting all of those involved. It is much easier to focus solely on one group's concerns—the dignity of unborn babies, the longing of couples who just want a baby to love, physicians' duty to help patients. It is much easier to choose sides in a provocative debate summed up with a few soundbites in a news article, instead of really listening to all the stories behind the story.
Ellen Painter Dollar is a writer who focuses on Christian reproductive ethics and disability theology. She is writing a book for Westminster John Knox Press (forthcoming in 2011) about the ethics and theology of assisted reproduction and genetic screening. She blogs at ChoicesThatMatter.blogspot.com and Five Dollars and Some Common Sense. She has written for CT about disability and genetic testing.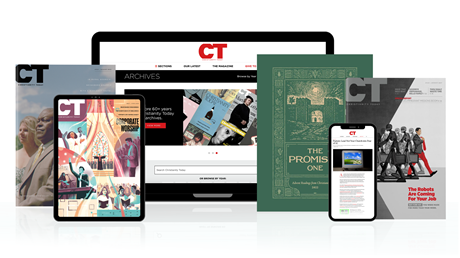 Annual & Monthly subscriptions available.
Print & Digital Issues of CT magazine
Complete access to every article on ChristianityToday.com
Unlimited access to 65+ years of CT's online archives
Member-only special issues
Subscribe
Get Your Free Human Eggs
Get Your Free Human Eggs