The other night my husband, Rafi, and I clicked through old photos on his laptop. He stopped on a picture of our son, who is now 8 years old but was 4 in the photograph. Rafi smiled at our son's short hair and big smile and said, "Remember how he looked when he didn't talk back?"
I laughed: My husband is quick to blame our son's now-long hair for every misdeed. I tried to remind him that our short-haired boy acted plenty naughty. But Rafi didn't hear me. He remained on that picture a few minutes longer while I tapped on the computer and then rolled my pointer finger at him. I was ready to move on; he clearly was not.
I didn't think anything of this, really, until a friend sent me a link to "Moments When Children Grow Up," a post at the New York Times' Motherlode blog. I appreciated (and echoed) Lisa Belkin's admissions that she couldn't remember many milestones from her children's lives, that she really never paused to mark them. After all, how can you know that the last time you carry your child will be the last time?
But I was more struck by the paragraphs she included from the book, What I Would Tell Her: 28 Devoted Dads on Bringing Up, Holding On To and Letting Go of Their Daughters, edited by Andrea Richesin. In these paragraphs, novelist Robert Dugoni shares a simple story of what Belkin calls his 8-year-old daughter's "pivot away from him and toward her future as a young woman."
When I read that Dugoni cried after realizing his daughter's need for bathroom privacy meant she was no longer the same little girl, I thought of Rafi, frozen on that photo of our son. And then I thought of my own dad and the seemingly random things he remembers from my childhood—these are the moment-markers Belkin describes.
As far as my family is concerned, I realize I have failed to appreciate another aspect of the wonderful role of a father. I think of all the times Rafi's made us late (in truth: even later) because he had to run back in to grab the camera. Were it up to me, there'd be nary a photo of my kids. We'd only have my blog posts and random mentions in book chapters and magazine articles. In no way do I want to say that because my husband paused, and because Robert Dugoni cried, and because my dad remembers weird things that we have enough evidence to speak for all fathers. (I make a living speaking out against stereotyping mothers—I should certainly give fathers the same courtesy.) But to Rafi, the photos and the home movies reflect his desire to capture, note, and remember each stage in a way (and this pains me as a writer to say) that only visual images can. He wants to grab these moments so we can hang on and look back.
As a work-at-home mom, busy beyond what I can manage most days, I have been too consumed and concerned with the "take care of this and move on" aspect of child-rearing to allow myself to stay in any moment for too long. It's sad, now that I think of it. It seems my inability to mark moments is the downside of a pretty privileged form of motherhood I enjoy.
I'm able to earn money, use my gifts, snuggle with my children, kiss boo-boos, and slather up PB&Js all within a few moments of one another. I can hit "send" on the article I've written and drop my kids off at school without losing flavor in my gum. My life is tight and blurred. The way my roles mesh (or sometimes tumble) together offers many good things—but allowing space for marking moments is not one of them.
It's different for my husband. He seems to have a greater sense that this parenting craziness will pass—and that one day we'll miss it and need to remember it, not in crazy blurs solely focused on getting through it, but in clear pictures intent on savoring what we have now.
This is one awesome way the dads in my life mirror God. Our heavenly Father gave us 66 books in a Bible to capture the moments of his children, so that we might know of his love for us. He gave us the Moment of Moments, when his only Son died on the cross, and he marked it with a torn curtain and a sun that "stopped shining." He did it so that the witnesses would know his love for them, and for us.
Now, maybe the dads in your life are not moment-markers. Maybe you are. It doesn't matter who marks the moments—and it certainly shouldn't fall down gender lines. What matters is that moments get marked. And remembered.
Since Father's Day is this Sunday, why not use it to mark a few moments, and to ask the dads in our lives about their favorite moments? Maybe we'll all see some things we've missed.
Caryn Rivadeneira is the author of Mama's Got a Fake I.D.: How to Reveal the Real You Behind All That Mom. Visit her at www.carynrivadeneira.com.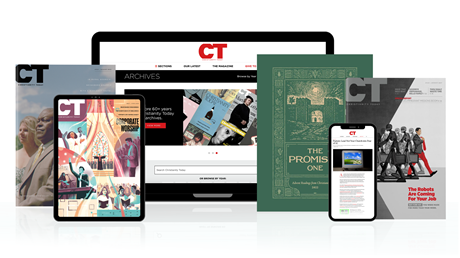 Annual & Monthly subscriptions available.
Print & Digital Issues of CT magazine
Complete access to every article on ChristianityToday.com
Unlimited access to 65+ years of CT's online archives
Member-only special issues
Subscribe
What a Father Remembers
What a Father Remembers