true
I'm a bit confused about Grown Ups. It's not that the movie is complicated, nor is it profound: It's just that it sends mixed signals. I can't figure out who the film was made for, who is supposed to actually enjoy this movie. And that's a bummer, because at first I thought it was me. See, Grown Ups is a comedic reunion—both on and off screen—between Adam Sandler, Chris Rock, David Spade and Rob Schneider, the so-called "Bad Boys of Saturday Night Live," whose antics and bawdy humor I grew up watching on that show (whenever my mother would let me). Kevin James is added to the mix, too, which is fine by me; I thought he was terrific in Hitch.
But no: This is not a glorious return to mischief. For these Bad Boys are now, well, Grown Ups, with wives and kids to think about. So it's no major surprise that this is something of a "family" flick, especially in that it's literally about family, specifically the families of five boyhood friends who reunite after the death of their beloved childhood basketball coach. Their lives have gone in totally different directions, but upon seeing each other again they realize that their camaraderie hasn't diminished one bit—so they decide to spend a weekend in an old lake house, enjoying the great outdoors with their various family members in tow.
You can probably guess what happens. Old friendships are rekindled, and tempers sometimes flare, but, after some soft piano music plays in the background and a few well-meaning clichés are passed around, everything goes back to the way it was, poignant lesson learned. Our characters learn that there is more to life than work, that family is really important, that it's an admirable thing to be a good loser, etc. And they get hurt a lot: The humor is squarely in the sitcom/America's Funniest Home Videos camp of people getting hurt in various ways. And when they're not getting hurt, they're taking cheap shots at some of the most stereotypical physical traits of the characters: Kevin James is overweight. An old lady has a lot of flatulence. That kind of thing.
I would be okay with these guys making this kind of movie if it was executed with a little more originality, and if I truly felt that their intentions were pure. They certainly didn't make this movie for those hoping for a Bad Boys reunion; the humor is far too limp and predictable, the "family values" moments too unbearably sentimental to appeal to that crowd. But then again, the movie doesn't work as family fare either; apparently, you can take the Bad Boys out of SNL, but you can't take SNL out of the Bad Boys.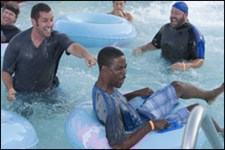 Sure, there are family lessons—right alongside the numerous scenes of bare backsides and ogling views of cleavage. They make fun of Kevin James' weight, but they also make fun of David Spade for being sexually promiscuous. There are jokes about feces and farts, and a long-running gag about breastfeeding that reaches a rather disgusting climax late in the movie. There is at least one reference to having sex with a dog.
And so Grown Ups is this pathetic beast of a movie, a low-brow family comedy that's too plotless and pointless for comedy fans and too stupidly offensive for all-ages audiences. That it is so muddled, so utterly beneath the talents of so many of the people involved (it's not just that Sandler and Rock are wasted, but how did supporting actors like Maria Bello and Maya Rudloph end up in such a mess?) is disappointing, but hardly surprising: The guy who directed this trainwreck is Sandler's buddy Dennis Dugan, the same guy who helmed another confused Sandler/James vessel called I Now Pronounce You Chuck and Larry—a film that spent much of its running time mocking homosexuals before ending with a lesson about how we should all be more tolerant toward homosexuals.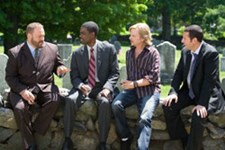 Grown Ups is similarly confused about who it's meant to impress, and what it wants to say. It's not as offensive as Chuck and Larry; there are enough sort-of-poignant moments that I'm willing to say the heart is in the right place. But I can't say I derived any pleasure from seeing these comedy stars back on the screen together. Grown Ups is a movie that could have gone in any number of directions, but it ends up being one that goes nowhere.
Talk About It
Discussion starters
Lenny lies to his family about his plans for the weekend, but he says he does so with good intentions. Do you agree with him?
Do you think any of these characters are good parents? Do you think they are good friends?
Which characters, if any, learn lessons or undergo any sort of change in the duration of the film?
The Family Corner
Grown Ups is rated PG-13 for crude material including suggestive references, language and some rear male nudity. There's plenty of that crude material—sex jokes, poop jokes, disgusting visual gags, the male rear nudity, and several scenes of barely-clothed women who are ogled not just by the men in the movie, but by the camera, as well.
Copyright © 2010 Christianity Today. Click for reprint information.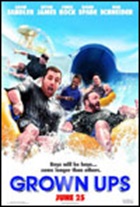 Browse All Movie Reviews By: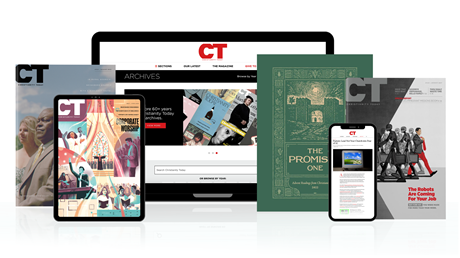 Annual & Monthly subscriptions available.
Print & Digital Issues of CT magazine
Complete access to every article on ChristianityToday.com
Unlimited access to 65+ years of CT's online archives
Member-only special issues
Subscribe
Grown Ups
Grown Ups