In a 5-4 decision this morning, the Supreme Court said that a California law school can require a Christian group to open its leadership positions to all students, including those who disagree with the group's statement of faith.
The majority opinion, issued by Justice Ruth Bader Ginsburg, said that Hastings College of the Law's "all comers" policy, which required all groups to open all positions to all students, "is a reasonable, viewpoint-neutral condition on access to the student-organization forum." The Christian Legal Society (CLS) chapter at the University of California school, Ginsburg wrote, "seeks not parity with other organizations, but a preferential exemption from Hastings' policy."
"Hastings, caught in the crossfire between a group's desire to exclude and students' demand for equal access, may reasonably draw a line in the sand permitting all organizations to express what they wish but no group to discriminate in membership." Ginsburg wrote.
However, Ginsburg gave some hope to CLS, which had argued that Hastings officials had selectively enforced its "all comers" policy, allowing organizations like the Latino group La Raza, but not CLS, to have rules restricting its membership. Noting that lower courts had not addressed is accusation of selective enforcement (and that the Supreme Court "is not the proper forum to air the issue in the first instance"), Ginsburg said the Ninth Circuit Court could consider the argument.
CLS attorney Michael W. McConnell, a prominent constitutional law attorney and director of the Stanford Constitutional Law Center, said the organization will press the point at the Ninth Circuit. "We believe we will ultimately prevail in this case," he said. "The record will show that Hastings law school applied its policy in a discriminatory way. … The Supreme Court did not rule that public universities can apply different rules to religious groups than they apply to political, cultural, or other student groups."
CLS may face an uphill battle against the Ninth Circuit; the court's March 2009 decision against the group was a mere two sentences long. But McConnell said CLS's case is strengthened, ironically, by Justice Anthony Kennedy's concurring opinion. In it, Kennedy said that CLS would have a substantial case "if it were shown that the policy was either designed or used to infiltrate the group or challenge its leadership in order to stifle its views."
"In other words, if any hostile students actually take advantage of the policy," McConnell said, "It would become unconstitutional."
How broad the implications?
In his dissent, Justice Samuel Alito castigated the majority opinion as political correctness run amok.
"The proudest boast of our free speech jurisprudence is that we protect the freedom to express 'the thought that we hate,'" he wrote. "Today's decision rests on a very different principle: no freedom for expression that offends prevailing standards of political correctness in our country's institutions of higher learning. … Brushing aside inconvenient precedent, the Court arms public educational institutions with a handy weapon for suppressing the speech of unpopular groups—groups to which, as Hastings candidly puts it, these institutions 'do not wish to … lend their name[s].' … I do not think it is an exaggeration to say that today's decision is a serious setback for freedom of expression in this country."
But Kim Colby, senior counsel at the CLS Center for Law & Religious Freedom, said in a written statement that the ruling will have little immediate impact on other CLS chapters or other Christian groups at public schools elsewhere.
"We are not aware of any other public university that has the exact same policy as Hastings," Colby said.
And it's unlikely that many state colleges and universities will adapt such an "all comers" policy in the future, said Carl Esbeck, a constitutional law professor at the University of Missouri who filed a friend of the court brief in the case for the National Association of Evangelicals, Evangelicals for Social Action, and leaders of the Evangelical Theological Society.
"It's unlikely, because an all-comers policy by and large defeats the purpose for which state universities allow student organizations to be created and recognized by the educational institution," he told CT. "Namely, that like-minded people can band together in an association or organization and thereby have not only common reinforcement among themselves but also have a greater voice because they're speaking as a united group."
Timothy Belz, who wrote the friend of the court brief with Esbeck, agreed that few schools will follow Hastings's lead. "Even Justice Ginsburg said that just because it was constitutional didn't mean it was advisable," he said. "A lot of universities are not going to find that this is an advisable policy, where you can force the Young Democrats to elect a Republican, or a lesbian group to elect a straight male as their president. It's a silly rule."
The spectre of students organizing to take over the leadership of groups they don't like has already happened at Central Michigan University, said David French, senior counsel at the Alliance Defense Fund and director of the ADF's Center for Academic Freedom. It's a strong possiblity at any school with a policy like the one at Hastings, he said in a blog post.
"By emphasizing the value of dissent within groups, the Court ignores the fundamental reality of an all-comers policy: Distinct student organizations exist at the whim of the majority," French wrote. "If 'all comers' can join, then the majority can override the speech of any student group. Thus the true marketplace of ideas exists by the permission (or, more likely, apathy) of the majority. The potential for minority or disfavored groups at schools with an all-comers policy to self-censor to avoid controversy — and potential hostile takeovers — is high."
But even if Hastings remains the only institution with such a policy, the Supreme Court decision is a blow, Esbeck said.
"The ruling today by the majority of the Supreme Court means that associational freedoms for all groups are diminished today. That includes groups that might celebrate the particular result here," he said. "The First Amendment is of less value to all of us."
The case was closely watched by religious ministries far beyond just those that meet on public colleges and universities. World Vision U.S., for example, had argued in a friend of the court brief that a ruling against CLS could dramatically change the debate over hiring at faith-based institutions. "How this court characterizes the religious associational policies and rights of religious organizations … will likely establish the framework for future deliberations within all branches of government on questions of religious hiring," the group said.
But in a statement today, World Vision said the Supreme Court decision, "while disappointing, does not represent an erosion of authority regarding religious hiring rights" because the ruling focused on the case's higher education context.
"For the setting of a public university, the court ruled that the government's interest in promoting access to campus activities by all students outweighed the right of a religious student group to express its religious beliefs through its selection of leaders," the organization's press release said. "As a result, this decision does not have any direct impact on the rights of private, faith-based organizations to hire people of the same religion or to receive federal funds to deliver their social services."
'The era of loyalty oaths is behind us'
Nevertheless, the majority opinion, and the concurring opinions from Justices Kennedy and John Paul Stevens used often harsh language to criticize the statement of faith and sexual morality standards CLS requires its members to abide by.
Ginsberg suggested she thought the CLS statement was extraordinarily exclusive when she wrote, "The First Amendment shields CLS against state prohibition of the organization's expressive activity, however exclusionary that activity may be. But CLS enjoys no constitutional right to state subvention of its selectivity."
Kennedy was less obscure. "The era of loyalty oaths is behind us," he wrote in his concurring opinion. "A school quite properly may conclude that allowing an oath or belief-affirming requirement, or an outside conduct requirement, could be divisive for student relations and inconsistent with the basic concept that a view's validity should be tested through free and open discussion. The school's policy therefore represents a permissible effort to preserve the value of its forum."
The harshest criticism came from Stevens, who compared CLS's requirements—which include a bar against "unrepentant homosexual conduct"—to groups that "may exclude or mistreat Jews, blacks, and women—or those who do not share their contempt for Jews, blacks, and women. A free society must tolerate such groups. It need not subsidize them, give them its official imprimatur, or grant them equal access to law school facilities."
But CLS's rules "are not manifestations of 'contempt,'" Alito responded in his dissent. "Nor do they thwart the objectives that Hastings endorses. Our country as a whole, no less than the Hastings College of Law, values tolerance, cooperation, learning, and the amicable resolution of conflicts. But we seek to achieve those goals through a confident pluralism that conduces to civil peace and advances democratic consensus building, not by abridging First Amendment rights."
Related Elsewhere:
The Supreme Court decision is available at the court's website.
Our earlier coverage of Christian Legal Society v. Martinez includes:
(Oral arguments) Supreme Court on Major Discrimination Case: 'Huh?' | Before the justices can render an opinion in the Christian Legal Society dispute, they'll have to figure out what the facts are. (Apr. 20, 2010)
The End of Religious Freedom? | The nightmare scenarios could very well unfold, but they are not the last word. A Christianity Today editorial (Apr. 19, 2010)
Small Ruling Is Potentially Huge for Student Groups | Christian Legal Society lawyer notes that exceptions to rules can be as discriminatory as rules themselves. (Mar. 19, 2009)
Christian Legal Society Loses Against CA Law School in 9th Circuit | Yesterday's ruling could set an unfortunate precedent for Christian student groups at public colleges.(liveblog, Mar. 18, 2009)
Other news reports on the decision are available from Inside Higher Ed and Associated Press.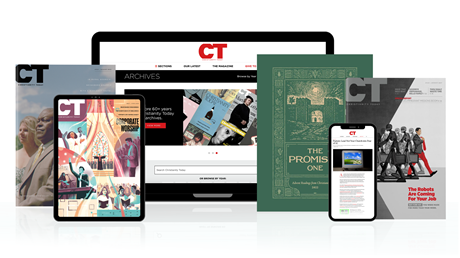 Annual & Monthly subscriptions available.
Print & Digital Issues of CT magazine
Complete access to every article on ChristianityToday.com
Unlimited access to 65+ years of CT's online archives
Member-only special issues
Subscribe
Christian Legal Society Loses in Supreme Court Case
Christian Legal Society Loses in Supreme Court Case