true
"Joyful music leads us sunward in the triumph song of life!"
Penned by Henry Van Dyke, a hundred years ago, and paired with the tune from the final movement of Beethoven's "Ninth," this one phrase sums up the power of music. Whether it is instrumental or choral, classical or modern, music from within the walls of a Gothic cathedral or the walls of a recording studio, enjoyment of sacred music continues to thrive.
In this debut of a new quarterly review of the best in new sacred music, we've chosen from a variety of writers, performers, and styles from albums released in the first half of 2010. (Future editions will focus on three months at a time.)
Hilary Hahn

Bach: Violin and Voice (Deutsche Grammophon)




The timeless appeal of J.S. Bach's counterpoint continues to captivate, and perhaps that's what acclaimed American violinist Hilary Hahn had in mind when she began her collaboration with the seasoned voices of Matthias Goerne (baritone) and Christine Schäfer (soprano). These artists succeed with the intricate demands required in the contrapuntal repertoire, performing 12 chestnuts from the cantatas, the B Minor Mass and the St. Matthew Passion, all delightfully rendered. The interplay between violin and voice is exquisite. From the buoyant "Laudamus Te" with its harmonious exaltation of praise to the contrasting anguish and sorrow heard in "Erbarme Dich" from the Passion, the two women work compatibly in tandem. Adding to the coloratura is Goerne's light and effortless singing in the bass solo "Der Friede sei mit dir," BWV 158. Throughout, the dialog between voice and violin is marked with a steady yet fluid approach to these inspirational texts. These interpretations showcase this prodigy (Hahn is just 31) as a performer with a keen sense of self and perfection in her art.
Mark Hayes

All Is Well: Songs that Soothe and Inspire (Mark Hayes Music)




Hayes expands his traditional roots well beyond the realm of sacred solo piano and choral music here, with a portfolio of songs in an array of styles. This worshipful journey is filled with contemplative and personal reflections written and performed by Hayes, and features vocalist Monique Danielle, who together blend their voices for "In the Spirit." Synthesizers and rain sticks set up a global atmosphere in "Namasté," a soothing ballad expressing God's beauty while using a traditional Indian salutation; it's representative of recurrent inclusive language and interfaith themes. Hayes' introspective "Let It Go" ("Let the cares of the days fade away / Breathe in the life of God / Let everything go") provides effective relevancy, followed by the instrumental "Air in F" for piano and solo cello. This compilation will attract an audience looking for devotional materials with relaxing, contemporary sounds.
Bob Jones University Singers

Promises (Soundforth)




BJU's new release features sacred choral settings by gifted writer/arrangers who are best known in church music publishing. A small ensemble of 16 student-singers overdubbed each selection multiple times, creating a full effect. What stands out are the orchestral accompaniments featuring the first-rate university orchestra, as in Patti Drennan's dynamic "Sing Praise." The music weaves its way through biblical promises, as in the 19th-century text "In Heavenly Love Abiding," paired with a tasteful new melody by Richard Nichols. The use of "Londonderry Air" with Kristyn Getty's "What Grace Is Mine," is another poignant selection by their newest writer, Molly Ijames. The project closes with Alice Parker's monumental "Hark, I Hear the Harps Eternal," featuring marked accents in a delightful rendition of early American shape-note singing.
Libera

Peace (EMI Classics)




Not your typical boys choir, this British group's popular music has been heard round the world through TV and concert tours. Peace gives a glimpse of what an angelic chorus might sound like, beginning with the serene Latin prayer "Sanctissima," written by director Robert Prizeman. An almost inaudible overtone heard on a single violin string sets the stage from which a unison melody blossoms forth, and then captures the imagination for the next 12 tracks. The distinctive choral sound, more pop than traditional, creates a feeling of relaxation. Mozart's evocative melody from his legendary clarinet concerto is used here with the traditional text "Ave Virgo." From the sacred repertoire, ancient chant "Adoro Te" is here transformed into a fresh composition with an added refrain. Prizeman's joyful "Exsultate" brings rhythmic energy and pulsating Celtic underpinnings, giving the singers a fuller dynamic. The recording tapers off with the soothing original "Touch the Sky." Closing with Chopin's piano prelude in C Minor, entitled "The Fountain," is another stroke of genius as the words portray a stream of water to "wash all sorrow in waves of peace and love."
Mormon Tabernacle Choir

Heavensong (Music of Contemplation and Light) (Mormon Tabernacle Choir)




Mack Wilberg, music director and arranger for the MTC since 2008, has taken this American choral mainstay in an impressive new direction. The CD opens with a captivating bell peal that sets the pastoral tone underscoring Wilberg's new folk-like anthem, "The Shepherd." The remaining 14 tracks travel through an array of serenity packaged in choral greats like J. S. Bach's "Sheep May Safely Graze," Gabriel Faure's orchestral "Pavane" (effortlessly sung as a vocalise—free of words), and John Rutter's psalm setting "I Will Lift Up Mine Eyes," rich in sound though sometimes lacking in clarity of text. Wilberg's choral treatment of "The Prayer" stays true to the original ballad written by Grammy winner David Foster, who joined them at the piano for this project. Also noteworthy is Wilberg's cantabile style heard in his masterpiece "O Light of Life," sure to find its way into many choral libraries. This pristine 360-voice chorus directs the spirit heavenward, and though the lyrics are occasionally swept up in orchestral colors and textures, the music resonates with hope and assurance.
National Lutheran Choir

Hymns We Love to Sing, Volume II (National Lutheran Choir)




In a quintessential style rightfully owned by the Lutheran heritage, this CD is peppered with impeccable organ improvisations that serve as fitting introductions to several of the hymn settings. Artistic director David Cherwien, an acclaimed organist and improviser, sets a magnificent tone at the organ console with Beethoven's "Hymn to Joy." The superb balance and even tone is only made better by the choir's consummate diction. The southern gospel "Down to the River to Pray" features their unaccompanied singing style with a bigger, open tone reminiscent of an early American style. Cherwien's 10-minute Holy Week setting of "O Sacred Head Now Wounded" artfully depicts the passion story with dissonance, colorful organ registrations, and impressive soft dynamics. The 13 selections move from classic hymns to spirituals to gospel songs, including their hand-clapping rendition of the African-American spiritual, "Standin' in the Need of Prayer." Per Harling's "You Are Holy" delivers a powerful message of praise, even if the live performance leaves the percussionists and choir less in sync. Cherwien finishes with the triumphant hymn "Holy God, We Praise Thy Name."
John Rutter and the Cambridge Singers

Faure Requiem and Other Sacred Music (Collegium Records)




If you missed it the first time around, here's a chance to experience one of the great masterworks by the French Romantic composer, Gabriel Fauré, in this digitally remastered release, better than the original. Rutter was instrumental in editing and recording the 1984 edition of the Faure "Requiem," based on the 1893 expanded version (two additional movements), featuring a modest chamber ensemble and smaller chorus. As in Rutter's own, highly successful Requiem, the clarity of the Cambridge Singers is precisely what you would expect, demonstrating well-defined balance between instrument and voice as in "Libera Me," a prayer for deliverance. Here, the baritone solo, effortlessly sung by Stephen Varcoe, is crowned with the infamous horn calls that leads to the chorus's powerful statement dies irae ("day of judgment"). Fauré was a master at crafting melodic lines, as in the final movement "where choirs of angels sing you to your rest," providing an 'ahh' moment at the conclusion. Six additional works complete the CD, including one of Fauré's earliest and best known, "Cantique de Jean Racine," and a charming, shorter four-movement Mass written for treble voices and organ.
James Whitbourn

Luminosity and Other Choral Works (NAXOS)




The scholarly music of British composer James Whitbourn (b. 1963) is some of the freshest to appear on the contemporary landscape. Along with his American counterpart, Eric Whitacre, the two have each achieved a unique choral sound that stretches far beyond traditional, sacred boundaries, while maintaining accessibility and tonality. This new generation of composers has found a popular "voice" among young singers, which resonates in high school and university concert halls everywhere. This sensational compilation, sung by Oxford's chamber choir Commotio, is infused with an array of distinctive colors and sounds, as heard in the eight-minute "Magnificat" with a brilliant tenor solo and in "Alleluia Jubilate" with its exultant strains of marked rhythms and vibrant organ. "A Prayer of Desmund Tutu" begins with the impassioned words "Goodness is stronger than evil; love is stronger than hate; light is stronger than darkness; life is stronger than death," spoken by Tutu himself, and is further authenticated with drummed African rhythms. Two songs drawing from the book of Revelation, "He Carried Me Away in the Spirit" (unaccompanied) and "Pure River of Water of Life," showcase the chorus's ability to blend their voices under the artful direction of Matthew Berry. "Luminosity," the pinnacle work, was written as a seven-movement, musical excursion that emerges with a single drone heard on the Indian tanpura, intertwined with solo viola for an enthralling effect. This is 21st-century concert music that will hopefully continue to influence choral music for years to come.
Jane Holstein, an editor with Hope Publishing Company, is an arranger, choral clinician, organist, worship planner, and concert artist, residing in Wheaton, Illinois, with her husband, David L. Weck. She is also Director of Music Ministries at First Presbyterian Church in River Forest, Illinois.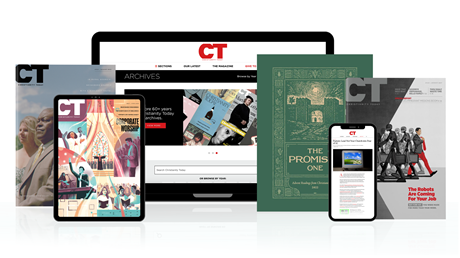 Annual & Monthly subscriptions available.
Print & Digital Issues of CT magazine
Complete access to every article on ChristianityToday.com
Unlimited access to 65+ years of CT's online archives
Member-only special issues
Subscribe
Sacred Music Roundup
Sacred Music Roundup