As the world's most elite athletes vie for the World Cup title in South Africa, one professional soccer player brought fresh signs of hope to his fellow Haitians' still desperate situation for one weekend.
Piles of rubble fill the streets of Port-Au-Prince, and hundreds of thousands of families still live in tents as hurricane season rapidly approaches. In one tent city of about 15,000 people, aid workers are fighting an outbreak of typhoid. But for a few hours in late June, Haitian children learned soccer skills from one of their own.
(This story continues after the video.)
Born and raised in Haiti, Ricardo Pierre-Louis made the Haitian national team at 17; but getting there wasn't easy. His parents couldn't afford to give him the 25 cents needed to buy a soccer ball, so he would make balls out of blown-up condoms. Out of millions of Haitian children, he was one of 25 selected to play on the national youth team at 14. Now he wants to do something similar for the Port-au-Prince children living in tents.
"My distractions were my soccer and my education," Pierre-Louis said. "Imagine seeing someone get smashed in the earthquake. How do you take that as a kid?"
Pierre-Louis, 25, was brought back to his home country for the first time since the earthquake by an organization called OneHope, a ministry that tells Bible stories to children through booklets and movies. The ministry recently sent a small group from their Florida headquarters to lead the Port-au-Prince soccer clinics, with the intention that Haitian leaders would continue the clinics throughout the summer.
The situation in Haiti remains daunting. Approximately $10 billion worth of aid has been pledged to Haiti, but only 2 percent has been delivered, according to reports. Pierre-Louis doesn't want to talk about the government. He is generally a happy fellow, but talking about politics upsets him.
Indeed, many Haitians have remained fixed to television sets during the World Cup. If you listen to what people are saying in Creole, Pierre-Louis tells me, they are probably arguing over which is the better team: Brazil or Argentina.
"What would [children] do without a soccer ball all day?" he said. "That's when they sit by themselves or fight with other kids. It reminds them of being hungry or of the sister they lost in the earthquake."
Bringing soccer to the tents
When the OneHope team drove into a tent city one Saturday with two trucks, Haitians gathered around quickly, some of the children patting their stomachs and asking questions in Creole. Smells of sewage filled the air as wild pigs and goats mingled in piles of trash near the dirt field. The children live in tents. Some don't own shoes. Many of them lost family members in the earthquake.
The children tended to gather around anyone with white skin. Two girls pointed at me and said something about "blanc." A Haitian told me that they were saying, "Look at the white girl." Later, one of the little boys began singing the chorus to Justin Bieber's "Baby" and then asked me if I have a boyfriend. I told him that I'm married.
The children moved quickly towards Pierre-Louis, who sported his yellow and blue jersey from his season with the Columbus Crew professional team in Ohio. When he explains he is there to play soccer with them, some of the children run to get socks and athletic shoes. But many wear plastic sandals or run in bare feet. One little boy wore a pair of women's black heels. Most of the girls stand on the sidelines and watch.
Pierre-Louis played with between 100 and 200 children for about an hour, giving them tips along the way. He then gathered the children and gave his testimony, explaining how he was once like them and how they, too, could have success with God's help.
OneHope employees then handed out World Cup–focused booklets that relate soccer to faith. The booklets include a testimony from Kaká, a Brazilian star player well-known for his Christian faith.
The staff also handed out plastic bags of water, which the children poured over their heads and squirted into their mouths. But soon they began asking for soccer balls, and two boys continued playing with a Sprite bottle. A OneHope employee explained that the ministry should try to leave the tent city by 11 a.m. If they stayed any longer, she said, they'd be expected to feed the children lunch, which they were not equipped to do.
Pierre-Louis declared Ricardo Herald, 14, the MVP of the game. "It takes off the stress and helps the children have fun," said the youth in Creole. "I want to play for life."
Haitians volunteering with OneHope assured me that the clinics were important for morale. "Some parents aren't able to care for them, and they might think they are not important to society," said 22-year-old Roubes Rorismond. "I want to raise up the next generation because I want to have a better tomorrow."
Like other Haitians, Pierre-Louis is captivated by the World Cup. Since he doesn't own a converter box for his television set, he made an antenna out of aluminum foil and a piece of wire to watch the games in his Ohio home.
In 2004, Pierre-Louis played against the Brazilian team. He told me that Haitians cried because it was like a dream come true. Brazil beat Haiti 6-0. He played for Haiti during qualifiying for the 2010 World Cup. Haiti went one win, three losses, and four ties, and did not qualify. Haiti has only appeared in the 1974 World Cup, where it did not advance to the second round.
In 2005, Pierre-Louis was playing a game in the United States when a Lee University soccer coach offered him a scholarship as long as he promised to attend chapel twice a week. On December 12, 2009, Pierre-Louis married Nika, a Lee classmate from North Dakota, and they moved to Cleveland, where he now coaches youth soccer. Exactly one month after his wedding, an earthquake shook his home country. His extended family lives about 18 miles west of Port-au-Prince; everyone was safe.
"It was pretty hard at first, but I'm usually a positive person," he said, displaying mostly smiles and laughs throughout the trip. "Now we want to keep the kids distracted and keep them having fun." He and Nika are talking about moving to Haiti during retirement.
Not so simple
One of our truck drivers, Tyler Weaver, is a recent Azusa Pacific University graduate. After quitting his Southern California job as an emergency medical technician, he came to Haiti in March with a medical group. While sporting a North Face shirt and using his iPhone to discuss the best MacBook to purchase, he maneuvered the truck through the tent city.
Weaver had been on several short-term mission trips, but nothing like his three-month stint in Haiti assisting a local doctor.
"When I went to Mexico for a weekend, I thought, 'I helped build things and play with kids; I just changed the world,'" Weaver said. "There's this euphoric feeling that comes with short-term missions. Now I see that it's not so simple."
For example, he said, a team from the United States would bring a construction team to Haiti to build a hospital, but they would end up taking jobs away from Haitians. Likewise, when medical teams deployed immediately after the earthquake, they effectively put Haitian doctors out of business.
Although he prefers medical missions, he thought OneHope's mission was a good approach.
"People agree that you should meet physical needs before you evangelize. If you come in with [physical needs-only] mindset, you'll never get to sharing the gospel," he said. "To have an actual goal to shoot into makes life all the more magical."
We also saw evidences of other Christian ministries on the ground, such as World Vision and Samaritan's Purse tents, and ministry workers with t-shirts from Short-Term Evangelical Missions.
The physical needs of Haitians seem overwhelming: lasting shelter, construction to remove the rubble and rebuild, emergency evacuation availability, medical supplies, access to food, treatment for post-traumatic stress disorder, continuing education—and the list continues. Jean F. E. St. Cyr, a Haitian pastor working in a tent city, told me the biggest thing Haiti needs right now is jobs to rebuild the economy.
"Soccer clinics are good for now," he said. "What about when you leave? What will happen? You encourage them for the moment, but they need something sustaining."
World Vision's Haiti director, Frank Williams, spoke with me over his sandwich in a Port-au-Prince restaurant. He told me that World Vision has hired about 500 people since the earthquake, putting up tents, clearing garbage, and creating drainage systems. When I asked him about groups that come to Haiti to do evangelism, he said they may have more credibility if they are meeting some physical need at the same time.
"We need to appreciate that there's a spiritual dimension in the midst of an earthquake or a crisis like this," he said. "Most groups don't come in to do something associated with spiritual content without linking to another organization to have a holistic approach."
World Vision's budget in 2009 was about $1.2 billion, compared to OneHope's $17 million in 2008, according to the latest data from Evangelical Council for Financial Accountability.
OneHope has worked in Haiti since 1988 and partners with about 2,000 churches to distribute materials.
"We're not a relief and development organization, but we realize that many agencies have been called in that way," says Rob Hoskins, president of OneHope. "We find that we're a great tool to help those agencies by providing them with spiritual answers for kids."
When I spoke with Hoskins on the phone, he was in South Africa distributing similar booklets to children there. "Soccer is the language of the global youth culture, and it's an incredible opportunity to capture kids' attention," he said.
On a recent Sunday, the cries for Argentina's second round win over Mexico could be heard throughout all of Port-au-Prince. The World Cup salve will end soon, however; the games end on Sunday, one day before the six-month anniversary of the earthquake.
Related Elsewhere:
Previous Christianity Today coverage of Haiti includes:
Idaho's Impact | Haiti scandal overshadows bigger threat to evangelical adoption efforts. (April 26, 2010)
'Best Time for a Christian' | Resilient evangelicals vow to restore Haiti, body and soul. (March 1, 2010)
Helping Haiti Heal | Food for the Hungry explains the challenges it faces before it can begin to help Haiti recover from the earthquake. (January 20, 2010)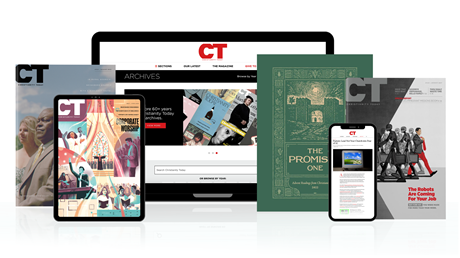 Annual & Monthly subscriptions available.
Print & Digital Issues of CT magazine
Complete access to every article on ChristianityToday.com
Unlimited access to 65+ years of CT's online archives
Member-only special issues
Subscribe
Harnessing Haiti's Football Fever
Harnessing Haiti's Football Fever