Mark Chaves, Duke University professor and director of the National Congregations Study, recently commented that the National Congregations Survey shows that the Bush faith-based initiative "accomplished so little." Comparing data from 2006–07 with the results from 1998 shows no increase in the percentage of congregations that offer social services, the proportion that devotes at least a quarter of an employee's time to such services, or the proportion that receives government funding to provide services.
As Chaves says, it could be that the glass is actually half full, not half empty: the survey shows that 82 percent of congregations offer social services—a major contribution to the wellbeing of our society. Further, there has been markedly more congregational interest in receiving government funds to support their services, a big jump in the number of congregations that hosted a speaker from a social service group, and a significant increase in the number of churches that has conducted an assessment of community needs. All the attention to the federal faith-based initiative—negative as well as positive, inaccurate as well as factual—no doubt helped to spark these important changes, he notes.
Still, he says, while congregational interest in social service programs went up, their behavior didn't change: there was no big bump in government funding of church-based social services.
But, of course, the Clinton, Bush, and now Obama faith-based initiatives are not federal programs devoted to expanding government funding of churches to provide social services! The federal reform effort has two other aims. The general aim is to make the federal government a better supporter of the good and important work that is done in communities by a wide range of organizations, including but not limited to churches—thus counterbalancing the typical government tendency to see its own efforts and plans as the best and most important source of assistance.
The second goal is to eliminate wrongful restrictions that the federal government has often put in the way of so-called "pervasively sectarian" organizations that provide social services. In the extreme-separationist reading of the First Amendment—which has now been abandoned by the Supreme Court—it was considered unconstitutional for the federal government to partner with organizations whose religion was prominent and encompassing. Faith groups that looked "too religious" were typically turned away when they applied for federal funding.
Reforms such as the Clinton-era Charitable Choice laws and the Bush-era Equal Treatment regulations abolished that limitation. Now every variety of faith-based organization has the same opportunity to seek federal grants, whether their religion is muted, only historic, or full-blown (but the federal funds generally cannot be used to pay for religious activities).
So here's the big change: "pervasively sectarian" social service groups now have the same opportunity to seek funds that religiously affiliated and mildly religious social service groups have always had. Churches can seek funding, as can robustly religious faith-based nonprofits, and YMCAs where the "C" is now only a letter, and secular nonprofits. Yet, in reality, not that many churches or other houses of worship seek federal funding-most congregations provide some services to their own members and to their neighbors but don't see social services as their main task.
The legal change—confirming the equal eligibility of all varieties of faith-based organizations-is highly significant: just listen to the continued criticism of extreme church-state separationists! But it doesn't fit the framework that many academics, reporters, and editorialists share. In their view, "religion" and "social services" occupy different boxes. Real social services are secular, not religious. Thus, if the federal faith-based initiative has opened the door to participation by distinctively religious organizations—pervasively sectarian organizations-that should mean a flood of churches (religious organizations) has joined (secular) social service organizations to provide federally funded help.
Thus, ever since 1996, when welfare reform was adopted with Charitable Choice language to create equal opportunity for faith-based applicants, many analysts and commentators have been searching to see how many churches (organizations that are really religious) are getting federal dollars to provide social services.
They should have been looking, instead, to see whether federally funded programs (operated by state and local governments, as well as by the feds) have truly become hospitable to the wide range of faith-based providers of social services: hospitable to those that are obviously religious along with those whose religion has been muted or side-lined (sometimes in the hope of easing the search for government funds). Unfortunately, this kind of research and commentary has been scarce.
As to the Bush administration: various officials and the President on occasion talked about the good done specifically by congregations and about the administration's interest in encouraging churches to partner with the government. That's entirely appropriate since some churches do provide the kinds of services the government desires to support.
But check the documents of the Bush faith-based initiative, and it will be clear that the alleged prime focus on getting churches involved is a creation of the critics, not the architects, of the initiative. The foundational Bush Executive Order (Dec. 12, 2002) on equal opportunity speaks of "faith-based organizations," not churches. The 2001 Unlevel Playing Field report identifying barriers to participation in federally funded social service programs named no obstacle aimed at churches and synagogues. Rallying the Armies of Compassion, Bush's January 2001 vision for his faith-based initiative, notes the important work of churches but concentrates on reorienting the federal government so that it ignores none of the wide variety of private organizations that provide vital help to the needy.
If anything is a failure it isn't the federal faith-based effort but rather the distorted interpretive scheme that regards "religion" and "social services" to be mutually exclusive, and thus assumes that greater involvement by pervasively sectarian organizations means hopped up participation by churches.
Stanley Carlson-Thies is president of the Institutional Religious Freedom Alliance. "Speaking Out" is Christianity Today's guest opinion column and (unlike an editorial) does not necessarily represent the opinion of the publication.
Related Elsewhere:
Chaves said his post is a boiled-down version of an article, co-authored with Bob Wineberg, that will appear in March 2010 in Nonprofit and Voluntary Sector Quarterly.
Jedd Medefind, who previously led the Office of Faith-Based and Community Initiatives under Bush, responded to Chaves's blog post on the Faith and Leadership site. Chaves responded.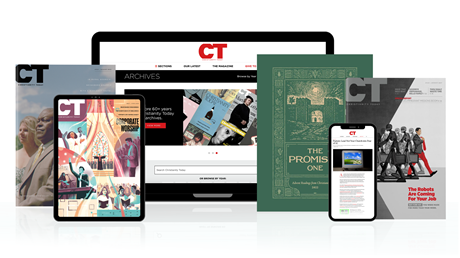 Annual & Monthly subscriptions available.
Print & Digital Issues of CT magazine
Complete access to every article on ChristianityToday.com
Unlimited access to 65+ years of CT's online archives
Member-only special issues
Subscribe
Was the Bush Faith-Based Initiative a Failure?
Was the Bush Faith-Based Initiative a Failure?