Sojourners founder Jim Wallis apologized Wednesday to Marvin Olasky for saying, "Glenn Beck lies for a living. I'm sad to see Marvin Olasky doing the same thing."
Wallis told Christianity Today that he sent a private e-mail to Olasky and plans to speak with the editor-in-chief of World Magazine by phone on Friday.
"I was wrong, out of anger at the insinuation about the dependence on these foundations, I was wrong to imply that like Beck, Marvin lies for a living," Wallis said. "Glenn Beck does lie for a living. Marvin Olasky doesn't lie for a living; that's not something I should say about a brother in Christ."
At 3 p.m. Wednesday, Olasky said he had not received Wallis's apology. "I'm always glad to talk with Jim," he said. "It's educational and entertaining." He said that he later received an apology and welcomed it. "I look forward to our conversation on Friday," Olasky said. "It's always good to see Christians following the Matthew 18 pattern."
Olasky published a column in World's July 17 issue asking Wallis to admit his affiliations on the left, reporting that Sojourners receives funding from George Soros's Open Society Institute (OSI). In a later interview with Timothy Dalrymple of Patheos, an interfaith website founded in 2008, Wallis suggested that Olasky was lying and said that Sojourners does not receive funding from Soros.
Wallis said that part of his e-mail to Olasky reads, "I remember getting angry when Dalrymple reported to me that you had said that Sojourners was dependent upon and beholden to Soros on the left," he wrote. "That's no excuse for using such language about a brother in Christ, and I hope you will forgive me."
After his interview with Dalrymple, Wallis released a statement saying that Sojourners has received three grants from OSI.
"I was really tired that day. I did one interview too many. I was in the back of a taxicab. I would normally read an article. And I didn't, and that was a mistake, and I'm sorry for it," said Wallis, who recently returned from vacation. "It is, however, inaccurate to say George Soros is or has ever been a major funder of Sojourners."
Wallis said that Sojourners applied for and received three grants totaling $275,000 from OSI between 2004 and 2007. After consulting with a staff member on the specific dates, Wallis said Sojourners received $200,000 in 2004 that was spent on "broad civic engagement." In 2006, OSI gave Sojourners a branding grant of $25,000 that Wallis said was used to merge the organization Call to Renewal with Sojourners. In 2007, Sojourners received a $100,000 grant for immigration reform, half of which went to another local organization in Los Angeles, he said.
"I have no apologies for taking a donation on immigration reform from Open Society. We'd do it again."
Wallis said that OSI funding made up less than 1 percent of Sojourners' total revenue in the past 10 years and that the organization's books are open.
"We don't give out all of our names. We comply with every legal standard for nonprofits, form 990s and disclosures," he said. "The idea that left-wing foundations are responsible for our funding and we're beholden to them because they're trying to make us vote a certain way, that's a lie."
Olasky says he "buried the lead" by reporting the OSI funding further down in his column, but he stands by his story.
"George Soros, one of the leading billionaire leftists—he has financed groups promoting abortion, atheism, same-sex marriage, and gargantuan government—bankrolled Sojourners with a $200,000 grant in 2004," Olasky wrote in his original column. "Since then Sojourners has received at least two more grants from Soros organizations. Sojourners revenues have more than tripled—from $1,601,171 in 2001–2002 to $5,283,650 in 2008–2009—as secular leftists have learned to use the religious left to elect Obama and others."
Wallis said that Sojourners received a "big bump" in funding when the organization's constituency increased after he authored God's Politics, published in 2005. He keeps the book royalties, but his six-figure speaking revenues go to Sojourners, and he said more people contributing doubled its budget and e-mail lists. Combining Call to Renewal with Sojourners and selling a neighborhood center also contributed to the revenue jump, he said.
"I've never met Soros. I think I bumped into him at a huge reception somewhere at some point. I've never had a conversation with him," Wallis said. "I haven't talked to him about this. I don't know him."
Olasky said that, according to documents World obtained, Sojourners had a $275,000 deficit in 2002 and a $57,000 deficit in 2003. In the audit, it says that Sojourners had "incurred a significant amount of net losses" and had "adopted a strategy to generate additional sources of revenue and to reduce expenditures."
"It looks like that grant came at a critical time in 2003–2004 and that seemed to be an economic turning point," Olasky told CT. "If you're in the red and someone comes up with $200,000, especially a billionaire, you tend not to forget that."
Wallis said that the OSI grant made up less than five percent of Sojourners' budget in 2004.
"The interpretation that they made up our budget, that's disingenuous," Wallis said. "That's not fair."
On Wednesday, Jay Richards, a senior fellow at the Discovery Institute wrote at National Review's The Corner blog that Sojourners received at least 49 foundation grants between 2003 and 2009 totaling $2,159,346, based on form 990s.
"Besides the Soros grants, for instance, there are two 2006 grants from the infamous Tides Foundation totaling $72,106; a Ford Foundation grant in 2008 for $100,000; a Rockefeller Brothers Fund grant for $100,000 in 2005; and a $50,000 grant from the Wallace Global Fund in 2008," Richards wrote. "Three grants, totaling $20,000 between 2005 and 2007, are from the Streisand Foundation in California."
Wallis said he would never make Sojourners dependent on any foundation or any one or two donors.
"We [do not], and no nonprofit ever does, endorse or believe everything a funder says when they support one of your projects," he said. "I don't know what sort of horrible people Soros funds."
Olasky said he felt that Sojourners contributors should know who else is funding the organization.
"I don't know how desperate the situation was, if Jim decided, I don't want to have to fire these people, I don't want a family out in the street, I would rather do this," Olasky said. "That's a judgment call, I don't object to that. I know some people might."
Olasky said that he is not a person who can "make the call" on whether Sojourners should accept money. "It's hard for me to analyze," he said. "Soros bankrolls, among other things, pro-abortion organizations, and this is information people should know," he said. "George Soros is one of those people who have a special place in the hall of shame."
Olasky said he would not donate to Sojourners regardless of the Soros funding. "They're wrong on a lot of things," he said.
"I can pledge that if George Soros gives World a grant of $200,000 we would publicize that; we won't hide it," he said. "Who knows? Maybe God is working on George Soros and maybe he will."
The column that started it all
Referring to his July 17 column, Olasky said that he would still like Wallis to admit that he is on the left. Olasky's column came after a debate he and Wallis had at Cedarville University.
"The spirit of the accusation was this: I have a humble suggestion to Jim, whom I enjoyed debating recently: Fess up. It wasn't a 72-point headline: 'Jim Wallis, Terrible Person,'" Olasky told CT. "We're journalists; we're not public relations people; we like truth in advertising. If Jim wants to say, 'Among leftists, I am not as far left as some of my friends,' that'd be fine."
Wallis said that several leftist voices  attack him for opposing abortion, including The Nation and Frances Kissling, former president of Catholics for a Free Choice.
"I can give a long list of things I disagree with on the left," Wallis said. "I've been critical of the Obama administration on the war in Afghanistan or not being nearly strong enough on poverty. I'm critical of Democrats and Obama, and I will always be."
Olasky said that he mentioned the funding from Soros as evidence that Wallis is on the left. "Soros would certainly not fund a centrist group," he said.
Wallis says the term he likes best applied to himself is "prophetic."
"When Christians try to squeeze into categories left and right, their faith is misshaped," Wallis said. "We're supposed to rise above that. I think that's what we should do. We have to be very careful, very prophetic speaking to both sides."
The interview that ignited it all
Timothy Dalrymple, who conducted the interview with Wallis for Patheos, wrote in a blog post that he had confronted a quandary: "I simply thought that I should not publish an attack against a person like Olasky without putting some of the evidence out there and letting people decide for themselves. … Personally, I find Soros to be a pretty vile character, and his agenda seems blatantly anti-Christian to me." That blog post has been removed, and Dalrymple later wrote, "In my own opinion pieces … I have expressed disagreements with Wallis. As the interviewer, however, I have sought to maintain neutrality and just present the facts on the issue between Wallis and Olasky. I was aware of evidence that seemed to support Olasky's contention, but ultimately the task of investigating the matter was up to others."
Wallis said that he knows Dalrymple a little bit.
"I was really disappointed; I did a favor for a grad student here, and he gets to make himself a hot story here," Wallis said. (Dalrymple has a Ph.D. in religion from Harvard.)
Wallis said that many blogs have no commitment to journalistic integrity.
"A lot of people are ready to beat me up," Wallis said. "They're mad about our stances on issues, who we support and don't support because it's not their politics. They just lie, lie, lie, lie, lie."
Wallis has been going back and forth with Fox News commentator Glenn Beck after Beck suggested Christians should "leave your church" if they see the words "social justice." Earlier this summer, a Christian radio station pulled funding from a music festival in Wisconsin because Wallis was listed as a speaker.
Update: Dalrymple sent CT the following statement responding to Wallis's comments. "The intent of the question I asked regarding Marvin Olasky's allegation was merely to examine the issue of Christian ministries forming political alliances. I did not anticipate Jim's response, nor the trouble it would cause for him. When the interview was published, and it appeared that Mr Olasky was actually in the right, I bent over backward to be fair both to Marvin Olasky and to Jim Wallis. Ever since, I have wanted nothing more to do with the story. I have declined to write about it further and have declined invitations to discuss the matter on the radio—not the actions, I trust, of someone seeking to make himself "a hot little story." I will also charitably assume that his comment about lying blogs was not directed toward me, since I have never said anything false throughout this episode. I wish Jim the best."
Related Elsewhere:
Christianity Today interviewed Jim Wallis in 2008 about his political positions. An archive of Marvin Olasky's work can be found at World Magazine's website.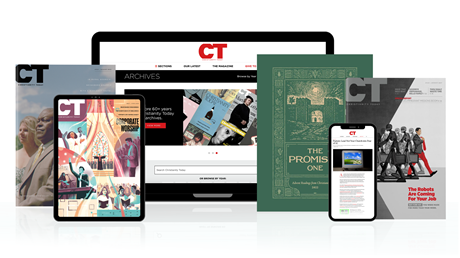 Annual & Monthly subscriptions available.
Print & Digital Issues of CT magazine
Complete access to every article on ChristianityToday.com
Unlimited access to 65+ years of CT's online archives
Member-only special issues
Subscribe
Wallis Apologizes to Olasky after Sojourners Funding Flap
Wallis Apologizes to Olasky after Sojourners Funding Flap