true
Though he didn't win the seventh season of American Idol, third-place finisher Jason Castro was an enduring fan favorite for his sweet demeanor and soaring performances of Leonard Cohen's "Hallelujah" and his own ukulele-accompanied "Over the Rainbow." Both songs appear on "deluxe" versions of Castro's self-titled debut album, which released two weeks ago. (Our review.)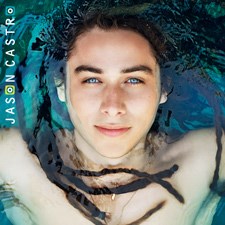 But mostly, Jason Castro is about, well, Jason Castro. The fresh-faced, dreadlocked singer/songwriter wants the world to know about the second part of that description—songwriter. He's not "just" a singer, like most Idol alums. Castro penned seven of the eight songs ("Hallelujah" is the eighth) on the more widely available version of the new album—mostly poems about love (he just got married in January) and friendship.
A committed Christian, Castro talked to CT about his new album, how his faith informs his songwriting and his performances, and his long-term plans for those terrific dreads.
It's been two years since you were on Idol. You must be stoked to be finally releasing your first album.
Jason Castro: It's very exciting. It's been a long year waiting and working and wondering when it's going to happen. So it's very exciting that the day is finally here.
You've kind of separated yourself from other Idol alumni by writing your own songs for your album. Talk about that.
Castro: After Idol, I spent a year and took my time; writing was my main priority. That's what I've always dreamed of being. That's why I started singing—because I wanted to be able to write those stories. I'm very proud of this work.
But you weren't alone; you collaborated with some other veteran writers. How did you like that process?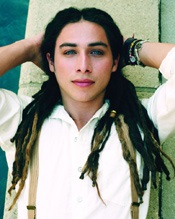 Castro: I love the collaborative process. I love the magic of how a song gets from here to here: You start with melody, music, and words, all to say something. Collaborating is like having conversation—just throwing out ideas. Sometimes [your co-writers] pick up on what you think is a junk idea and they find some life in it, or vice versa. Or sometimes I'd write a song and be missing just a couple words, and I'd labor and hunker down for weeks. But when you're collaborating, you have two minds that work in totally different ways, and it just helps to get through songs faster, I think. That's another thing about collaboration—you can work from other people's stories, a new thing for me. I'm used to just writing and reflecting on stories out of my own life. But it's cool to write about other people's experiences too.
It's mostly an album of love songs. Is that by design?
Castro: I didn't set out with an intentional theme, but that's where I am in life. I'm just recently married, so that's been what's on my heart. It was a long-distance relationship, a lot of yearning and reflecting on this relationship, so that's what came out in the songwriting. And a couple of songs are about different types of love, like friendship love. My current single, "That's What I'm Here For," is about a friend.
How does your faith inform your songwriting and performing?
Castro: My faith makes me who I am. That's my rock, and it influences everything I do. People comment a lot on the passion in my performances, and that passion is something I've found in God and in my faith. The passion of Christ, that that kind of love would come to die for us—that's inspiring. That's in my heart always. Everything I do, I want to live a passionate life.
People ask me, "Why didn't you do a Christian album?" I prayed about it and thought about it and I tried writing songs, but worship songs weren't exactly what were coming out. At the same time, I don't there should be lines of "Christian music" and "non-Christian music." You know, the music doesn't make a decision to follow Christ! In my music, all the themes are things that are good.
Sounds like you've given this some thought.
Castro: This idea of Christian music vs. non-Christian music started back in high school when I was playing in bands. I quit my first band because I was asking God what he had in store: Should I be pursuing totally Christian music, or what should I do? There's the verse [Phil. 4:8] that says, "Whatever is noble, whatever is pure, whatever is right, whatever is lovely … think of these things." I feel like that's what my album is—to think of these lovely things.
I'm totally open … I do have desires to lead in worship more, because when I'm at home, I get to help out in church. I love being in a worship setting. They're two different things [his album vs. a worship album], but they're both celebrating life, you know? One's leading people in worship, and one's kind of "sneakily" leading people in worship by celebrating life and the good things God has given us. [Castro talks more about his faith at I Am Second.]
I understand that you made a commitment to faith at a church camp in high school, and the David Crowder Band was big in that decision.
Castro: That was the first time I really felt the connection between God and music; the worship experience was just phenomenal. That's where that sea of passion was planted for me, where you just sing because you had to sing. The David Crowder Band is amazing; I love them.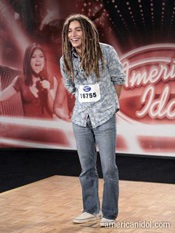 What's your favorite Idol memory?
Castro: It's like a blur, but one big awesome blur. There was just so much going on. It was a once-in-a-lifetime experience, even just the fact of performing on a live TV show—that rush was so unique. And then there were things like riding on a private jet, lying in bed, 40,000 feet in the air and playing my guitar—I'll probably never get to do that again. Pretty unreal!
How long will you keep the dreadlocks?
Castro: I'm kind of a practical guy; I haven't had to have a haircut in six years, or bought any hair products, so it's kind of a practical thing. It also has some value to me as far as music goes. When I quit that band in high school, I was kind of depressed, but I was like, "I'm going to go to [college] and figure it out. I can always do music later." But I felt like I was giving up a piece of me, by quitting the band; that was my life. So I decided to keep my dreads—that was the one piece of the artistic world that I was gonna keep while I wandered off to Texas A&M. So I kept them as a symbol of, "I haven't quit music, but the day I decide I don't want to do music, I'll cut 'em off."
So that kinda kept my hope alive, you know? And so, here I am! I plan on cutting them someday, so I won't say never. Every morning I think, "Hey, it'd be nice to shave my head." I'm a practical guy, but I also like change.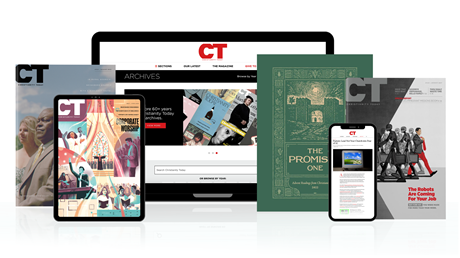 Annual & Monthly subscriptions available.
Print & Digital Issues of CT magazine
Complete access to every article on ChristianityToday.com
Unlimited access to 65+ years of CT's online archives
Member-only special issues
Subscribe
An 'Idol' with Soul
An 'Idol' with Soul