Biblical scholars have yet to determine if the woman caught in adultery (John 8:1-11) was a sex addict. But Nashville-based clinical therapist Marnie Ferree says the woman's shame and social status make her an apt archetype for women struggling with sex addiction. For one, women sex addicts often face a double dose of shame because they believe they as women aren't supposed to have sexual sin. And because the number of female addicts is relatively small (expert Patrick Carnes estimates 3 percent of the U.S. population, with male addicts composing 8 percent), few books and recovery groups are available. "I tell some of my colleagues, such as Mark Laaser, 'you wrote a great book, but the pronouns are wrong,' " says Ferree.
Thankfully, the story of the adulterous woman in John's gospel reminds sex addicts that not even their deepest secret is outside Christ's healing touch. Ferree knows this from personal experience, because she is a recovering sex addict—something she hid for 20 years until an HPV diagnosis in 1990 brought it to light and kick-started her recovery. Today, alongside her husband of 29 years, Ferree runs Bethesda Workshops, which aims to provide "Christian treatment for sex addiction recovery." Their dramatic story appears in No Stones: Women Redeemed from Sexual Addiction, Ferree's immensely practical, deeply biblical book for female sex addicts, out this month from InterVarsity Press. Ferree spoke recently with Her.meneutics editor Katelyn Beaty.
What is sex addiction? How is it different from, say, porn addiction?
There's no difference between porn addiction and sex addiction. Sex addiction is an umbrella term; the particular form of acting out, whether it's pornography, affairs, sex chat rooms, prostitutes, picking up people in bars, is immaterial. These are all just one manifestation.
The main characteristics of sex addiction (and any addiction, for that matter) are
Obsession: the behavior becomes the organizing principle of life. The addict is obsessed with acting out, trying to hide the acting out, and figuring out when she can act out again.
Compulsion: continuing behavior in spite of your best efforts to stop. You keep doing what you don't want to do.
Continuing despite adverse consequences: you continue behavior that clearly isn't in your best interest. You pay a price for your behavior (in terms of relationships, jobs, shame) and yet you keep doing it.
Several times you describe female sex addiction as an intimacy disorder: the search for "love, touch, affirmation, affection, and approval." Is male sex addiction also at root an intimacy disorder?
Yes, absolutely.
Doesn't that challenge some assumptions about male sex addicts, that what they seek is the physical sexual release?
To be clear, there's no doubt that [the desire for physical sex] is a powerful force, and some women really just like sex. And some men really just like sex. And it's still bigger than that. That's where the Christian framework differs from our clinical colleagues and the professional associations that deal with this issue, because for a Christian, genital-based sex is not enough. Even if it's just with your husband, God longs for us to have so much more than genital-based sex. That one-flesh union is spiritual and emotional and [about] companionship and fun and recreation, and God longs for us to have so much more than orgasms. So even someone who has a higher sex drive than others—and there is some validity to that concept, they are wired differently—but still on a continuum, it's a pretty narrow one. It's not nearly that wide of a continuum.
At many points in No Stones, the language of addiction reminded me of alcoholism. How does sex addiction compare with other addictions?
Many addictionists consider sex addiction, along with food addiction, a core addiction. They are core because they are central to who we are and to survival. Obviously you can never drink alcohol or smoke a cigarette, and you'll be fine. But you do have to eat, and we're made as sexual beings—that doesn't mean we have to have sex, but sexuality is part of who we are and our automatic nervous system response. That makes recovery from either one of those significantly harder. A sex addict is, neurochemically speaking, constantly carrying within her own body her drug.
Is sex addiction best understood as sin or as a neurological disease?
The answer is yes. Unquestionably this is sinful behavior. There's no getting around that or trying to make excuses. And it does follow a disease model in terms of having predictable neurochemistry involved, predictable withdrawal involved, and being progressive without intervention.
In terms of the mental illness category, sex addiction is what's known as an attachment disorder. Attachment describes a person's experience with early caregivers and how well the child "attaches" to her parents. When parents aren't attuned to the child's needs, when they fail to make eye contact with her, when they don't touch her affectionately, when they don't respond to her verbal cues—the child doesn't bond adequately with her parents. She doesn't develop the sense that the world is a safe place and others will be there for her and take care of her needs. These early experiences (especially those before age 5) imprint the child emotionally and even neurochemically. Sex addiction is rooted in attachment failures, which is why it's often described as an intimacy disorder. A woman doesn't learn from her parents about healthy intimacy, and she tries to fill that in unhealthy ways.
How would you advise a single Christian sex addict to proceed in recovery?
Bless her heart. It is hard. I think obviously to proceed in integrity and holiness, I think to really focus on her healthy relationships, and they can be of opposite gender, but to be certain about what's driving them and what the foundation is. And I think to embrace her sexuality, and by that I mean to be very aware of and in touch with her feminine side, whether that's her appearance or her creative side or her athletic side. To really be a whole person and not just focus on "Well I've gotta find a man."
What do sex addicts need most from the people who love them?
They need loved ones to educate themselves about sex addiction, especially about women. They need to understand the extraordinary challenge that the female sex addict is facing. Second, female sex addicts need their loved ones to be working on themselves. My husband would say that he enabled me for years by his passivity. I'm still totally responsible for what I did, but it sure would have helped had he been healthy enough to put his foot down and say, "I am not going to live with a wife who is unfaithful to me." That's what I mean by doing their own work: setting healthy boundaries, learning themselves how to address their own attachments and the impact they have had in their own life.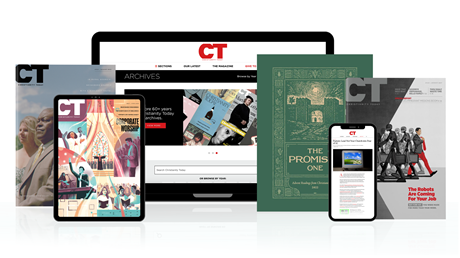 Annual & Monthly subscriptions available.
Print & Digital Issues of CT magazine
Complete access to every article on ChristianityToday.com
Unlimited access to 65+ years of CT's online archives
Member-only special issues
Subscribe
Female Sex Addict: Not an Oxymoron
Female Sex Addict: Not an Oxymoron