In 1990, a high school senior attended a conference led by Dawson McAllister, who was then a prominent speaker at Christian youth gatherings.
"There is a young man sitting in the audience who thinks he is gay," McAllister told the audience. "He's been molested. He thinks the only way out is suicide. If that is you, I want to talk to you."
The student, convinced that McAllister was talking specifically about him, went forward and was referred to what is now Exchange Ministries in Orlando, an affiliate of Exodus International. Eventually, the student—Alan Chambers—became the president of Exodus.
So when, last week, McAllister announced that he was severing ties with Exodus due to pressure from his radio network, Chambers took the news personally.
"Dawson McAllister was the catalyst for my journey, which eventually led me to direct the organization he's now unwilling to officially associate with. Could the irony be any more bitter?" Chambers wrote in a blog post on the Exodus website. "[W]e wonder what other biblical truths are up for negotiation when on-air visibility is at stake."
The dustup was prompted by a 22-year-old college student's blog post about calling in to McAllister's nationally syndicated radio show, posing as a 16-year-old questioning his sexuality.
"Despicable," Greg Kimball wrote about being referred to Exodus. "Can you imagine the number of gay or questioning children that, because of this advice, have hurt of [sic] killed themselves? Who have lived a lie for the rest of the [sic] life? This makes me sick. … I called and spoke with Kiss 108 Boston's Program Director, Chris Tyler, and he stated that not only was he unaware that McAllister's show was giving out this advice, but that he was unaware the show had a religious foundation!"
When The Boston Globe reported that gay activists were rallying against McAllister, Boston's Kiss 108, and owner Clear Channel Communications, the broadcasting giant seemed to be standing by the program, affirming its dedication to "a wide range of commentary and opinion in our programming," noting that the network is "not directly involved" in the Dawson McAllister Association HopeLine (the call-in referral service). "With regard to current discussions online and elsewhere about a particular HopeLine conversation, we would note that Dawson himself does not make comments regarding homosexuality on air, on his website or on his blog," the network said.
Shortly after the Globe story ran, the company later changed its statement:
Although Clear Channel, its Premiere Radio Networks and its radio stations are not involved in the operation of the Hopeline or the Association, we were concerned about how listener calls to the Hopeline that discussed sexuality were addressed and referrals callers were given to third parties. Clear Channel has a history of making significant commitments to diversity within our own company, and has been honored by the Human Rights Campaign for its policies regarding GLBT employees and business partners. After looking into this matter, we expressed to the producers of

Dawson McAllister Live

that Clear Channel listeners who call the Hopeline be treated in a manner consistent with our corporate commitments to diversity. As a result of those discussions, the Dawson McAllister Association has reviewed its training for Hopeline volunteers and will remove the Exodus organization from its referral system and remove links to Exodus from its website.
"According to both Dawson and his CEO," said Chambers, recounting two phone calls, "this severance had nothing to do with disagreement. The CEO, in fact, assured me they still love Exodus and believe in what we are doing, which bothers me all the more. … When someone publicly dumps you then privately whispers 'We still believe in what you're doing,' isn't some kind of double-mindedness at play?"
Chambers says that Dawson McAllister Association CEO Tim Altman told him that only 1 percent of the callers over the past 15 months had wanted advice about homosexuality. "Should we forsake the 99 percent for the 1 percent?" Chambers says Altman asked.
"Had he remembered the parable of the lost sheep," Chambers remarked on his blog, "in which a good shepherd left the 99 for the 1, he might have answered his own question."
Dawson McAllister's website still refers visitors to Campus Crusade for Christ's Truth Media, True Love Waits, Focus on the Family, and other ministries that counsel youth with same-sex attraction.
Premiere Radio Networks, the Clear Channel subsidiary that syndicates Dawson McAllister Live, syndicates several programs that discuss homosexuality more often than McAllister's, including The Glenn Beck Program and The Rush Limbaugh Show.
Related Elsewhere:
Earlier Christianity Today coverage of Exodus and other ex-gay ministries includes:
No Straight Shot | More evangelical therapists move from changing orientation to embracing faith identity for gays. (Sept. 14, 2009)
An Older, Wiser Ex-Gay Movement | The 30-year-old ministry now offers realistic hope for homosexuals. (Sept. 13, 2007)
Ex-Gay Sheds the Mocking Quote Marks | The retiring head of Exodus says gay transformation ministries are more respected and effective than ever. (Jan. 7, 2002)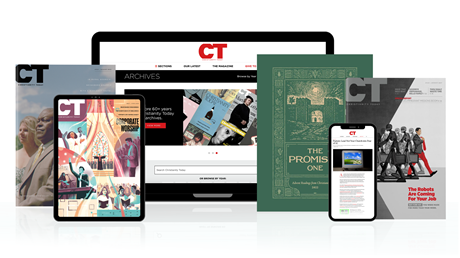 Annual & Monthly subscriptions available.
Print & Digital Issues of CT magazine
Complete access to every article on ChristianityToday.com
Unlimited access to 65+ years of CT's online archives
Member-only special issues
Subscribe
Why Exodus Was Especially Upset by Advice Show's Rejection
Why Exodus Was Especially Upset by Advice Show's Rejection