J. Lee Grady might spend his days editing Charisma magazine, but away from his desk, you might find him on Orlando's Incredible Hulk roller coaster—his favorite ride—maybe with one of his four daughters. He points to a photo of his daughters on his desk as the reason he spends half of his time now on a ministry focusing on women.
In his Orlando-based office, dirt fills shot glasses on the bookcase, pushpins fill the map on the wall, and souvenirs from Africa, Asia, and Europe surround the computer.
The souvenirs come from the places Grady has traveled, the pushpins mark the visits, and the dirt reminds him of each place he has set foot.
The collectibles represent memories of his ministry called the Mordecai Project, devoted to empowering women to fill leadership positions in their churches. Grady has been a longtime proponent of women in leadership, having written 10 Lies the Church Tells Women in 2000. The ministry has propelled Grady to speak in 21 countries, taking his voice to a more international level.
"I think that God has opened a door for Lee to be a prophetic voice that goes beyond the magazine," Charisma publisher Steve Strang told CT. "It gives him a base and has given him a voice to write, but he's been invited to speak to the nations."
Just 8 percent of all congregations in the United States are led by women, according to the National Congregations Study. Although the Pentecostal/Charismatic movement has historically supported women pastors, Grady still believes some independent congregations need to encourage women in their churches to become leaders.
"Sometimes women asking for their rightful place end up sounding self-serving," Grady said. "It's very healing for a man to speak about these issues because Jesus modeled that."
Grady's daughter, Margaret Grady Turner, 23, is an associate campus pastor at Emmanuel College in Georgia.
"He reaches a different audience than some of the scholars because he reaches the person in the pew very effectively," said Mimi Haddad, president of Christians for Biblical Equality. "He's as charismatic and gifted as they come."
Haddad said that when Grady would have men hold their arms over women and pray for them, it was particularly powerful for the women. "It gives them healing and courage to use their gifts," Haddad said. "He's not directly benefiting from his advocacy for women."
Beyond women in church leadership, Grady speaks out against all kinds of social injustice in countries all over the world, such as genital mutilation, sex selection, and abuse.
"There's a lot of recent emphasis on sexual trafficking, which has kind of become the sophisticated cause for everybody," Grady says. "My philosophy is if we train these girls to be educated and send them to college, they just might become an Esther and change a law in their country."
Grady is working on a book on how men should break free from machismo attitudes called 10 Lies Men Believe.
Sarah Pulliam Bailey is online editor at Christianity Today.
Related Elsewhere:
This story accompanies a profile of Lee Grady.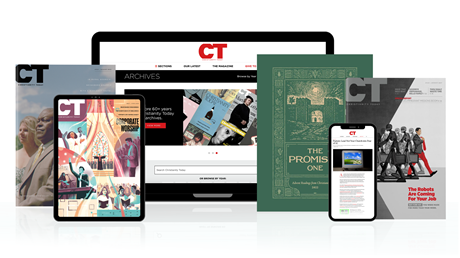 Subscribe to Christianity Today and get access to this article plus 65+ years of archives.
Home delivery of CT magazine
Complete access to articles on ChristianityToday.com
Over 120 years of magazine archives plus full access to all of CT's online archives
Subscribe Now
Modern-Day Mordecai
Modern-Day Mordecai