If you are one of the 28.8 million people who watched American Idol's season finale Wednesday night, you already know that Kris Allen, the 23-year old worship leader from Conway, Arkansas, beat out Hollywood rocker and musical theater vet Adam Lambert for the eighth season's title. Many saw this final battle as yet another chapter in the red-state/blue-state struggle, pitting Christian wholesomeness against bombastic worldliness. But in the days following Allen's surprise victory, the conversation has shifted from questions of whether devoted Christian voters propelled Allen past the season-long frontrunner, to the strong friendship the two performers have forged during the season.
Earlier this year, I wrote about the role of faith on American Idol. While contestants like Allen may benefit from "the Christian vote," non-Christian performers like Adam Lambert have been similarly embraced by voters who do not share his worldview. By allowing him into their homes (via TV) for the past few months, many viewers came to see Lambert as more than his sexuality. Writes Ann Powers in the Los Angeles Times:
Each singer has fans who should be rooting for the other one, according to the usual patterns linked to the culture wars. Some commentators have tried to make a stir over Lambert's sexuality - Bill O'Reilly questioned Lambert's appropriateness as a singing role model on his Fox News program. But he seems to have many Christian admirers.
"My husband and I are Baby Boomer Christians and we LOVE Adam Lambert! After 8 seasons, we finally have the contestant who defines the title," wrote one reader in the comments section of Newsweek magazine's Pop Vox blog.
Allen's friendship with Lambert, who was his roommate for the duration of the show, embodied Christian love in a way that also surprised many in the mainstream media. During Rock Week (top 4), Allen painted his thumbnail black while Lambert removed the black polish from his thumbnail, showing support for Lambert as a performer and friend, even while the two were competing against each other. And in an interview with E! the morning after his surprise win, Allen said, "I told [Adam], I was like, 'You deserve this,' and he was like, 'No, you deserve this.' We love each other, man. We've been friends ever since the Top 36, we were in group two together, and we both made it. I'm really proud of him, and I know that he's really proud of me as well."
Wednesday night's win was just one moment in pop culture history, so it may be silly to read many larger implications into Allen and Lambert's friendship. But as the most-watched show on television, perhaps American Idol is a catalyst, or at least a mirror, of how Christians can engage those whose actions they do not fully embrace. For Christian viewers, this means we can celebrate Kris Allen's victories - both musical and spiritual - on America's biggest stage.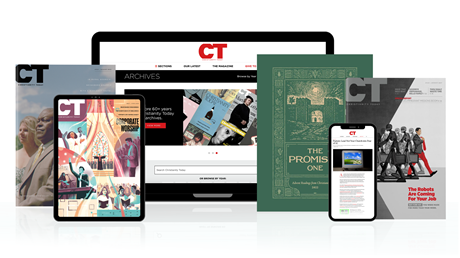 Subscribe to Christianity Today and get access to this article plus 65+ years of archives.
Home delivery of CT magazine
Complete access to articles on ChristianityToday.com
Over 120 years of magazine archives plus full access to all of CT's online archives
Subscribe Now
Kris Allen Triumphs on 'American Idol'—in More Ways Than One
Kris Allen Triumphs on 'American Idol'—in More Ways Than One