Earlier in March, Franklin Graham, head of relief organization Samaritan's Purse, visited with Sudan President Omar al-Bashir just prior to the International Criminal Court (ICC) issuing an arrest warrant against the president for war crimes associated with the government's role in the Darfur conflict, where millions of lives still hang in the balance.
After Graham returned, he agreed to a lengthy interview with Christianity Today about al-Bashir and Samaritan's Purse's ministry in Sudan.
How would you describe your relationship with President al-Bashir based on the three meetings you've had?
He's a very interesting person, and no question he's a man who's responsible for a lot of the bloodshed and misery in his country. Samaritan's Purse has been the recipient of his bombing. Our hospital was bombed on seven separate occasions.
During the war, the government of Sudan targeted civilian and nonmilitary targets, hospitals, and U.N. food distribution sites. I would complain bitterly to the administration at the time. Back then it was [to] Secretary of State Madeleine Albright and U.N. Ambassador Richard Holbrooke — that they do something to intervene. I was finally invited by al-Bashir to come see him, and I did that, back in 2001. He stopped bombing the hospital.
When President George W. Bush came to power, he assigned Sen. John Danforth to be special envoy to Sudan. President Bush put a tremendous amount of pressure on al-Bashir, and not only did al-Bashir stop the bombing in the South, but because of U.S. arm twisting, he also signed the Comprehensive Peace Agreement (CPA).
What did you and al-Bashir discuss the last time you met?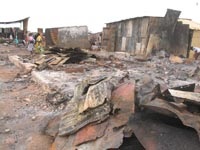 I spoke with him about church-related issues, related to the church in the North. Believers don't have the freedom there to build churches or own land. The church school diplomas are not recognized by the government. Christian children going to public schools have to attend Islamic religious classes. So I spoke to him about these issues, and said that these were not acceptable. We as Christians don't want more freedoms than Muslims; we just want the same freedoms. I spoke to him about building new churches in Khartoum, and I requested to build 10 new churches in Khartoum. He said I had permission if I would build 10 technical institutions, which I said I would do.

Were you surprised by his apparent receptiveness?

When I've been with him, he's very upfront. He says, "I want to make you Muslim." I say, "I'd like to persuade you to be a Christian." That's the difference — they want to force you, we want to persuade.

Over the last eight years, President al-Bashir has shown willingness to work for peace, [but] the CPA between the North and South has not been fully implemented. It's extremely important that that gets implemented and not renegotiated.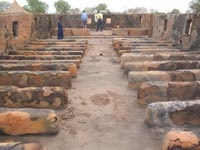 The situation in Darfur is much more complex. You have approximately 18 different armed groups that not only fight each other, but also fight the government. You cannot blame all of the destruction in Darfur on al-Bashir. The government of Chad is partially responsible. Libya is partially responsible. I appealed to al-Bashir to not only try to resolve the issues in Darfur, but also to take an active lead in resolving the issues and [working toward] political stability. I've [also] communicated with him since I left Sudan, asking him to reinstate the aid agencies.

Yours is not one that's been kicked out, correct?

No. Not yet.

How does the president of South Sudan, Salva Kiir Mayardit, view the ICC arrest warrant, and have you been able to meet with Kiir as well?

I spoke with him last Wednesday [March 11] as well, in Juba. He feels the ICC's position could possibly derail the CPA. He is concerned. What people don't understand is, you have a very radical Islamic government in Khartoum. Al-Bashir is probably the most moderate in that government. If he were to be replaced, the fear with everybody is that you'll get a more radical person, and the country will erupt into civil war.

To what extent do both leaders want the U.S. to be involved in the peace process?

Both are 100 percent supportive of the United States being engaged. [Al-Bashir] asks me every time I meet with him. He asks me to ask my government to be engaged. But we are very slow, and sometimes we don't reward them for their small steps. … We still don't have an ambassador there. I think we ought to name an ambassador, and get the embassy up and rolling with the full court, so to speak — a diplomatic mission. We don't have that yet. We need to assign a full-time special envoy to Sudan, someone who answers directly to President Obama and not the State Department.

Are you already seeing the impact of the relief groups having been kicked out?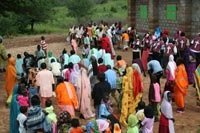 No question it will have an impact. This is the sad thing about the ICC. They may be right. I'm not disputing that. But it's made life a whole lot harder for people who are trying to help. It's antagonized the government, which is suspicious that the aid agencies are collaborating with the ICC. So it's made it worse. The ICC's action doesn't change anything. Al-Bashir's still in power. Nobody's going to arrest him, and you have just ticked him off. So even though the ICC has made a point, nobody is going to serve the arrest warrant, arrest him, or put handcuffs on him.

You have some powerful video footage on your website, particularly showing your church rebuilding program. How is this project coming along?

We estimated that about 1,000 churches were destroyed in the war by al-Bashir's government when they were trying to destroy Christians in the South. They killed one million people, and that's a conservative estimate. Some think it's closer to two million. Pastors were rounded up and their wives and daughters were raped in front of them. Then the pastors' throats were cut and their wives and daughters were taken back to be sex slaves. That's all been documented.

But through our rebuilding program we've rebuilt 256 churches, with 16 under construction. It costs about $80,000 per church to rebuild. We've had to build our own construction company. We fabricate the buildings offsite and then erect them. They are well-built. … These buildings will be there for several hundred years. By the end of this year, we plan to have over 350 churches rebuilt in the South and also in the Nuba Mountains [where over 100 churches have been rebuilt].

What is your organization's overarching strategy in Sudan?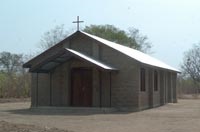 Evangelism. That's our goal. We want to make Christ known. When I'm with al-Bashir, I never leave his presence without presenting the gospel to him. Samaritan's Purse is an evangelical organization. We help people and treat them and love them in such a way as to make Christ known. It's all about the gospel. That's what we do.

How does al-Bashir respond to this?

He listens. He shows respect for what I say. Of course he doesn't believe it, but he will never be able to stand before God and say, "I didn't know."

You say, "We need al-Bashir at the table." Why should those hoping for peace believe that having him at the table is desirable?

Because there is peace right now in the South, and a government. And as part of the CPA agreement, there will be a referendum in the South for them to vote to secede. People are rebuilding, and the bloodletting has stopped. We are taking a huge risk. But people say this [ICC warrant] is justice. I say, give me a break. What you're going to do is ignite another war because you're trying to make a point.

How do you respond to suggestions by the previous administration's special enjoy to Sudan, Richard Williamson, that al-Bashir is manipulating you and others in the international community and using the suffering Sudanese people as pawns?

I'm sure al-Bashir has his agenda. He may be trying to manipulate the system all he can. That's why we have to hold his feet to the fire in terms of the peace agreement. President Obama has to pay attention to this. The peace agreement should not be renegotiated. It should be implemented.

If you oppose the ICC's arrest warrant, what international action, if any, do you believe should be taken to address al-Bashir's actions?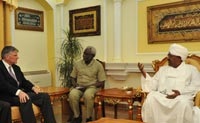 I'm not opposing the ICC. I'm just making a comment that the ICC has made the situation go from bad to worse, which the 13 aid agencies getting kicked out prove. But I'm not defending al-Bashir. I'm just stating that [the ICC] has made it more difficult for aid agencies like Samaritan's Purse.

What do you desire the ICC and the international community to do now that the warrant has been issued?

The damage is done. We have to move past this and get the United States engaged. I encouraged al-Bashir. I said, "Don't let this ruling discourage you and prevent you from working for peace. You can't change what's been done. Now let's work together for peace."

It appears that since the 13 international relief agencies have been kicked out, several Arab and Muslim relief organizations have applied to replace them. Could you comment on this?

This is part of the [Sudan] government's strategy. They say, "If these agencies are going to spy, we'll put them out and aid groups from Iran and Saudi Arabia can come in and pick up the slack." I can't speak to what these groups will do … [but] we are Christian, and we feel we're supposed to share God's love with everyone and tell them what Jesus Christ did for us on Calvary's cross. I want everyone to know that they can have new life and a new beginning in Jesus Christ. So far, God's given us favor with this government, and I don't know why. But I hope in the next 10 years to have 10 churches built in Khartoum, and I'll keep reminding him. I'll [tell al-Bashir], "That's what you told me."

What gives you hope?

Right now there is peace in the South. When I was in Nuba, I visited a Bible school, an evangelical seminary staffed with teachers from Lebanon and Jordan. There are 36 students there about to graduate after a three-year Bible course and become pastors. They are about to graduate and will become new church leaders. That's what gets me excited.
Related Elsewhere:
Christianity Today has more articles on Sudan.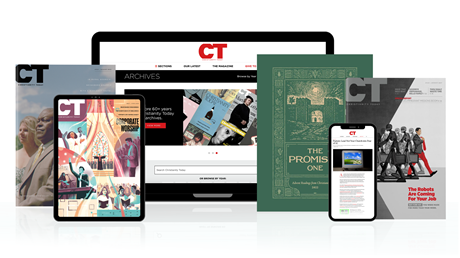 Annual & Monthly subscriptions available.
Print & Digital Issues of CT magazine
Complete access to every article on ChristianityToday.com
Unlimited access to 65+ years of CT's online archives
Member-only special issues
Subscribe
Franklin Graham: Sudan's al-Bashir 'Responsible for Bloodshed'
Franklin Graham: Sudan's al-Bashir 'Responsible for Bloodshed'