Known as a divisive theologian, John Calvin has become a unifying figure 500 years after his birth on July 10, 1509. Already several sources have recounted how conservative Baptists, charismatics, Presbyterians, and others have rallied around the reformer's teaching about the glory and sovereignty of God. But fewer have observed the diverse collection of mainline Christians who have stepped forward to defend Calvin, sometimes confronting ignorance within their own historically Reformed denominations.
Perhaps the most well known Calvin apologist today is Marilynne Robinson. She recently spoke with The Guardian about Calvin's influence on the modern novel. Before she wrote the Pulitzer Prize-winning novel Gilead and a highly acclaimed companion, Home, she penned essays in defense of Calvin for a 1998 collection, The Death of Adam. She describes Calvin as a "sickly, diligent pastor, scholar, diplomat, and polemicist, who wrote theology of breathtaking beauty and tough-mindedness as well as line-by-line commentary of most books of the Bible." Unfortunately, many Christians might be confused about even these basic details.
"Many of us know that Calvinism was a very important tradition among us," writes Robinson, a Congregationalist. "Yet all we know about John Calvin was that he was an eighteenth-century Scotsman, a prude and obscurantist with a buckle on his hat, possibly a burner of witches, certainly the very spirit of capitalism."
During the United Church of Christ General Synod in Grand Rapids on June 28, fellow Congregationalist Charles Hambrick-Stowe highlighted Calvin's vital contributions to Protestant theology. Calvin taught that salvation comes by faith alone through Jesus Christ, not by anything we do. He bowed to the authority of Scripture, not to the papal office. And he sought to reform both the civil sphere and church life under a God who exercises sovereignty over all things. Still, Calvin's reputation lags behind reality.
"For many decades now in our denomination, Calvin has been seen—at best—as an embarrassment, the crusty old uncle that you wish would stop coming to family gatherings," explained Hambrick-Stowe, an accomplished scholar and pastor of First Congregational Church in Ridgefield, Connecticut. "If Presbyterians still wanted to engage in conversation with Calvin that was their business, we were too progressive-minded for that and it wasn't too hard to ignore him as we adapted ourselves to modern, more supposedly relevant ways of thinking."
To celebrate the Calvin Jubilee, the Presbyterian Church (U.S.A.) has released a 60-minute documentary called John Calvin: His Life and Legacy. Producers hope the documentary "will stimulate audiences and inspire a greater passion and understanding of their history as Reformed Christians." According to Joseph Small, director of the PC(USA)'s Office of Theology, Worship, and Education, the primer is sorely needed.
"Many Presbyterians greet the news that 2009 will mark the 500th anniversary of John Calvin's birth with a yawn, a roll of the eyes, or even a derisive snort," Small writes. "Why are we so dismissive of our forebear in the Reformed tradition? Lutherans adore Martin Luther. Methodist hearts are strangely warmed by John Wesley. Anglicans even have a sardonic fondness for Henry VIII. But Presbyterians are uncertain about John Calvin and his legacy. Calvin is not a Reformed idol."
Nor should anyone treat him that way, Small cautioned. But Presbyterians can still recognize and appreciate how he molded Reformed churches and how his legacy continues to shape them today. He brought education to the masses even as he trained ministers. He labored to make the Scriptures understandable through regular preaching. He developed theologically informed ethics that undergirded emerging Western political structures. Alas, few recognize this influence today, because theology has been relegated to sectarian status.
"This great project, theology, which for so many centuries was the epitome of thought and learning, the brilliant conceptual architecture of western religious passion, entirely worthy of comparison with any art which arose from the same impulse, has been forgotten, or remembered only to be looted for charms and relics and curiosities," Robinson laments.
Though it seems arcane to many today, Calvin's theology is not so unusual, Robinson maintains. Indeed, it brings comfort to the Christian soul.
"For Calvinism, we are all absolutely, that is equally, unworthy of, and dependent upon, the free intervention of grace," Robinson writes. "This is a harsh doctrine, but no harsher than others, since Christian tradition has always assumed that rather few would be saved, and has differed only in describing the form election would take. It might be said in defense of Christianity that it is unusual in a religion to agonize much over these issues of ultimate justice, though in one form or another every religion seems to have an elect. The Calvinist model at least allows for the mysteriousness of life. . . . The belief that we are all sinners gives us excellent grounds for forgiveness and self-forgiveness, and is kindlier than any expectation that we might be saints, even while it affirms the standards all of us fail to attain."
But this is not the Calvin who incoming seminary students initially expect to read, said Todd Billings, associate professor of Reformed theology at Western Theological Seminary. Even at this Holland, Michigan, seminary affiliated with the Reformed Church in America (RCA), new students look warily on Calvin, or at least his successors. But once they read him for themselves, Billings said, Calvin is almost always more popular than modern Reformed theologians.
"For many students, reading Calvin is extremely liberating," Billings said. "Many mainline seminarians have been given caricatures about Calvin's theology, but in reading him, they encounter his thought firsthand. Most of the time, they come to love Calvin's biblical and theological insight, even as they disagree with him on some points as well."
When they head into ministry, Billings said, recent graduates report back that they are more interested than veteran RCA pastors in a Reformed and confessional identity. Though born 500 years ago, Calvin's zeal for reform lives on through his readers.
Collin Hansen is a CT editor at large and author ofYoung, Restless, Reformed: A Journalist's Journey with the New Calvinists.
Related Elsewhere:
Christianity Today has a special section on John Calvin.
Previous Theology in the News columns are available on our site, including "Man of His Time for All Times."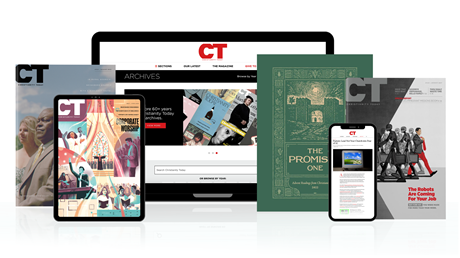 Subscribe to Christianity Today and get access to this article plus 65+ years of archives.
Home delivery of CT magazine
Complete access to articles on ChristianityToday.com
Over 120 years of magazine archives plus full access to all of CT's online archives
Subscribe Now
Calvin: Man for the Mainline
Calvin: Man for the Mainline