true
In January 2006, a friend suggested my kids might like High School Musical, a made-for-TV Disney movie about a group of squeaky-clean teenagers who break out of their school's cliques by taking part in a drama production. I was skeptical; at ages 8 and 5, my son and daughter were on the young end of the film's demographic, and the whole premise seemed underwhelming. But one Friday night our family found ourselves without plans and it just so happened that HSM was being re-aired. It came, we saw, it conquered … and now our extensive collection of DVDs, T-shirts, posters, soundtracks, and chapter books evidences our children's deep and abiding affection for the HSM Franchise.
Of course, Disney, knowing it had a bona-fide hit, re-aired HSM many times in that first year, pulling in a total of 200 million viewers around the world. When HSM 2 debuted in August 2007, the initial showing garnered 17.2 million viewers, the highest number of watchers ever for a cable TV show. The series has spawned two wildly successful soundtracks, an in-demand stage production (held in countless school theater programs), a concert tour, an ice show, and, now, a big screen sequel.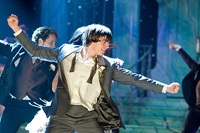 Wisely, Disney has kept intact the team that made the first two films, including all the lead actors, screenwriter Peter Barsocchini, and, most importantly, choreographer/director Kenny Ortega. With a bigger budget ($30 million, compared to HSM2's $7 million and HSM's $4.5 million), and an exponential increase in pressure, the filmmakers must've been tempted to somehow reinvent the wheel to justify the transition to a theatrical release. Early rumors suggested the movie had a Halloween theme and a working title of "Haunted High School Musical"; thankfully, those plans were abandoned for a straightforward treatment of the traumas and triumphs of graduation.
High School Musical 3 wastes no time introducing or developing characters, assuming (probably correctly) that its audience is already intimately familiar with Troy, Gabriella, Chad, Sharpay, Ryan and the rest of the gang. It's halftime of the last championship game of the boys' high school basketball careers, and Troy's Wildcats are losing. Coach Bolton's stirring speech about making the most of the last 16 minutes they'll ever play together establishes the first half of this movie's premise: Life as this gang knows it is almost over, so they better celebrate what they have. Soon, the film's first big production number is underway, with a sweaty, intense Troy singing "Now or Never" while the players and fans turn the game into an ingeniously choreographed dance.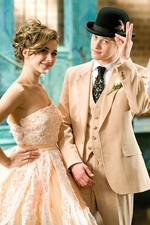 For the next 112 minutes, the cast moves at a crisp pace from one cleverly staged song and dance to another, with just enough dialogue in between to give us the film's slender story. Gabriella (Vanessa Hudgens) has been accepted to Stanford University. Troy (Zac Efron) is expected to play basketball at the University of Albuquerque, but is torn by both his desire to be closer to Gabriella and his not-so-secret love for theater. Sharpay (Ashley Tisdale), Kelsi (Olesya Rulin), Ryan (Lucas Grabeel), and Troy are all being considered for Julliard scholarships, leading to the expected intrigue and cattiness on Sharpay's part.
And Ms. Darvis, the school's enduringly quirky and passionate drama teacher, has corralled the entire gang to mount "Senior Year," a musical of the students' own making about the excitement and stress of the last months of high school. As the characters work in equal measure on play production, getting prom dates and outfits, and deciding their futures, the film is able to explore the second half of its premise: How does a person on the brink of adulthood discover who he really is, and what should he do about it?
With many of the actors actually in their early twenties, HSM3 is definitely the most adult feeling film of the trilogy, and the marquee appeal and onscreen chemistry of the leads is at its peak. (Translation: If she doesn't have one already, your daughter will want a Zac Efron poster.) But the film is still beguilingly wholesome, and completely free of irony or cynicism. As with the other installments, once a viewer gets used to the earnest tone (and the constant breaking into song), High School Musical 3 is irresistibly fun.
Is it big screen worthy? I think so. Most of the film's larger budget has gone into heightening the production numbers with more elaborate sets and stronger execution (the lip syncing is a thousand times better in this film than in the others). There is very little in the way of special effects, which keeps the film anchored, however hyperbolically, in the world of high school theater production. As expected from Ortega, the choreography is inventive and outstanding. The music does a good job propelling the story, although the songs themselves are not as memorable as they could be.
Some critics may complain that the film does not bring anything new to the table, and there is some truth to the charge. Most of the numbers in this movie have corresponding songs in the earlier films (compare Troy's angst ridden "Scream" to HSM2's "Bet On It," for example) and there is even a reprise of the first movie's "We're All in this Together." But the film's unabashed connectedness to the previous offerings seems ultimately more complete than redundant. By the end of the movie, the filmmakers have given their audience a highly satisfying sense of closure, no small thing when you consider the huge impact these characters have had on the audience's young lives.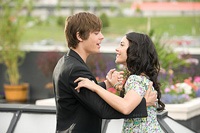 High School Musical 3 introduces a few new, younger characters, likely in the hopes of paving the way for a "Next Generation" edition of the franchise. But the film's chief focus is on giving its main characters a worthy farewell, and it does so in surprisingly moving fashion. (Reportedly, the actors did not have to work hard to conjure up emotion for the final scenes; many of the leads got so teary that the director had to pause production and let them regroup.)
Watching HSM3, I found myself both looking back to my own graduation and looking forward to my kids' future rights of passage. And I realized with a start that someday, when they wax nostalgic over their own childhoods, the songs and stories of the HSM movies will be one of the things they remember. Sure, the franchise is corny, but it ultimately celebrates talent, enthusiasm, loyalty and love. And you can dance to it.
Talk About It
Discussion starters
Troy must chose between his father's desires for his life and his own. How should a young adult make those kinds of choices? Does "honoring your parents" (Exodus 20:12) mean living their plans for your life?
Chad has a hard time accepting that Troy might decide on a path that puts distance between them. What role should friendship play in a person's education and career decisions?
A recurring theme in all the HSM movies is that people can break out of their cliques (jock, brainiac, athlete, etc.) and have other aspects to their personalities. Do you ever feel restricted by people's perceptions of you? Is there a talent or interest you need to encourage in yourself or in a friend?
What role should prayer play in life decisions (choice of college, boyfriend or girlfriend, etc.)? What role does prayer play in your life?
The Family Corner
For parents to consider
High School Musical 3, rated G, centers on the romance between Troy and Gabriella. Their chemistry is obvious, but the relationship is depicted as chaste, culminating in only one onscreen kiss. The film features extensive dancing, which is physical but not suggestive. There is no profane language and no violence, making HSM3 a highly family friendly film.
Copyright © 2008 Christianity Today. Click for reprint information.
What other Christian critics are saying: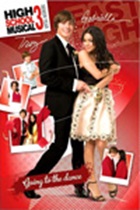 Browse All Movie Reviews By: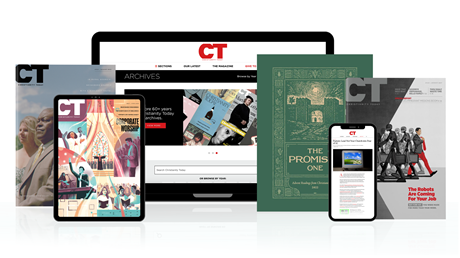 Annual & Monthly subscriptions available.
Print & Digital Issues of CT magazine
Complete access to every article on ChristianityToday.com
Unlimited access to 65+ years of CT's online archives
Member-only special issues
Subscribe
High School Musical 3
High School Musical 3