As a deer pants for flowing streams,
So pants my soul for you, O God. (Psalm 42:1, ESV)
Mother Teresa recorded her longing to feel the presence of the Lord everywhere, not just in the letters published in Come Be My Light, an excellent book edited by Father Kolodiejchuk. It is emblazoned on the wall next to the crucifix in every one of the Missionaries of Charity chapels all over the world - I thirst. Mother believed Jesus' was thirsty for souls; She was thirsty for him.
Much of Mother Teresa's writing reads like an instruction manual on right ways to suffer redemptively. With Paul, she could have said, "For his sake I have suffered the loss of all things … that I may share his sufferings, becoming like him in death" (Philippians 3: 8,10).
It appears that some saints go through excruciating purgation, a kind of suffering that increasingly separates them from the desires of the world and makes them more able to accomplish the purposes for which Christ has called them.
Teresa of Avila, author of the classic work on prayer The Interior Castle, went through 18 years of dryness, saying prayers of the church with her mouth but not her heart. Thomas Aquinas at the end of his life had a single encounter with God that made him say that all he had written was as straw compared to the reality of God. This so grieved him that he never wrote another word and died four months later.
John of the Cross wrote, "They harbor in the midst of the dryness and emptiness of their faculties, a habitual care and solitude for God accompanied by grief or fear about not serving him. It is a sacrifice pleasing to God—that of a spirit in desperate solicitude for his love … it begins to kindle in the spirit divine love."
True to John of the Cross's description of the periods of emptiness, Mother often feared she was not serving Jesus well. According to Thirsting for God, she once asked Pope John Paul II to pray that she not spoil the work. He replied, "And you, Mother, pray I may not spoil the Church."
Only God's divine love could sustain the work the Missionaries of Charity do in the conditions in which they live and work. All of us, who really experienced working with her and the Missionaries, even for short periods of time, know in our hearts we could not have maintained it.
In one of Mother's letters, she writes,
I do not know how much deeper will this trial go—how much pain and suffering it will bring to me. This does not worry me any more. I leave this to him as I leave everything else. I want to become a saint according to the heart of Jesus—meek and humble. That is all that really matters to me now.
Mother understood that all Christians are called to be holy and that the path on which God takes us differs greatly. She believed that the Missionaries of Charity were called to be poor in order to better work with the poor, but that God called others to "live in castles." That is why she could minister equally to the poorest of the poor and to Princess Diana.
Kolodiejchuk says, "Instead of stifling her missionary impulse, the darkness seemed to invigorate it." Yet the revelation of her dark nights strikes terror in the hearts of those who want to continue to press into God for the high calling.
One of the promises of God we are not so quick to celebrate is the promise of suffering. A quick glance at a concordance under the words suffer, suffering, suffered informs us that it is part of Christian life. Contemplate these words of Peter in the context of Mother's life: Therefore let those who suffer according to God's will entrust their souls to a faithful Creator while doing good (1 Peter 4:19).
Mother Teresa had many mystical experiences with God, especially conversations with Jesus in her early days as a Sister of Loretto and during the early establishment of the Missionaries. Like other mystics have reported across the ages, her mystical desserts began to disappear as she was called into higher levels of spiritual maturity and higher levels of service to God and man. In the words of Joy Dawson, these experiences "forever ruin us for the ordinary." Mother Teresa longed often to "feel" his presence as she had before.
We have a hard time in the West (and maybe especially in the Protestant West) getting our heads around these spiritual realities. This is because somewhere in the early Middle Ages, the mystics were no longer invited into the universities, the seminaries, or to be advisers in governments, businesses, hospitals, and other institutions. The mystics were sent back to the monasteries and other ministries. Their wisdom is all but lost in the public conversation, and as a result we also live most by naturalism and by our feelings—we grope along by sight and feel.
Even Christians in the West may tend to analyze Mother Teresa as depressed and wonder if she might not have been better off if she had just been given some Prozac. Having lost an understanding of these deep workings of God in our souls and spirits, we too have often adopted the basic tenets of secular psychology, sandwiched between a beginning and ending prayer. But for Mother Teresa (as for the mystics) there is not a trace of secular psychology (or atheism) in her writings; it simply occupied no part of her being.
Jesus tells us there is only one test of discipleship—fruit. Father Scolozzi writes,
I learned that her invitation simply led to more questions, until finally I reached the ultimate ones. I had to face the agony of losing and finding myself in total surrender to the One who knows why we must be buried in the death of his Son before we can rise to a newness of life. I began to realize that no one can effectively serve God's poor without first breaking out of the prison of his own ego. Mother told me it takes a lot of humiliation to produce just a little bit of humility.
Father Neuner sent a copy of The Collected Works of John of the Cross to Mother. At the end of a long letter to Father Neuner praising the book ("How wonderfully he writes about God"), she wrote, "If my darkness is light to some soul—even if it be nothing to nobody—I am perfectly happy to be God's flower of the field." Later she told him she had come "to love the darkness." She had come to accept that she was sharing in Christ's sufferings.
Reading the private writings of Mother Teresa to her confessors reveals the transformations of a saint and the formation of a worldwide ministry. Here we have the stark reality of a mystic's hunger and thirst for God, a poor man's John of the Cross; the ecstasy, the pain, the triumph, and the feelings of failure are offered in the raw.
Despite her feelings of emptiness, Mother Teresa was full of the light of Christ and she led those of us who came to her to hunger and thirst for more of him.
Mary Poplin is a professor at Claremont Graduate University. She spent two months in the spring of 1996 working with Mother Teresa and the Missionaries of Charity. This article is excerpted from her forthcoming book, Finding Calcutta, to be published in 2008 by InterVarsity Press.
Related Elsewhere:
Come Be My Light: The Private Writings of the 'Saint of Calcutta' is available from ChristianBook.com and other retailers.
Other books referred to include The Collected Works of John of the Cross and Mother Teresa: Contemplative in the Heart of the World.
Time's September 3 cover story is "Mother Teresa's Crisis of Faith."
The New York Times published an op—ed on the significance of the letters.
Christianity Today's previous coverage of Mother Teresa includes:
Book Uncovers a Lonely, Spiritually Desolate Mother Teresa | "There is no God in me," she wrote. (August 30, 2007)
John Paul II's Canonization Cannon | Why and how this pope has made over 470 saints (October 1, 2003)
Flash: Mother Teresa Was Human | Letters reveal the Catholic nun had doubts about God (February 1, 2003)
Dick Staub interviewed Mary Poplin in 2003.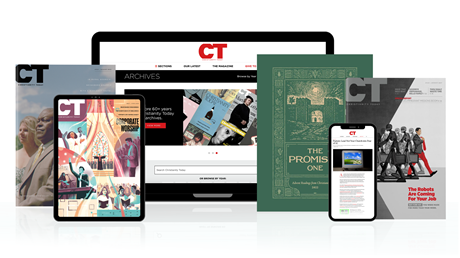 Annual & Monthly subscriptions available.
Print & Digital Issues of CT magazine
Complete access to every article on ChristianityToday.com
Unlimited access to 65+ years of CT's online archives
Member-only special issues
Subscribe
Read These Next
Trending

American Christians Should Stand with Israel under Attack

While we pray for peace, we need moral clarity about this war.

From the Magazine

God's Promises Are Clearest When We Turn Out the Lights

Christians have every reason to reduce light pollution.

Editor's Pick

Don't Miss These African Christmas Hits

Jam out this season to highlife, Afrobeats, jazz, a cappella, R & B, rap, dance, and hip-hop artists from Nigeria, South Africa, and more.
'I Thirst'
'I Thirst'