The Episcopal Bishop of Philadelphia has been barred from ministry pending a church trial to determine his culpability in protecting his brother, a former Episcopal priest who was accused of sexually abusing a minor in the 1970s.
Bishop Charles Bennison has been accused of "conduct unbecoming a member of the clergy" by an Episcopal Church committee and was barred from all ordained ministry by Presiding Bishop Katharine Jefferts Schori last Wednesday.
As rector of St. Mark's Episcopal Church in Upland, Calif., in 1973, Bennison acted "passively and self-protectively" when his brother, John, a youth minister at the parish, was accused of having a sexual relationship with a 14-year-old member of the youth group, according to the church committee.
John Bennison was married at the time, according to the committee's presentment, or charge, against the bishop.
Charles Bennison failed to provide pastoral care to the girl, who was not identified by Episcopal News Service. Neither did he take steps to end the "affair," report his brother to anyone, investigate whether his brother was abusing other children or tell the girl's parents about the affair until three years had passed, according to the presentment.
Later, Bennison did not prevent his brother's ordination, his later request to be reinstated after renouncing his orders in 1977, or his transfer between two California dioceses, according to the Episcopal committee.
John Bennison was forced to leave the priesthood in 2006 when news of his abuse was made public, according to Episcopal News Service.
A trial date for Bishop Bennison has not yet been set. He will be paid in the meantime, ENS reported.
Meanwhile, the Diocese of Pittsburgh disregarded a warning from Schori and took a big step out the door of the Episcopal Church, declaring itself at odds with the denomination's more liberal view of Scripture and homosexuality and paving the way to join a more conservative Anglican branch.
By a tally of 227 to 82, lay and ordained delegates to Pittsburgh's annual convention on Friday (Nov. 2) voted to change their diocese's constitution, removing language that requires "accession" to the national church.
"As a diocese we have come to a fork in the road," Pittsburgh Bishop Robert Duncan told delegates on Friday. "Indeed, it has become clear that our understandings are not only different, but mutually exclusive, even destructive to one another."
Pittsburgh is the third U.S. diocese to take that step, following San Joaquin, Calif., and Quincy, Ill. Constitutional changes require the approval of two consecutive diocesan conventions. San Joaquin is scheduled to hold its second vote on the constitutional change in December.
Duncan said Pittsburgh's action "announces an intention without actually making a change. … Of course, in another sense, adoption signifies an intention, gives warning, opens a possibility."
In a letter made public late last Wednesday, Jefferts Schori called on Duncan "to lead your diocese on a new course that recognizes the interdependent and hierarchical relationship between the national church and its dioceses and parishes."
If Duncan does not change course, Jefferts Schori said, he may be accused of abandoning the "Communion of the Church—by actions and substantive statements," and face disciplinary action, Jefferts Schori said.
Bishops found guilty of abandoning the church can be removed from ministry under Episcopal rules.
Duncan, who leads an effort to realign U.S. Anglicans upset with the liberal drift of the national church, responded defiantly to Jefferts Schori.
"Here I stand, I can do no other," the bishop said, quoting Martin Luther's famous declaration. "I will neither compromise the faith once delivered to the saints, nor will I abandon the sheep who elected me to protect them."
Related Elsewhere:
News stories about Charles Bennison and the Diocese of Pittsburgh's withdrawal include:
Calm Prevailed on Eve of Bishop Bennison's Inhibition | Clergy and deputies of the Diocese of Pennsylvania met in an eerily calm convention Nov. 3, even as their bishop counted down the hours before his inhibition from all duties of ordained ministry. (The Living Church Foundation)
Episcopal bishop won't 'abandon' his local sheep | Representatives of Pittsburgh's Episcopal Diocese ignored a warning to their bishop from the church's national leader on Friday and took a step toward a possible affiliation with an Anglican church outside the United States. (Pittsburgh Tribune-Review)
Episcopal Church Suspends Pa. Bishop | The bishop of the Episcopal Diocese of Pennsylvania has been ordered to cease his duties until a church trial about accusations that he concealed a relative's sexual abuse of a 14-year-old girl in the 1970s, a newspaper reported Thursday. (Associated Press)
Bishop Suspended, Accused Of Covering Up Child Abuse | I-Team revealed sex abuse cover-up. (ABC News)
US bishops face legal action from Episcopal church | Two senior Anglican bishops are facing legal actions from their own church in the US. (The Times)
Article continues below
Episcopal bishop suspended | The head of the denomination's Philadelphia diocese is accused of concealing his brother's sexual abuse of a minor. (The Philadelphia Inquirer)
Pittsburgh Episcopal Diocese Votes to Leave the Church | By more than a two-to-one vote, members of the Episcopal Diocese of Pittsburgh voted Friday in favor of separating from the national church because of a theological rift that began with the consecration of an openly gay bishop in 2003. (The New York Times)
For more Christianity Today coverage, see our section on the widening division in the Anglican Communion.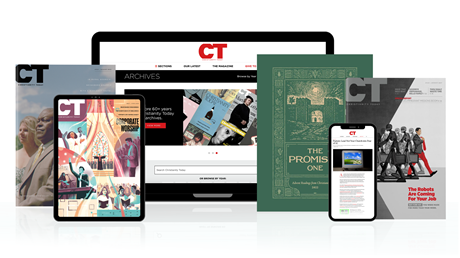 Subscribe to Christianity Today and get access to this article plus 65+ years of archives.
Home delivery of CT magazine
Complete access to articles on ChristianityToday.com
Over 120 years of magazine archives plus full access to all of CT's online archives
Subscribe Now
Episcopal Bishops in Pa. Suspended, Warned
Episcopal Bishops in Pa. Suspended, Warned