true
The Simpsons have been on TV for eighteen years—the second-longest running primetime program behind 60 Minutes. So unless you've been in the Peace Corps for a good chunk of that time or simply don't watch any television, you probably already have an opinion about America's favorite animated family.
The show's creators know this, and, in a stroke of genius, use it to their advantage in the uproariously funny self-aware opening to The Simpsons Movie. Let's face it. Most television shows don't translate well to the big screen, and that's especially true for 15- or 30-minute cartoons that don't have the depth or nuance to expand into feature length. But The Simpsons, with its broad range of slapstick and satire, effortlessly stretches to four times the usual length of a 22-minute episode, yielding one of the most successful television-to-cinema transplants I've ever seen: "Best … feature-length … episode … ever."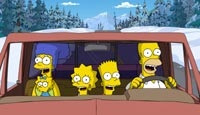 OK, as a fan who knows most every episode forward and backward, I admit I'm a bit biased. Since the show's start during my high school years, The Simpsons played a formative role in developing my sense of humor (for better or worse). And while I never tire watching the classic episodes, I've grown disenchanted with the show in recent years, which I attribute to changes in the writing staff.
If you agree that The Simpsons has soured somewhat over the last five years, fear not. The Simpsons Movie reunites several of the veterans responsible for the golden age of the series, including creator Matt Groening, director David Silverman (Monsters, Inc.), and contributing writers James L. Brooks, Al Jean, John Swartzwelder, David Mirkin, Ian-Maxtone-Graham, among others—eleven writers, four consultants, and five producers total (with some overlap). The film recaptures the glory days of the series, confirming that changes in the guard have undermined its quality over the last decade. Suffice to say, fans will love it.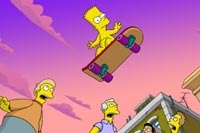 The plot has been kept secret more tightly than Harry Potter's final book, and rightfully so. Like most episodes, the less you know, the funnier it is—especially since a Simpsons plot is usually like traveling from Missouri to Illinois by way of Alaska and a slight detour to Bolivia. Let's just say this much: The story begins at church when Grampa Simpson supposedly has a "holy moment" and begins speaking, shall we say, "charismatically." Marge (Julie Kavner) and others deem his words a prophecy of doom for Springfield. Later, Homer (Dan Castellaneta) saves a pig from slaughter, adopts it as a pet, and stores its waste in a homemade backyard silo. When Marge tells him to get rid of the porcine poop, Homer, distracted by a local donut give-away, hastily dumps the swine slime in the wrong place, creating an environmental catastrophe that threatens the future of Springfield, as well as his marriage and the respect of his children Bart (Nancy Cartwright), Lisa (Yeardley Smith), and baby Maggie. And that's just the first 20 minutes.
Leave it to the show creators to come up with a storyline that champions environmental awareness but vilifies the EPA at the same time. But that's long been a hallmark of The Simpsons. It takes shots at everyone and everything, including the Christian church. Which is mostly why I don't get too worked up when the humor wanders into sacrilege. Though nothing is sacred, nothing escapes their crosshairs either. Christianity is mocked a few times in the movie, but it's not a mean-spirited agenda—more an indictment of religion than faith. And despite poking fun at the exaggerated straight-laced qualities of Ned Flanders (Harry Shearer), this film truly loves the Simpson neighbor for honorably showing love to others in need.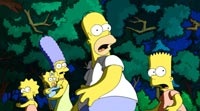 Besides, much as we all love to laugh at Homer, no one's confusing him for father of the year—or Bart as the model son, for that matter. In spite of the family's dysfunctional breakdowns over the last eighteen years, we know this family cares for each other, and that Homer is ultimately capable of doing the right thing when he remembers to love others over himself. Peel away the layers, and there's a strange sweetness underlying The Simpsons—again, one that's been lacking from the TV show lately, but happily restored here.
But like Harry Potter—and many other cultural sensations—The Simpsons have long been cause for division among Christians. Here's where history is helpful: You've got eighteen years of Simpsons to draw from between Sunday nights, syndication, and DVDs. If you're not a fan by this point, or if you regularly find yourself offended by the irreverent humor, take a pass, knowing that nothing has changed for the movie, other than the fact that it's now rated PG-13. No one goes so far as to drop an f-bomb, but Homer flips the bird on camera … and wait, was that a glimpse of Bart Simpson's "little doodle" (as Ned would say) while he was skateboarding in the nude through downtown Springfield?
The film also loses points for a technicality: I'm not sure if it can truly stand on its own two feet as a comedy. If you've seen less than ten or twenty episodes after all this time, at best you'll keep pace and catch most of the gags—but not all of them. Those who have followed the series with some measure of consistency over the years will find it more rewarding than someone who walked into it cold with no experience. It's a film for fans—not necessarily rabid fans, but fans nonetheless. (And yes fans, you'd be wise to stay through the credits looking for more humor throughout. It was filmed on location!)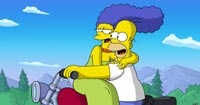 Which gets to the real question. Does The Simpsons Movie offer anything to fans that hasn't already been seen after nearly two decades? With humor this varied and boundless, it surely can, relying on historical gags from classic comedy and the show's past, to timely swipes at politics and pop culture. What I love about The Simpsons is the way it can draw a cheap sophomoric laugh one second, only to try and slide a subtle bit of satire past you in the next. When you watch it "correctly," it feels like both sides of your brain are engaged.
Moreover, Springfield and its characters have never looked better. The animation may be smooth and digital—I miss that rougher, hand-drawn charm—but it's nice to see some quality two-dimensional work as opposed to nothing but 3-D CGI these days. The directing, timing, voice acting, design, shading … really, everything's done with excellence here, taking the familiar look of the show to a new level.
So what took them so long to make this? It's a lot of work to keep a successful program running season after season. And yet, there's a sense it was worth the wait to get to this point, rather than release a movie before full development. With its growing population of characters, its history of inside jokes, and unique comedic style, The Simpsons Movie truly is a comedy eighteen years in the making. Fans won't be disappointed.
Talk About It
Discussion starters
We all know Homer Simpson as a self-centered buffoon with no self-control. But does he have any redeemable traits? Is he an exaggeration, or an amalgamation of all we do wrong? What can we learn from Homer's character?
Discuss the Simpson family and their relationships with each other. How are they like the typical American family? Where do they fall short? Where do they get things right? Ultimately, are they committed to each other? Do you believe they're beyond improving themselves?
How does The Simpsons—television or movie—portray Christianity? Any truth to what's joked about? Is the show jabbing at faith, or more at overtly religious piety? Give examples of what would be appropriate Christian satire versus what would be too far, in your opinion.
What is Homer's epiphany in the movie? How does he reach it? With that in mind, how are we like Homer and what can we do to avoid being like him?
Why is Bart drawn to Ned Flanders as a father figure in the movie? Why is he still drawn to Homer? What can we learn about human nature from those two choices? What can Homer do to be a better father figure? Can Ned improve? If so, how?
The Family Corner
For parents to consider
The Simpsons Movie is rated PG-13 for irreverent humor throughout, similar to what you would expect from the long-running show. There's only a little profanity, though Marge profanes God's name in a way unsuitable for television, and Homer flips the bird. The irreverent humor also makes light jabs at Christianity (as with everything), shows characters using drugs or alcohol (including Bart), makes sexual innuendo, and in one quick flash, seems to linger on Bart's "doodle" while he's skateboarding in the nude. It's not as overtly crass as shows like South Park or Family Guy, but take the PG-13 rating seriously.
Copyright © 2007 Christianity Today. Click for reprint information.
What other Christian critics are saying: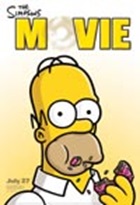 Browse All Movie Reviews By: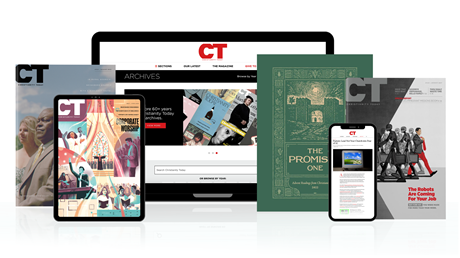 Annual & Monthly subscriptions available.
Print & Digital Issues of CT magazine
Complete access to every article on ChristianityToday.com
Unlimited access to 65+ years of CT's online archives
Member-only special issues
Subscribe
Read These Next
Trending

American Christians Should Stand with Israel under Attack

While we pray for peace, we need moral clarity about this war.

From the Magazine

God's Promises Are Clearest When We Turn Out the Lights

Christians have every reason to reduce light pollution.

Editor's Pick

Don't Miss These African Christmas Hits

Jam out this season to highlife, Afrobeats, jazz, a cappella, R & B, rap, dance, and hip-hop artists from Nigeria, South Africa, and more.
The Simpsons Movie
The Simpsons Movie