true
Is 2007 the year the abortion debate goes Hollywood? In addition to several fiction films which address the polarizing topic, this year will also see at least two feature length documentaries on the debate: Unborn in the U.S.A. (in very limited release; it comes to DVD in October) and this fall's much-anticipated Lake of Fire (director Tony Kaye's first film since American History X). So what's with the sudden cinematic interest in this hot-button issue?
The subject of abortion—long taboo but occasionally approached in cinema (see The Cider House Rules or Vera Drake)—is arguably the most divisive topic in American civic discourse. As such, it is rare that a Hollywood film is brave enough to confront the matter, and even films that do approach it (such as Alexander Payne's 1996 satire Citizen Ruth) usually refuse to take definitive sides. Of course, there have been films with decidedly pro-choice perspectives (HBO's If These Walls Could Talk comes to mind), but can you recall any mainstream Hollywood films that are explicitly pro-life?
Though they likely wouldn't call themselves "pro-life" (in the politicized sense of the phrase), several recent films contain messages—both implicit and explicit—that herald the virtues and sanctity of giving birth to new life. Four such films are Children of Men, Waitress, Knocked Up, and the forthcoming Bella (to be released this fall).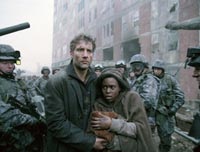 Children of Men ushered in 2007 with a stark, dystopian vision of a future world mired in terrorism, racism, and existential despair caused by the universal inability to procreate. The film is about the struggle to protect one woman, Kee (Claire-Hope Ashitey), who, against all odds, is pregnant. Husbandless, penniless, and by all accounts hopeless, Kee brings her baby into the world, and with it a light and hope for mankind. 
In May came Waitress, an offbeat romantic comedy that charts the unhappy rural life of pie-maker/waitress Jenna (Keri Russell). The film agonizingly follows the hapless Jenna as she deals with a deadbeat, abusive husband (Jeremy Sisto) and her pregnancy with his unwanted baby. With every reason to end the pregnancy, Jenna instead opts to carry it through—a life-changing decision that in the end proves her saving grace.
Along the lines of Waitress—though much, much cruder—is Knocked Up, the comedic hit of the summer from director Judd Apatow (The 40-Year Old Virgin). The film follows a gorgeous, on-the-way-up career woman, Alison (Katherine Heigl), who meets a greasy loser of a guy, Ben (Seth Rogan), at a club one night and—after numerous drinks and subsequent lapses in judgment—ends up hung over and pregnant the next morning. Going against modern wisdom, which would call an abortion the "no-brainer" response to Alison's predicament, the film instead follows Alison as she deals with keeping her baby—despite her mother's not-so-subtle hints that she should abort—and tries to make a relationship work with the child's father.
Perhaps the most explicit of this cycle of pseudo pro-life films, however, is Bella, which won the prestigious audience award at the Toronto Film Festival last fall and will hit theaters in America in a couple months. The film, directed by Alejandro Monteverde and executive-produced by Steve McEveety (Braveheart, The Passion of the Christ), comes from a team of faith-based filmmakers and presents a beautiful story of love, heartbreak, and hope—centering on, once again, a single woman dealing with an unplanned pregnancy.
In each of these films, the baby is born into chaotic, far-from-ideal conditions. In Children of Men, Kee's baby enters a post-apocalyptic world with bombs, gunfire, and destruction happening literally right outside the window.  And in all of these films the mother is lonely and afraid, with the father either out of sight, unsupportive (Waitress) or just a bumbling idiot (Knocked Up).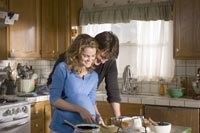 If abortion were ever a "good option," it would certainly be in these cases, or so go the arguments of modern culture. Indeed, these films have been openly criticized for not presenting abortion as the clear—or at least equally valid—option for the pregnant women in the films. Mireya Navarro wrote in The New York Times in early June that because studies show "nearly two-thirds of unwanted pregnancies end in abortion," Waitress and Knocked Up "go out of their way to sidestep real life." As if the one third of unwanted pregnancies that do not end in abortion are somehow irrelevant or undeserving of Hollywood portrayal! It seems the chief complaint is that reasons aren't given in the films as to why these women go through with their pregnancies; but what reason need ever be given to justify a pregnant woman going through with the birth? It's a natural, beautiful, transcendent (if not ridiculously painful) thing to have a baby, something these films all portray.
Indeed, what makes these films so viscerally pro-life are their depictions of the actual act of childbirth, and the joyous results therein (the babies themselves). The birth scene in Children of Men is a strikingly powerful moment when the chaotic turbulence of the world falling apart all around gives way to the intimate moment of one tiny soul fighting its way into existence. The tone and setting of the scene—a dark, dirty, stable-esque room—hearkens back to Bethlehem in more ways than one, as the tiny newborn brings with it a hope and light for both its mother and the world. In Waitress the scene in the delivery room is one of chaos and catharsis, as Jenna simultaneously fights off the annoyingly physical attention of her husband and agonizes to push the baby out. When the penultimate moment finally comes and she holds the baby in her arms, Jenna has not only a new child but a new confidence in her ability to forge the path she was never brave enough to go down before. Similar catharsis happens in the hilarious and poignant Knocked Up birth scene, in which the arrival of a healthy baby fortifies the strength of its weakened, battered-down parents who at once see life in a different way.
In each of these cases, giving birth to a baby provides the characters a stimulant of purity and clarity—an impetus to do better, try harder, and love more. It is an end that more than justifies the pain, labor, and baggage of the means—a perspective that can only come after the encounter with the awesome event that is childbirth.
A pro-life upswing?
So what is going on here?  Is it just a coincidence that these films are coming mere months after the U.S. Supreme Court's significant decision in Gonzales v. Carhart to uphold the federal partial-birth abortion ban, a decided victory for the American pro-life movement? Is this all part of a pro-life upswing in terms of cultural authority?
It would be naïve to assume that the "pro-life" messages (if we can call them that) of these current films are at all indicative of a shift in Hollywood to the right. It is more likely that Hollywood is simply doing what it has always done—making films of a particular kind for audiences of a particular kind. Hollywood doesn't have to care about pro-life causes to understand that there are large amounts of money to be made by throwing the occasional bone to the mysterious Red Staters whose support can propel a film (Passion, Narnia) to the box office stratosphere. Hollywood is all about target marketing and maximizing profits, and as Ty Burr noted in a recent Boston Globe article, they are keenly aware that "religious people and other audiences with strong right-to-life views do buy [movie] tickets, and lots of them."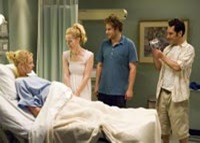 Still, this logic doesn't really explain how a film like Knocked Up, a hard 'R' that is decidedly family-unfriendly, is expected to bring in the evangelical audience. It's not. If it's true that the studio executives in Hollywood are the ones behind the pro-life aspects of these recent films (in effort to appeal to conservative or religious audiences), you'd think the films would be more generally "Christian/family friendly" and not chalk full of profanity and otherwise offensive material.  Furthermore, I doubt that the audiences going to see Waitress and Children of Men (rather indie-minded, specialized films) are dominated by conservative evangelicals.
Perhaps the popularity of these life-affirming films indicates a more general cultural longing for life, in the midst of a world that is increasingly cavalier in its cheap treatment of it.  It is interesting that these films come at a time when the "death-affirming" exploits of new horror genres are beginning to wear out their welcome. Not long ago, the Saw and Hostel brands of nihilistic "bloodporn" were turning huge profits; but recently, with the financial failure of Eli Roth's torture-happy Hostel 2 and the fetishized gore of Grindhouse not winning over audiences, viewers may be tiring of the cheap, exploitative treatment of something so valuable as a human life.
I hesitate to make a causal connection here, because certainly the filmmakers behind Waitress, Knocked Up, and Bella had no idea that audiences would soon grow weary of Hostel-ian bloodporn—or that the audience might be longing for something more positive. But I do believe we can characterize cinema—at least in terms of the audience's reception—to some extent as something cyclical, always swinging between various extremes.
Perhaps, then, we are now entering a cycle of positive cinema—if not "pro-life" than certainly "life affirming." And whatever the reason—and however it plays out in political or cultural arenas—we should be glad for these films, which shine the incomparably illuminating light of cinema on the holy and sanctified gift of human life.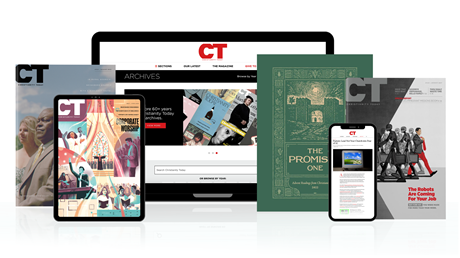 Annual & Monthly subscriptions available.
Print & Digital Issues of CT magazine
Complete access to every article on ChristianityToday.com
Unlimited access to 65+ years of CT's online archives
Member-only special issues
Subscribe
Pro-Life Cinema
Pro-Life Cinema