true
Tracy Turnblad is a girl with big hair, big dreams, and a big body. It's 1962 and this Baltimore high school student wants nothing more than to land a spot on The Corny Collins Show, a local American Bandstand-styled TV hit. Unfortunately, Tracy also has big problems: Her overprotective, defeatist mom, Edna (John Travolta), doesn't want her to audition, and the show's producer, Velma Von Tussle (Michelle Pfeiffer), is too narrow-minded to cast our chubby heroine and risk stealing any screen time from her spoiled daughter and star cast-member, Amber.
But that doesn't dissuade Tracy (played by Nikki Blonsky), who has more pluck than aerosol strength working for her. When she lands in detention, our earnest girl makes friends and trades dance moves with the African American students, who only get to shine on Corny's monthly "Negro Day." When Tracy's new, somewhat suggestive grooves at the school dance earn her the attention of Corny Collins (James Marsden), her dreams finally come true. She's now a show regular, and that much closer to her crush, Link Larkin (Zac Efron), the Elvis-inspired crooner who can't even say his own name without a smarmy wink.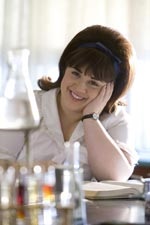 With one dream fulfilled, Tracy aims higher—setting her sights on the Miss Hairspray title, as well as on racially integrating Corny's show. Corny's all for it, but the station's producers, led by villainous Velma, won't hear of it. Will a big heart and big hair be enough to help Tracy lead a revolution? Land her crooner crush? Stay out of jail? Oh, of course I'm not saying. But I will reveal that the journey to these answers is one fun ride.
Hairspray is based on the 2002 Broadway musical, which is based on the 1988 John Waters' cult film classic, both of the same name. This Adam Shankman (The Pacifier, Cheaper by the Dozen 2) version draws on the best of both musicals and adds a few fresh songs, an all-star cast, toned-down snark, and ramped-up aw-shucks innocence.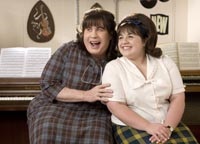 In this rendition, John Travolta fills the pantyhose formerly occupied by Divine and Harvey Fierstein. As Edna Turnblad, Travolta is an amazingly believable woman. He offers more vulnerability than campiness as a woman who hasn't left her home in a decade because she's embarrassed about her ample frame and who wants to protect her daughter from the same ridicule she's surely known herself. We watch Edna grow over the course of the film, offering touching love to her family as well as a hilarious song-and-dance number with hubby Wilbur (Christopher Walken). Not many actors could have pulled that off, but somehow these guys do—winningly.
But the true star of the flick is newcomer Nikki Blonsky. She has us at "Good Morning, Baltimore" in the opening scenes, as she belts her musical greeting to her corner of the world. She has such a contagious joie de vivre that we can't help but love her, root for her, and want to be her backup singer. Blonsky imbues Tracy with the perfect blend of confidence, heart, sass, and integrity.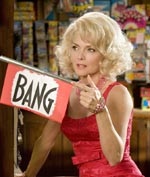 There's almost too much talent to mention in this star-filled dance party. But let me point to two more: Pfeiffer is deliciously evil as the manipulative, snobbish, racist Velma Von Tussle. She sings, dances, woos, plots, insults, and pouts like a pro. We want her to fall, mostly because we know she'll make even that entertaining. And despite the name, Queen Latifah's Motormouth Maybelle provides a calming center to this hyperactive flick. She's got soul and style for days. And she provides some of the more meaty and moving moments in the film.
What's perhaps most impressive is the way all these wonderful individual performances blend so well into one big, fun, cohesive romp. The campiness is delightful—from Corny's Stricken Chicken dance to fun lines such as "Hope I didn't dent your 'do." But there's also an earnestness here that prevents the film from simply being a snark-fest. That sincerity allows them to sneak in a few great messages—about reaching for your dreams, being open to those who are different, and finding beauty in all shapes and sizes—without us rolling our eyes or feeling preached at.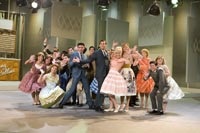 Speaking of preaching, there is one religious zealot character, Prudy Pingleton, played wonderfully over-the-top by Allison Janney. She's judgmental, overbearing, racist, and practically cult-like in her religious devotion. But the role is such an exaggeration, it's hard to take offense as a believer.
In a day when big, somber, Important Films are in vogue, it's refreshing to watch a movie that's just plain fun. I caught myself sitting there with a big goofy grin on my face several times, charmed by the infectious songs and aerobic dance numbers. Even if you aren't a fan of musicals (or men dressed as women), it's worth giving the film a chance. There's widespread appeal in the talented cast and inspiring themes. And if you aren't inspired to get up and start dancing by the movie's end, you likely don't have a pulse.
Talk About It
Discussion starters
If you're a parent, which of the moms in the movie are you more like: fearful Edna, overprotective (Penny's mom), pushy Velma Von Tussle, or supportive Motormouth Maybelle? What are the strengths and weaknesses of each mom?
List all the outsiders in the film, as well as why they're considered outsiders. Have you ever been an outsider? What helped you gain a sense of belonging? Is there an outsider in your life right now that you could help include?
At one point, Link is torn between getting his big career break and doing the right thing. Have you ever faced a similar choice? What route did you take? What was the result? In retrospect, would you do anything differently?
Which character do you relate with most? Why?
The Family Corner
For parents to consider
Hairspray is rated PG for language, some suggestive content and momentary teen smoking. The language is mild, I don't even remember the teen smoking referenced in the rating, and the rather tame sexual innuendoes will likely soar over the heads of younger children. In one scene, Velma tries to seduce married Wilbur in order to smear the family's reputation. He's oblivious, but Velma vamps it up for a bit. Some of the dance moves are sexually suggestive, and a few of the high schoolers cut class to audition for a TV show and sneak out of their homes at night.
Copyright © 2007 Christianity Today. Click for reprint information.
What other Christian critics are saying: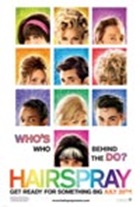 Browse All Movie Reviews By: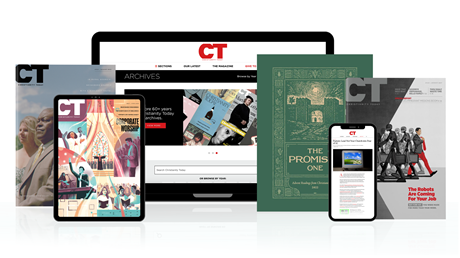 Annual & Monthly subscriptions available.
Print & Digital Issues of CT magazine
Complete access to every article on ChristianityToday.com
Unlimited access to 65+ years of CT's online archives
Member-only special issues
Subscribe
Hairspray
Hairspray