The 1980s downfall of Jim and Tammy Faye Bakker shook evangelicalism and Pentecostalism and made televangelism a national mockery. But scholars doubt that her mascara-colored mark will be a lasting one in the history of the conservative Protestant movements.
"American Christianity isn't really that different for her having been there. Erase Jim and Tammy and PTL from the record and I don't think anything really changes," said Michael Hamilton, chair of the history department at Seattle Pacific University. "I suppose if you're a preacher you can get a lot of good sermons out of the whole PTL thing."
Quentin Schultze, professor of communication at Calvin College, agreed. "Younger evangelicals such as my college students already have no idea who she was."
But as an icon and symbol, they said, Messner provides a spectacular representation of religious trends in the late 20th century.
Tammy Faye and Jim Bakker "helped mediate Pentecostal worship forms, Pentecostal ideas, and Pentecostal spirituality to broader groups of Christians," Hamilton said. "That's what we now call the charismatic movement, this mediation of Pentecostal spirituality to other Christians. They were clearly at the forefront of that."
But Tammy Faye, who divorced Bakker while he was serving prison time and married Roe Messner, was a new kind of charismatic, said Larry Eskridge, associate director of the Institute for the Study of American Evangelicals at Wheaton College.
"She embodied the new style of charismatic female personages, being such a change from the old traditional stay at home Pentecostal image," he said. "It was reflective of the larger changes going on in the Pentecostal charismatic world—sort of jettisoning this whole ascetic mindset that they'd had."
She later recalled one very specific moment of casting off that ascetic mindset. When she tried putting on eye makeup for the first time, she immediately wiped it off, fearing she had sinned. Then she put it on again. "Why can't I do this?" she asked herself. "If it makes me look prettier, why can't I do this?" She didn't take makeup off again—even for her cancer surgery.
In a 2000 interview with Larry King, Jay Bakker said, "I actually really look up to my mom for her makeup because so many people have made fun of her, and given her such a hard time. And she's just said basically, 'Screw it, I'm going to be me.' … For some reason, we've made people believe that they have to take off their makeup, change their hair color and comb their hair before they come to church. And that's just a lie and it's a lie from hell."
The chief critics of her makeup, however, were not from within the church, Schultze noted. "She was a lightning rod for critics of evangelicalism and especially TV evangelism. To them, she seemed to be anti-intellectual, superficial, and more concerned with her looks than her biblical insight," he said. "But some of this criticism was social-class-based, because she had her following especially among Pentecostal women who wanted to believe that it was acceptable to be a bit worldly when it came to physical appearance."
It wasn't just her appearance that drew the Pentecostal women, Hamilton said. "She really represented a particularly female version of charismatic Christianity. It's a version of Christianity where women basically saw themselves as victims of all kinds of life circumstances—problematic marriages, problems with their kids, problems with weight, you name it—and so women identify with this sense of their life isn't like it ought to be but this larger sense that God can help them overcome it."
But other conservative Protestants were repulsed. "For people outside of the evangelical community, [PTL] was confirmation of the tackiness and wrong-headed extravagance of televangelism," Eskridge said. When the PTL world came crashing down, it was the first time that many evangelicals discovered that the Bakkers were seen as public faces of the movement. While it prompted some to counter the image, "it really stoked up the desire on the part of a lot of evangelicals to flee in the opposite direction" or even to distance themselves from Pentecostal and evangelical labels altogether.
A Dallas Morning News editorial lamented that not enough conservative Christians sought distance. "Regrettably, Tammy Faye Bakker's downfall discredited neither the prosperity gospel—which holds that God wants you to get rich and that wealth is a sign of favor—nor the burlesque style of televangelism, which continues to, well, prosper. Diamonds, like the Almighty, are forever," the paper said.
Related Elsewhere:
Highlights from Tammy Faye's last interview with Larry King are available online.
Rob Moll writes that Tammy Faye reminded us how to die in, "Resurrecting the Public Death."
David Neff blogged about "singing Tammy Faye's song."
Weblog links to many of the eulogies written about her.
TammyFaye.com and the website of The Eyes of Tammy Faye (CT's review) have more information on her life.
Other Christianity Today articles on death and dying are in our special section.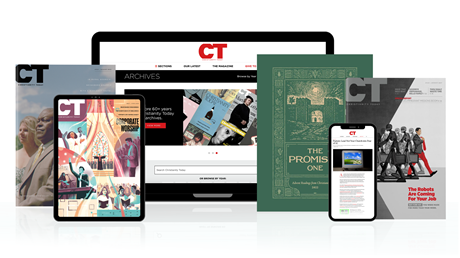 Annual & Monthly subscriptions available.
Print & Digital Issues of CT magazine
Complete access to every article on ChristianityToday.com
Unlimited access to 65+ years of CT's online archives
Member-only special issues
Subscribe
Will Tomorrow's Evangelicals Remember Tammy Faye?
Will Tomorrow's Evangelicals Remember Tammy Faye?