For me, it all started with the music. My interest in Irish culture and history was sparked when a friend gave me a recording of Irish fiddle tunes. It was the beginning of a lifelong love. In Celtic music there seems to be a capacity for expressing great joy and exuberance, yet also a plaintive longing for something unseen.
In The Celtic Way of Prayer, Esther de Waal described the "Celtic refusal to deny darkness, pain, suffering and yet to exult in rejoicing, celebration in the fullness and goodness of life." Understanding this duality is key to understanding the Irish spirit.
What kind of culture spawned such passion? It wasn't until 1995 when my wife gave me a copy of Thomas Cahill's How the Irish Saved Civilization that I began to understand. Although the title overstates reality, Cahill's bestseller brought the story of Ireland's conversion to Christianity, the resulting societal transformation, and its enormous contributions to Western culture to millions of readers. The book motivated me to dedicated reading and research about this early Christian period, eventually leading to this photographic project.
Beginning around A.D. 430, Patrick introduced the Christian faith into the existing Celtic culture of Ireland. His influence not only transformed lives, it also changed the entire culture. The first towns in Ireland emerged as more and more people gathered to live around the monasteries, which were often established in secluded places. A barbaric land was transformed into a more community-oriented society, and unlike most other examples in history, this shift was nonviolent. The best parts of the culture were kept, integrated, and built upon—all at a time when the rest of Western civilization was passing under the shadow of the Dark Ages. I've heard it suggested that there was just "the thinnest veneer of Christianity" over the existing pagan culture. But the transformation was far more profound, reaching deeply into both the Irish individual and collective soul. Otherwise, it could not have led to such significant, rapid change in the society.
Between the spring of 1997 and the fall of 1999, I made three trips to Ireland. Traveling from site to site, I felt like I was on my own pilgrimage. Indeed, while visiting some of these special places, such as Clonmacnoise or Skellig Michael, I felt like I was physically in a place between earth and heaven—what Irish Christians called a "thin place."
During these trips, my purpose was primarily to photograph what remains on the sites of early Christian Ireland. The images included in "Early Light" are documentary but also interpretive, as I've attempted to suggest the underlying spiritual heritage of the places I visited. This is the reason I chose to use infrared film for many of the photographs; it records light waves that are just beyond the visible spectrum. The photos are organized roughly in the chronological order of the original construction of the sites.
Click here to view the slideshow.
Related Elsewhere:
Christian History & Biography's issue on Celtic Christianity includes facts on St. Patrick and the origins of Irish Christianity.
PBS has a special section with resources and information on ancient Ireland.
Previous slideshows by Gary Gnidovic include:
Photo Essay: Brazil | With "River Deep Mercy Wide." A medical journey on the Rio Negro in Brazil's Amazon Basin. (February 1, 2004)
Photo Essay: Russia | With "The God Who Lives and Works and Plays in Russia." Christians in Utica, New York, are resettling the world one displaced soul at a time. (November 22, 2006)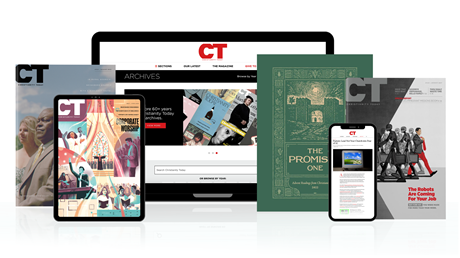 Annual & Monthly subscriptions available.
Print & Digital Issues of CT magazine
Complete access to every article on ChristianityToday.com
Unlimited access to 65+ years of CT's online archives
Member-only special issues
Subscribe
Early Light
Early Light