true
"God can change the world with just one willing soul/Who will stand up for the truth and give him starring role?/So come in to the fullness and open up the door/Maybe it is you he's looking for"—from "The Conclusion"
We've been championing the talent of Neal Morse ever since the 2003 release of Testimony, his astonishing concept album that documented his lifelong journey of faith through progressive pop/rock. He followed that with the equally impressive One, exploring the divided relationship between God and man after Adam's fall, and the curiously titled ?, centered on the mystery of God and his holy temple. Projects like these (among others) left us wondering why the Christian music industry didn't embrace such an impressive talent and prolific songwriter/composer.
Then a message board on Morse's website revealed some questionable theology—at least from a typical evangelical perspective. Asserting that "I am not a Trinitarian," Morse says Scripture tells us Jesus "came forth" from God, and is therefore separate from God. But the Nicene Creed—a doctrinal statement which most evangelicals affirm—and other traditional Christian teaching state that God is a single being who also exists as a Trinity (Father, Son, and Holy Spirit). Scripture seems to be clear that Jesus is both God and man (John 10:29-30). And our own statement of faith at Christianity Today International—a document all employees are required to sign—also affirms a Trinitarian doctrine.
And so Morse, whom we've covered in the past as a "Christian artist," is now being covered in "Glimpses of God," which typically features secular artists who are exploring themes of faith—musical "seekers," as it were. Morse may well be a Christian; that is not for us to judge. But as long as he adheres to such non-traditional—and some would say heretical—beliefs, we will not cover him as a "Christian artist."
Having said all of that, Morse shares many of the same beliefs as evangelicals, and his view on the Trinity are not the subject of his latest recording, Sola Scriptura. The album has already angered some Catholics—but it will surely appeal to Lutherans.
Sola Scriptura—a Latin phrase meaning "by Scripture alone"—is a 76-minute concept album inspired by the Reformation. And to be clear, it's not an album of Catholic bashing, but rather a look at how Martin Luther (and others after him) helped get the church back on track by relying on the fundamental wisdom of Scripture—God's Word—instead of the shortcomings of man. Catholic or Protestant, "all have sinned and fall short of the glory of God" (Romans 3:22-24).
It's probably best to think of Sola Scriptura as a prog rock oratorio in four parts, with a sound reminiscent of classic albums from Yes, Kansas, Genesis, and ELP. "The Door" is the first movement, using historical characterizations and imagery from the book of Revelation to set the stage for the unrest preceding the Reformation, with references to the Inquisition, the Crusades, and all-around religious persecution. At one point, Morse even gives voice to the notion that this is not just history—that the same misguided spirit corrupts the church today.
Yet amidst all this is the voice of change, presumably Luther, though it can be interpreted as any other historical figure of Christian reform. Interspersed between the darker rock themes is the light acoustic pop of "All I Ask For," which seems to echo Luther's monastic aspirations: "This is all I've asked for/This is all I've wanted to do/Is to live with you forever and feel the beauty of your truth … Oh God, I seek the glory that's from you and from you only." Later, "Keep Silent" offers a response to the misguided ways and threats of the church: "I'd much rather stay at home and keep what I have found/But Jesus didn't call me to do what I would do/So how can I keep silent when I know the truth?" This is followed by "Upon the Door," which evokes Luther posting his 95 Theses on the local church door.
"The Conflict" movement takes this all even further as Morse suggests that Satan is responsible for corrupting the papacy ("Do You Know My Name?") to sell indulgences in order to buy loved ones into heaven. Luther has it out with the Catholic Church ("Party to the Lie"), only to go into hiding ("Underground"), where he translates the Bible into the German language for all to read. Faith sustains him through his persecution ("Already Home"), which segues into the brief third movement, the pop ballad "Heaven in My Heart," which is in essence his "Here I stand, I can do no other" moment.
But then "The Conclusion" movement wraps things up by bringing Revelation back into it, showing God's people living with him in the New Earth. The point is to show that the church has been redeemed, but it fails to bring cohesion to the album, other than the concluding lyric of "In Closing … " (excerpted at the top of this story). Like Luther, Calvin, and others after them, any of us can be used by God to instill change in the church and the world in which it resides. Is he, in fact, calling us to do so now?
Like all of Morse's albums, the music is amazing from a technical standpoint. Morse has a dynamic tenor, and his style is varied, incorporating pop ballads, folk, and even some Latin into his prog rock sound. You probably won't find a more rhythmically precise and musically ambitious album all year. However, progressive rock treads a fine line between epic and self-indulgent. At best, Sola Scriptura is like a symphony, carrying recurring themes and motifs to strengthen its message. But the abundance of intricate solos can also leave you cold, as if proficiency is more important than inspiration. Great, they know their musical scales … now what's it all mean?
And that's the final arbiter when evaluating Sola Scriptura. Morse has a lot to say, but unless you know your church history, it all gets a little lost in translation. This is a great subject for an album of its kind, and for the most part it's successful. But it's also difficult to digest, stuffed with nonspecific references begging for misinterpretation. The church needs to remain diligent in keeping God's Word at its foundation, but we must also be discerning. After all, as Morse himself has demonstrated, there's a difference between questioning the unbiblical practices of the church (yesterday as well as today) and challenging historical Christian beliefs rooted in hundreds of years of theological studies—as well as prayer—to understand God's Word.
Unless specified clearly, we are not implying whether this artist is or is not a Christian. The views expressed are simply the author's. For a more complete description of our Glimpses of God articles, click here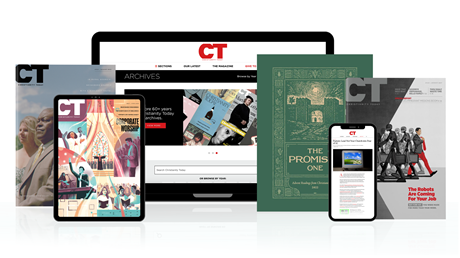 Annual & Monthly subscriptions available.
Print & Digital Issues of CT magazine
Complete access to every article on ChristianityToday.com
Unlimited access to 65+ years of CT's online archives
Member-only special issues
Subscribe
Sola Scriptura
Sola Scriptura