Jesus married Mary Magdalene, had a son named Judah, died, and stayed dead, says Simcha Jacobovici, an award-winning filmmaker. A Discovery Channel documentary on his findings, The Lost Tomb of Jesus, will be televised March 4. Jacobovici, who describes himself as an investigative journalist and a filmmaker, directed and produced the film with Titanic director James Cameron. He claims that statistical, historical, archaeological, and DNA evidence back his position.
However, scholars are dismissive of the filmmakers' claims. "This is a theory that is so deeply flawed that it deserves to be dismissed reasonably quickly," said Ben Witherington III, professor of New Testament interpretation at Asbury Theological Seminary.
Scot McKnight, professor of religious studies at North Park University, says that the filmmakers' theses are based less on scholarship than on The Da Vinci Code novel. "The bigger theme I think is the fraud of Christianity. I think that's what they're trying to demonstrate—that early Christians believed in something that didn't happen."
"This is really a brilliant example of archaeological sensationalism," said Gary Burge, professor of New Testament at Wheaton College. Burge notes that allegations like Jacobovici's are nothing new. "It happens again and again in the Holy Land that people win their 15 minutes of fame by discovering some new burial cave."
The "lost tomb" is nothing new, either. In 1980, a construction team in Talpiot, a suburb of Jerusalem, found the tomb as they started bulldozing the site. At the time, construction projects were turning up a dozen archaeological sites every month, says Jacobovici in The Jesus Family Tomb. The construction team reported the finding to authorities, and a team of archaeologists from the Israel Antiquities Authority came to examine the site. Archaeologist Amos Kloner, who has called Jacobovici's theory nonsense, wrote the official report in 1980, without making any reference to Jesus of Nazareth.
Excavation of the crypt led to the discovery of 10 ossuaries, which did not contain remains. Six of them were inscribed with names, which have been transcribed as: "Yeshua bar Yosef," "Maria," "Mariamene e Mara" (translated "Mary the Master"), "Matia," "Yose," and "Yehuda bar Yeshua." No one at the time of the discovery found the names very significant, since they were all very common names in Jesus' time.
Jacobovici says he has deduced that these names refer to Jesus' mother, Mary; his supposed wife, Mary Magdalene; and his son, Judah (who, Discovery News bafflingly speculates, "could have been the 'lad' described in the Gospel of John as sleeping in Jesus' lap at the Last Supper"). Matthew is supposed to be a relative of Mary; and Joseph, one of Jesus' brothers.
Jacobovici also says that the James ossuary, now under investigation to determine whether it is a forgery, belongs with these ten ossuaries because it has the same patina. Jacobovici produced a 2002 Discovery Channel documentary on the James ossuary.
The purported DNA evidence lacks credibility, counters Witherington. "In order for them to establish a positive claim that these are Jesus' relatives, you have to have control samples [of Jesus' DNA] to compare it to, but we have no such objective control samples." In addition, the team is testing mitochondrial DNA, which, according to Witherington, does not even allow scientists to "establish XY chromosomes and genetic coding."
Paul Maier, professor of ancient history at Western Michigan University, questions Jacobovici's other claim that it is improbable that the names in the Talpiot tomb, though common, should be found together in one grave. "To say [the odds are] 600 to 1 that this could only be Jesus [Christ] is just ridiculous; it's playing with numbers."
"Your statistics are only as good as the numbers that were given to the statistician," Witherington said. "And from what I can tell, he's not even running the right numbers, so of course he's not coming to the right conclusions."
If what Jacobovici says were true, Jesus' disciples would have stolen his body and buried it in a tomb, let it decompose for a year, and then deposited the bones in an ossuary. As McKnight put it, "It is extremely unlikely that a faith that believed and rooted itself in the resurrection of Jesus would at the same time be building a tomb for the body and bones of Jesus."
It's no surprise that Jacobovici and Cameron have received so much attention despite the implausibility of their claims, says Darrell Bock, professor of New Testament studies at Dallas Theological Seminary. "They've basically made it into a huge news conference and leaked that they've found the bones of Jesus, and you know that would draw attention," he said.
While all of this hype may seem to cheapen Christianity, Burge says, it shows that Jesus Christ still commands the world's attention like no other religious figure. "Interest in Jesus doesn't go away. Whenever someone can make a claim that strikes to the heart of Christian truth, then it's sensational."
Related Elsewhere:
Ted Olsen's 'An Exclusive Interview with James Cameron' satirizes the methodology behind The Lost Tomb of Jesus.
The Discovery Channel's article is sympathetic to Jacobovici's conclusions about the Talpiot tomb. 'The Lost Tomb of Jesus' section includes video clips and a few paragraphs with suggestions for dealing with theological considerations.
The Jesus Family Tomb opening page says, "An incredible archaeological discovery in Israel changes history and shocks the world. Tombs with the names The Virgin Mary, Jesus of Nazareth, Mary Magdalene and Judas, their son, are found and an investigation begins."
Harper Collins has a webpage for the book, The Jesus Family Tomb.
Ben Witherington III, Darrell Bock (1 | 2), Scot McKnight, Paul Maier, Mark Goodacre, Tyler Williams, Michael S. Heiser, and most other biblical studies bloggers are discussing the tomb.
The Jerusalem Post interviewed Kloner and reported on the effects on Talpiot residents.
Other articles include:
Director defends Jesus tomb findings | James Cameron is convinced remains are of those of Christ, family (Today)
Claims about Jesus' 'lost tomb' stir up tempest | Experts blast suggestions that his bones were found in 1980 (Associated Press)
Crypt Held Bodies of Jesus and Family, Film Says | A documentary by the Discovery Channel claims to provide evidence that a crypt unearthed 27 years ago in Jerusalem contained the bones of Jesus of Nazareth. (The New York Times)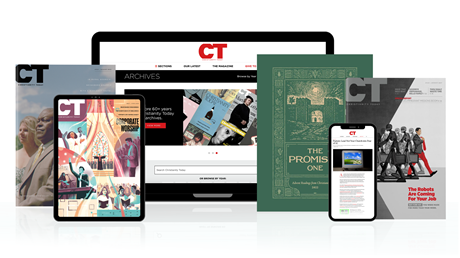 Annual & Monthly subscriptions available.
Print & Digital Issues of CT magazine
Complete access to every article on ChristianityToday.com
Unlimited access to 65+ years of CT's online archives
Member-only special issues
Subscribe
Remains of the Day
Remains of the Day