I realized during my recent trip to the United States how many American sisters and brothers are sincerely concerned for Lebanon and particularly for the situation of Lebanese Christians. At the same time, I also noticed the confusion over the complexities of the current situation.
Since December 1, 2006, the Lebanese opposition movement has been campaigning and camping in downtown Beirut, next to the office of the Prime Minister, calling for an expansion of the Lebanese cabinet to include more Christian representation and for early parliamentary elections. The opposition movement could represent more than half of the Lebanese population. Two major Lebanese groups lead it: Hezbollah, which is Shiite, and the Free Patriotic Movement, which is Christian. Other groups in the opposition include the Islamic Call Front, the Maradat (A Christian Maronite party of northern Lebanon), and a faction of Druze.
Prime Minister Fouad Siniora has insisted that the street is not the place to make cabinet changes and, with local and international backing, remains with his cabinet in office even after the resignation of several Shiite ministers and a Christian minister.
It seems to me that the real issue is lack of trust on both sides. The opposition believes that the present government did not handle the summer 2006 war or its consequences well, so it cannot be trusted to handle the future of Lebanon. Also, Lebanese citizens are facing many hardships, which the opposition feels are mainly due to corruption and mismanagement in the present government. The loyalists (the present cabinet and its supporters) feel that the opposition is carrying an Iranian-Syrian agenda, while the opposition feels that the loyalists are carrying an American-French agenda. The loyalists fear that expanding the cabinet as the opposition demands would lead to its fall, while the opposition believes that a cabinet with no Shiite ministers and not enough Christian representation is unable to govern and lead the country. The road to reconciliation is blocked until they realize that Lebanon is on its way to collapse and that they need to trust one another for the good of the country.
On Thursday, January 25, I was in Beirut trying to go home (60km east of Beirut) when I got stuck at a road blocked by opposition protestors and loyalists. The Lebanese army had announced a curfew, to begin in half an hour, and I was desperate to find a taxi. I saw dozens of tires and a minibus burning only a few yards in front of me and heard the shouts of the army, protesters, and loyalists. I was terrified. Finally, a kind driver offered to bring me home.
It's encouraging that both the opposition and the loyalists are against the idea of returning to civil war. However, I believe that if things continue to escalate as they did last Tuesday and Thursday, a form of civil war could be inevitable.
What is our role?
I am an ordained minister in the National Evangelical Congregational Church of Beirut, the first Arabic-speaking evangelical congregation. This historic church stands between the opposition movement camp and the office of the Prime Minister. If you walked around the streets of downtown Beirut, you might be surprised to read that several main streets were named after American evangelical missionaries: Bliss Street, Post Street, Van Dyke Street, and Evangelical Church Street. The strategic location of my church and the street names remind us that we, as evangelicals, are called to the ministry of mediation and reconciliation in a society that longs for genuine reconciliation.
The Rev. Dr. Ghassan Khalaf, chancellor of the Arab Baptist Theological Seminary in Beirut, said:
For more than 45 years, I have been observing the Middle Eastern conflict that takes place among adherents of three religions. I did not find a well-developed doctrine of reconciliation except in the gospel of Jesus Christ. I do believe that the only viable solution to the Middle East conflict is for us Christians to be ambassadors of reconciliation. This is the only hope for our troubled region.
A genuine reconciliation is one that recognizes the differences among the parties involved but insists that such parties are able to live together in harmony and peace. A genuine reconciliation is based on viable dialogue. Arab Evangelical Christians need to keep focused on bringing the gospel of Jesus Christ to all, but at the same time, they should be working to reconcile their families, societies, communities, and countries. This is not an easy task.
Colorful Lebanon
Nowadays, the Lebanese people, divided, announce their politics with colors. Orange, green, yellow, and pistachio identify the opposition camp while blue, dark green, red, and white identify the loyalists' camp. Neighbors in one building display signs and flags showing various political opinions. Colors are displayed on flags, billboards, T-shirts, stickers, even caps of bottled water.
On my way to Beirut yesterday, I saw a new color on billboards and signs. It was white. The billboards with a pure white background carried writings such as: "We are fed up with colors!" "No more divisions: We all together make up Lebanon." "We're the Middle Way."
As I passed these billboards, I thought about Lebanese evangelicals, including myself. Where do we stand in the recent conflict? Are we taking a one-sided stand? As a Lebanese evangelical, I believe that I cannot stand wholeheartedly in either camp. I would like to seek another way, a middle way that is authentically Christian, based on biblical principles of respect, care for others, human rights, and social justice. Is our voice being heard clearly in Lebanon? Do we address actively, wisely, and intelligently the issues that face our Lebanese society? Do we dare to dream of a new Lebanon for our children and us? A new Lebanon where democracy is a model for other Middle Eastern countries, a Lebanon where Christians and Muslims are able to coexist in harmony, a Lebanon from which the light of the gospel shines throughout the Middle East, a Lebanon that is free of corruption and injustice, a Lebanon that interacts with the West and the East without being controlled by either?
Rabbinic tradition tells this story of how the rainbow was created: There was a fight between the sun and the clouds (waters). Each tried to assert its importance over the other and to show its might and power. After much discussion and disagreement, God spoke. He decided to bring the sun and the clouds together and formed the rainbow.
It is my hope that Lebanese people will come together in a real spirit of reconciliation to form a rainbow. It is my prayer that American and Lebanese sisters and brothers would come together in real partnership to bring God's peace, promise, and reconciliation to this suffering region. May the colors of disunity in Lebanon become the united colors of love and peace.
Riad A. Kassis is Overseas Council International's regional director for Middle East and Eurasia. He is based in Zahle, Lebanon.
Related Elsewhere:
For another view of the crisis in Lebanon, read Martin Accad's "The 'Jesus Manifesto' for Lebanon."
Christianity Today has a special section on last summer's Israel-Lebanon conflict, in addition to other articles on Lebanon.
Riad Kassis has also written "A 'Prayer' to Condoleezza Rice" and "The Silent Human Conscience" for Christianity Today.
Recent news from Lebanon includes:
Fears of Lebanon civil war increase as gun sales tripled | Gun sales in Lebanon have tripled since the current standoff between the government and the Hezbollah-led opposition began, prompting concern that political factions are rearming. (Ya Libnan)
Article continues below
Students return to Lebanon's universities | Classes resumed Monday at a university in the heart of Beirut where a cafeteria political spat mushroomed into street riots that killed four people in the worst sectarian violence since Lebanon's civil war. (Ya Libnan)
Lebanon going through an alarming brain drain | Beirut- Two years ago, Ossama Kabbani was the poster boy for the newly rebuilt downtown Beirut. (Ya Libnan)
Lebanon's Sunni Clerics Issue Fatwa | Fearing a slide into civil war, Lebanon's top Sunni Muslim clerics published a religious edict on Friday prohibiting Muslims from killing their fellow countrymen, particularly other Muslims. (The Associated Press)
The Christian Science Monitor and The New York Times reported on the violent protests of January 23 and 25 and the possibility of civil war.
The BBC has a profile of Lebanon, including links to recent articles on the aftermath of late January fighting and the situation of Christians.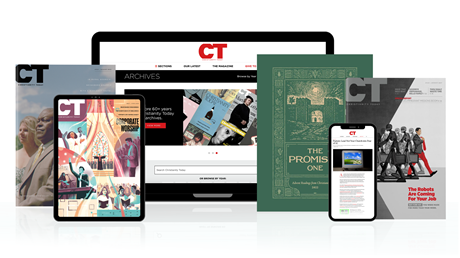 Annual & Monthly subscriptions available.
Print & Digital Issues of CT magazine
Complete access to every article on ChristianityToday.com
Unlimited access to 65+ years of CT's online archives
Member-only special issues
Subscribe
The Colors of Lebanon
The Colors of Lebanon