true
Katherine Paterson, like Madeleine L'Engle, is a Christian writer who crafts poignant stories about young people who struggle with serious issues and then make sense of their world through vivid imagination and flourishes of fantasy.
But critics are cautioning audiences that the first feature film based on Paterson's work, Bridge to Terabithia, is not The Lion, the Witch, and the Wardrobe. It's a story about a remarkable friendship between two young people who weave a world of imagination that helps them cope with daily hardships.
Peter T. Chattaway (Christianity Today Movies) says, "Those who take a chance on the film … may find it a reasonably mature and even poignant story about friendship, family and tragic loss."
But the film is unable to stimulate viewers' imaginations in the same way the book does. "In the original book, the children's experiences in Terabithia are described in strictly naturalistic terms; it is often only the dialogue between the children that clues you in to their imaginary world. … The film, on the other hand, turns Terabithia into a digitally-animated spectacle that invites the viewer to do nothing more than sit back and stare."
He adds, "The film taps into spiritual themes, too, though not as well as it could have—which becomes a bit of a liability when the story turns tragic."
Michael Brunk (Past the Popcorn) raves, "Happily, this may be among the best translations of a book to the big screen that I have seen, and I don't say that lightly. This is a very, very good thing in the case of Bridge to Terabithia, serving to introduce this heart-warming tale to new generations of readers. Adults will also likely find the movie just as engrossing as children. … There is a message here about strength of character and the value of friendship—and yes, love—that can't help but leave a lasting impression with audience members."
David DiCerto (Catholic News Service) says, "The young leads are charming and the sweet story imparts worthy messages about friendship and the power of imagination. Also, there is a strong affirmation of family and the depictions of authority figures are consistently positive. … But narratively, the movie, faithfully adapted by the author's son, David Paterson, is a bit of a letdown, as the anticipated fantastical elements are marginal. The closing five minutes deliver a sense of wonder and enchantment that director Gabor Csupo spreads too thinly throughout the rest of the film."
Jeremy Lees (Plugged In) says, "Bridge to Terabithia is one of the more character-driven fantasy movies I've seen. To watch its magical kingdom take a backseat to the story's real-world personalities is a refreshing departure from most middle-of-the-road examples of the genre (not Narnia) wherein campy dialogue serves only to inspire the hero for his next battle sequence, in which he'll learn an important lesson about—you guessed it—bravery. Put simply, there's more to explore here than in eight Eragons." But he's not too happy about what the film implies about the kingdom of God—which is interesting, since the book's author is a Christian.
Christa Banister (Crosswalk) likes the film's "extraordinary characterization. … Much likeCharlotte's Web, [this movie] isn't just happy-go-lucky, family-friendly entertainment. In a surprising plot twist, it explores some darker themes … that will certainly provoke some post-movie discussion. Despite the bittersweet turn of events, however, the resolution isn't what most would probably expect, which makes the movie, not to mention the young actors' performances, even more emotionally affecting and powerful."
Mainstream critics are surprised by the meaningful and poignant storytelling, even if they do have some complaints.
Ghost Rider:

"Use evil to fight the devil"

Is Nicolas Cage America's most versatile leading man?

When he arrived on the scene, he charmed as an idiosyncratic character actor with a flair for comedy in films like Vampire's Kiss, Moonstruck, and the classic Coen Brothers romp Raising Arizona. Since then, he's been an action hero (The Rock, National Treasure), a villain (Face/Off), and even the frustrated screenwriting genius Charlie Kaufman (Adaptation).

For years there have been rumors that Cage was seeking a different kind of role … a comic book character. And while his character in Ghost Rider is not exactly Superman (reports have claimed he pursued that part), it's certainly supernatural.

For director Mark Steven Johnson, Cage plays Johnny Blaze, a daredevil motorcyclist who has made a bargain with the devil (an orange-eyed Peter Fonda). As a skull-headed hunter named Ghost Rider, he must pursue and round up demons who have broken out of hell. When he's on the job, flames burst from his face, and he rides a fiery bike that would cause serious problems if it ever stopped at a gas station.

Steven D. Greydanus (Christianity Today Movies) says, "As he did in Daredevil, Johnson distills elements from multiple versions of his source material into an eclectic story peppered with homages and asides that diehard fans may appreciate. Johnson's interest in his subject is palpable, and it's not hard to believe that Nicolas Cage, a lifelong comic book fan and motorcycle enthusiast, relished the role of Johnny Blaze, and lobbied hard for the part. This isn't Fantastic Four, a film so woefully adrift from its origins that it seems to have been made by people who never actually read a comic book."

But he concludes, " … for all their evident interest and affinity for the material, the filmmakers haven't made a very good movie. … [T]hey haven't figured out either who Johnny Blaze is as a character, or what the Ghost Rider is all about."

Bob Hoose (Plugged In) is bothered by the film's implications about embracing evil to fight evil. "The film seems to say it wants to be about standing against evil and rooting for second chances—with Johnny seeking any opportunity to make up for the bad choices of his past. But cursory (and perverse) nods to God only serve to remind us of how ridiculous and ugly the ghost rider's world is. … Second chances come to those who fight for them, and when push comes to shove, only the devil's power is strong enough to defeat evil. Huh?"

David DiCerto (Catholic News Service) notes the movie's "dumb script and risible theology," but finds it to be "sufficiently diverting B-movie fare." He adds, "Some parents may find the demonic elements problematic, but it's little more than a comic book retelling of 'Faust,' and, while of greater concern that vengeance, not justice, is meted out by Blaze, love is ultimately shown to be stronger than evil, with a recurring theme of redemption and second chances."

Michael Brunk (Past the Popcorn) says, "Even if they had pulled off the digital performance of Ghost Rider the character, the other nail in the coffin of Ghost Rider the movie is the action. This is, after all, a movie about a comic book hero of sorts. You'd expect big, over the top action sequences. You can expect it, but what you'll get here is pretty tepid stuff."

Mainstream critics say this cycle has a flat, and are rating it just as poorly as they did the director's previous comic book movie—Daredevil.
A conflicted Catholic in
Breach
For more than twenty years, Robert Philip Hanssen, an FBI counterintelligence agent, betrayed the United States. And as he's paying for his crimes with a prison sentence that will last the rest of his life, director Billy Ray is telling his story on the big screen.
Ray made a strong impression with his first film, Shattered Glass. In that film, Hayden "Vader" Christensen played a similarly crafty fellow, Stephen Glass, who made up stories and sold them as arresting features in The New Republic; and Peter Sarsgaard played the editor who eventually exposed the crook. In Breach, Ryan Phillippe plays the agent who discovers Hanssen's deceit and strives to expose him.
The film notes the strange contradictions in Hanssen's life. Even though he went through the motions of Catholic faith, the things he did behind closed doors spoiled his integrity and endangered the nation.
The film is earning high praise as a thriller of rare intelligence, driven by admirable performances from Chris Cooper (The Bourne Identity, Lone Star) and Ryan Phillippe (Flags of Our Fathers).
Todd Hertz (Christianity Today Movies) says, "Really, there are two different Robert Hanssens portrayed in Breach. One is a deeply religious Catholic who has attended mass every day for years. He loves his family and his God with great passion. He is a well-respected and admired Russian analyst who'd do anything for his country. But the other Hanssen is an angry, judgmental man ruled by pride, lust and ego. … So which Hanssen is the real one? Breach thankfully doesn't answer that question. Instead, it seems to realistically present the case that no man is truly good or evil—but has the capacity for both. … The film ends with an amazing image of a man fallen—and knowing it."
Christian Hamaker (Crosswalk) says, "Breach is an example of a strong studio film powered by high-caliber acting, open to differing interpretations. It's a movie for older teens and adults to see and discuss—a cautionary tale about the perils of power and greed, and the deceitfulness of the human heart."
Harry Forbes (Catholic News Service) says the movie is "deliberately paced, but ultimately delivers on suspense …" He adds, "There is secondary interest for Catholic viewers in Hanssen's staunch commitment to Catholicism—and to Opus Dei (mentioned only briefly in the film)—though given the unsavory aspects of his personality, the connection is more unfortunate than not. … Still, the church scenes are reverently presented, and the religious commitment of the principals … is shown to be sincere."
Marcus Yoars (Plugged In) calls it "a slow-moving, slow-building introspective thriller that, like a 25-year FBI veteran, is concerned more with nuance—the minutia of Hanssen's day-to-day life and that of those chasing him—than exploding bombs and nail-biting chase scenes. … Chris Cooper and Ryan Phillippe splendidly deliver that nuance. And Ray offers an intriguing, albeit permeable, character study of those whom our country's security so delicately rests upon." But Yoars also thinks that the characters' bad language and the film's brief sexual content should steer viewers away from it.
Michael Brunk (Past the Popcorn) says Breach was "interesting enough to be entertaining. Like The Good Shepherd before it, this movie shares with the audience a different perspective on patriotism and the cost that the men and women who work in the shadowy world of our intelligence agencies often pay in the performance of their duties. It also serves as a reminder that the real enemy isn't always the obvious one."
Mainstream critics say it's a refreshingly intelligent thriller, more challenging than dazzling.
It has
Music and Lyrics

, but is it meaningful?

Hugh Grant is still playing the same kind of romantic lead that has always worked for him … even if his leading ladies seem to be getting younger.

In Music and Lyrics, Grant plays a burned-out pop star, whose ridiculous '80s music videos give us great send-ups of that decade's regrettable style. Ready to revitalize his career with inspiration and romance, Drew Barrymore delivers the kind of effortless charm that have made her an audience favorite.

And yet, while the stars shine, the move flickers and then fades out.

Carolyn Arends (Christianity Today Movies) writes, "Grant and Barrymore both deliver their usual quirky charisma and are immensely watch-able—not to mention listen-able; they handle their singing parts quite ably as well. The forces behind Music and Lyrics are so confident of its romantic charm they've chosen to release the film on Valentine's Day."

But she concludes that "the romantic elements of the movie that are its weakest link. Grant and Barrymore are completely believable as a creative team, but the romantic development seems arbitrary—or, more accurately, obligatory. … The script seems to rely on the assumption that if you put two likable people in a room together for long enough, love will ensue. Such a premise is not offensive; it's just not particularly convincing."

Christopher Lyon (Plugged In) says the movie "fits easily into the spirit of the '80s pop songs it celebrates. It provides a romantic, feel-good atmosphere while remaining relatively empty-headed, ridiculously earnest and pleasantly forgettable."

Christa Banister (Crosswalk) says, "Unlike the majority of romantic comedies that often—unsuccessfully—try to have a greater underlying message, something usually along the lines of 'stay true to yourself' or 'love conquers all,' Music and Lyrics doesn't pretend to be anything more than it is—cute, light-hearted fun. And for that reason alone, and undoubtedly, the pitch-perfect portrayal of '80s music nostalgia … Music and Lyrics will hit most of the right notes with the masses."

Mainstream critics are giving it mixed reactions.
Daddy's Little Girls

: Wrong message?

Tyler Perry's latest film, Daddy's Little Girls, makes all kinds of moves to please the religious folks in the audience. But then, by the end of the story, what has it conveyed to us? That it's best to take measures into your own hands, by force. And worse, the film takes sexual relationships too lightly.

That's the movie that Adam R. Holz (Plugged In) saw. Holz is pleased to see a central character who "puts his children's needs above his own." And further, he's pleased to see Perry "giving his characters faith and taking their participation in church seriously." But he concludes, "Given these positive themes, it is discouraging to watch as characters' faith fails to translate into decisions that demonstrate real trust in God."

But David DiCerto (Catholic News Service) is charmed by the film. "The sweet story is not without some formulaic elements, but the honest performances and strong affirmations of faith, family and community—as well as its positive depiction of African-American fatherhood expressed by its tagline 'Give life. Teach love'—outshine the shortcomings."

Christa Banister (Crosswalk) says, "While Daddy's Little Girls could've been an intriguing and uplifting story, any potential was lost in hackneyed writing and heavy-handed, but inconsistent moralizing. And ultimately, despite Perry's good intentions, the audience deserves far more."

Mainstream critics aren't very impressed.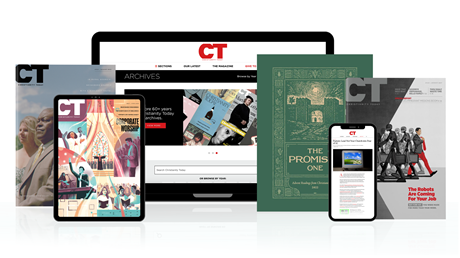 Annual & Monthly subscriptions available.
Print & Digital Issues of CT magazine
Complete access to every article on ChristianityToday.com
Unlimited access to 65+ years of CT's online archives
Member-only special issues
Subscribe
A Fine Bridge, a Campy Cage, and a Conflicted Catholic
A Fine Bridge, a Campy Cage, and a Conflicted Catholic