true
For the third year in a row, the top film at the box office on Super Bowl weekend was a low-budget horror movie.
This time, the film in question was The Messengers, which marks the American debut of Hong Kong filmmakers (and twin brothers) Oxide and Danny Pang. The movie concerns a family that moves from its Chicago home to a haunted farmhouse in North Dakota—and only the children can see the ghosts that lurk there and threaten to do them all harm.
Bob Hoose (Plugged In) is impressed by the movie's technique—however "cloned" it may be from the works of other filmmakers—and he likes some of its redemptive themes: "It takes the time to show us a family looking for healing and seeking a new start. And in the end, the horror they're put through helps them do just that. When the going gets ghastly, they figure out how to hold fast to each other and find the strength to make it through. If only there could have been something other than all-powerful, revenge-starved corpses and deranged psychopaths to get them there." He concludes, "there's just something wrong with indulging a narrative that's all about the peace ghosts find when they exact fatal revenge on their oppressors."
Christian Hamaker (Crosswalk) says the film "doesn't muster much in the way of atmosphere or scares." He finds it more silly than suspenseful, and concludes: "A sense of irony can add a lively dimension to films in the weary horror genre, but The Messengers barely nods in that direction. In taking itself so seriously, it bogs down. Neither scary nor interesting, The Messengers adds nothing to the genre but a pale imitation of what's come before."
David DiCerto (Catholic News Service) says he appreciates how the directors "bring their less-is-more Asian horror sensibilities to the standard haunted-house genre, showing far more restraint in depicting the murderous mayhem than is generally the case. Still, while adroit at creating eerie visuals, the brothers fail to generate much sustained suspense, mustering only modest chills as they navigate a predictable plot capped by a ludicrous climax."
For the most part, mainstream critics are sending this message back to sender.
Because I Said So
for over 30 years, Diane Keaton has captured the spirit of her times like few other actresses. After winning an Oscar for navigating the neurotic ups and downs of urban romance in the 1970s film Annie Hall, she went on to chart the complications of motherhood for yuppie business women in the 1980s film Baby Boom, the effects of divorce on middle-aged women in the 1990s film The First Wives Club, and the question of whether women of a certain age can still attract the opposite sex in this decade's Something's Gotta Give.
Her newest film, however, doesn't seem likely to join those ranks. In Because I Said So—directed by Michael Lehmann, whose last feature film, 40 Days and 40 Nights, was predicated on the notion that no healthy single man could willingly abstain from sex for a few weeks—Keaton plays a mother who has three daughters, one of whom (played by Mandy Moore) is unmarried, a status that the overbearing mother is determined to "fix."
Lisa Ann Cockrel (Christianity Today Movies) is one of several critics who are frustrated by the film's regressive, "muddled" thinking: "I don't necessarily demand a lot of intellectual rigor from my romantic comedies, but the conflation of progressive and arguably conservative values throughout the movie (not just as it relates to marriage, but also to minorities) makes for an inconsistent and frustrating narrative. … I do think that Because I Said So is an interesting example of how older women are increasingly depicted as being sexy in film. … But upon initial reflection I'm tempted to say that the broad effect of this treatment is a sort of continued dismissal of womanhood by continuing to frame its concerns within the context of a woman's attractiveness to men for longer and longer stretches of her life."
Christa Banister (Crosswalk) says the movie is "so bad that it actually makes me wonder just how horrible the scripts were that [Keaton] turned down in favor of this one." She is also disappointed that Moore, "who has claimed to be a church-goer in the past," plays a woman who sleeps with both of the men who are competing for her affections. "Instead of sweet and somewhat innocent like the pop songs she's sung in the past, she's a spoiled, promiscuous girl with a potty mouth, which is such a waste of her talent that still manages to shine through in such an insignificant movie as this."
Marcus Yoars (Plugged In) admits that he doesn't "get" chick flicks at the best of times, but even so, he writes, "in this dysfunctional mother-daughter tale, sex trumps all—character development, storytelling and morality. That's neither a male nor a female observation. And it has nothing to do with whether I love or hate big-budget tearjerkers. With sexual ethics as loose as a pair of post-diet pants, Because I Said So slickly creates a sordid 'girls' night out' atmosphere by dealing with orgasms, penises, one-night-stands and everything in between with a stubbornly frank (and relativistically postmodern) attitude. Would I be OK with all of that if I was 'more sensitive' and cried a little easier? Hardly."
Michael Brunk (Past the Popcorn) says the movie "is a fairly formulaic light romantic comedy. It really doesn't break any new ground. There is plenty of talent on tap here, including Diane Keaton as Daphne and Mandy Moore as Milly, but they're not given much to work with. … The real lesson here is that no matter how much you love your kids, you simply can't live their lives for them."
Harry Forbes (Catholic News Service) says the film is "mediocre and unfunny" and calls it an "appalling chick flick" that "pushes the contemporary acceptance of premarital sex to new lows, as the permissive Keaton character and her three daughters (Lauren Graham and Piper Perabo are the others) blithely discuss their sexual experiences at every opportunity."
Mainstream critics say don't see this movie.
Factory Girl
Factory Girl stars Sienna Miller (Alfie, Casanova) as Edie Sedgwick, a young socialite who hung out with Andy Warhol and his artistic community known as The Factory, appearing in several of their movies in the 1960s. Eventually the hedonistic lifestyle caught up with her, and she died of an overdose at the age of 28.
Harry Forbes (Catholic News Service) writes: "The milieu is, as you would expect, downbeat and often seamy and therefore not to everyone's taste, but it's presented with relative restraint, and the impressive Miller is immensely appealing in her sensitive portrait of the trusting, vulnerable waif."
Mainstream critics haven't been very impressed so far.
Jonestown: The Life and Death of Peoples Temple
You've probably heard about the crazy cult that killed itself with Kool-Aid. But have you heard about the surreal events—like something out of the original Wicker Man—that immediately preceded the mass suicide? Or about the earnest efforts to promote social and racial harmony on which Jim Jones built his religious movement in the first place? A new documentary tells the tragic, harrowing story.
Greg Wright (Past the Popcorn) says the film's "main strength is the way that it gets us to see how easily we all might ignore the warning signs, if the motivations were strong enough." He also writes, "What's amazing about Nelson's documentary is not that he manages to bring details like these to light, that the entire film is pieced together from eyewitness accounts to Jones' rise and murderous fall, or that Jones himself documented the whole charade well enough that Nelson doesn't have to rely on cheesy reenactments. The truly amazing thing is how the film builds a narrative momentum that packs so much emotional punch even though the audience knows exactly 'what happens next.' I can't recall ever having been so moved [by] an inexorable tragedy that I knew full well was coming. The impact is devastating—and well it should be."
Mainstream critics are almost unanimously impressed by the film.
More reviews of recent releases
Smokin' Aces: Christian Hamaker (Crosswalk) says the film "is not easy to dismiss. It doesn't amount to much—that's its biggest flaw—but while it's unspooling, it not only holds viewers' attention but does so with cinematic verve. From the opening moments that introduce the motley crew of characters, to a gruesome hotel shootout that includes the most ominous use of elevators since 'Barton Fink,' the film crackles with energy. … The screenplay includes a smattering of dialogue about God and heaven, but the circumstances in which these subjects are raised are—at least in one instance—absurd, robbing the words of any lasting power."
God Grew Tired of Us: Jenn Wright (Past the Popcorn) wishes this documentary, which concerns refugees from the Sudanese civil war who come to America, had been a lot longer. She writes: "God Grew Tired—which takes its title from John's impression that the Lost Boys' suffering was the result of God's frustration with humanity in general—is not only educational; it's also cause for reflection about the things we take for granted. … I would recommend this film for nearly everyone, though the descriptions of some of the atrocities may be disturbing to certain sensibilities. But the information is well presented and crucial to our understanding of the Lost Boys and their struggles—it's definitely a plight about which the majority of us could be more educated."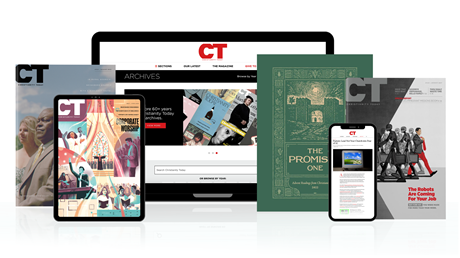 Annual & Monthly subscriptions available.
Print & Digital Issues of CT magazine
Complete access to every article on ChristianityToday.com
Unlimited access to 65+ years of CT's online archives
Member-only special issues
Subscribe
Messengers' Message Mixed
Messengers' Message Mixed