true
For many, the Aliens vs. Predator franchise is nothing more than a gimmick. A campy monster match-up in the spirit of Dracula vs. Frankenstein or Godzilla vs. Mothra, if not a desperate attempt by 20th Century Fox to revitalize its two sci-fi/horror blockbusters. Actually, the idea was born out of comics, novels, and videogames over the last 20 years, developing numerous stories from which to draw upon. The histories seemed naturally intertwined: the ultimate hunters (Predators) cultivating the ultimate prey (Aliens) for safari, with humankind caught between the two deadly species.
The concept played well in print, but less successfully on the big screen. Though a minor box office success, 2004's Alien vs. Predator was deemed a failure by most critics and moviegoers, lacking in comparison to its classic predecessors. Some felt cheated by the PG-13 rating, which stripped the film of the gory bloodshed exhibited in the other movies. And others complained that if you're going to bring these creatures to Earth, then unleash them someplace that matters; a populated setting would be scarier than Antarctica.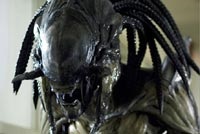 For better or worse, 20th Century Fox listened, assigning The Brothers Strause (special effects wizards Greg and Colin) to direct their first feature film. As lifelong fans of both franchises, the Strauses were eager to recreate the audio and visual hallmarks of both creatures. They also amped the violence and gore back up to an R rating. And they have attempted the Earthbound story that many fans have long wanted.
The setting is present day, after the events of the previous Predator films and picking up immediately from the conclusion of the first AVP—all before the Alien series. While leaving Earth's orbit, last movie's fallen Predator gives "birth" to a Predator Alien hybrid, or "PredAlien" (Aliens take on genetic characteristics of their hosts). Fast forward to this movie—chaos ensues, the remaining Predators are killed, and the ship crash lands back to Earth, this time in the small Colorado town of Gunnison. The Aliens run rampant, immediately infesting the community with the new PredAlien's ability to incubate hosts directly.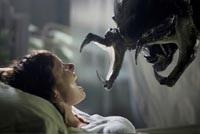 As if the citizens of Gunnison didn't have enough to worry about, the spaceship's distress beacon draws a lone Predator (only one?!?!) to Earth—not as a hunter, but as a "cleaner" to erase any trace of either creature's existence from the planet. That would be a good thing, except it means killing any humans that get in the way (and in some cases, leaving their remains behind, which seems to conflict with his mission). Also, when the government catches wind of the situation, they're not exactly planning to save the town either. Caught in the middle of a full-on alien infestation, the citizens of Gunnison fight for their lives as doomsday approaches.
In most sci-fi films, characters are victims of their profession—scientists tampering with the unknown, soldiers entering strange environments, space jockeys landing on planets they shouldn't be, etc. But in horror films, the victims are more often everyday people—naughty or nice, they could be your next-door neighbors, store clerks, classmates, and local law enforcement. And there's also a distinction between thrillers and horror films. The former relies on suspense and atmosphere to elicit tension and scares. The latter focuses on "quality kills" and shock value.
I bring it up because previous Alien and Predator movies combined several elements, but favored thrills and scares over horror. Alien (1979) is a terrifying classic, but aside from the signature "alien birth," there's actually very little blood shown on screen—a sci-fi haunted house with some horror thrown in. Aliens (1986) was scary and action-packed, but again showed relative restraint in onscreen gore—a sci-fi Alamo thriller that downplayed the gory details. Predator (1987) was considerably more violent and bloody, though even that movie was more war action than horror. A key element to the success of all three was focusing on fleshed-out characters for us to root for as they fought for their survival.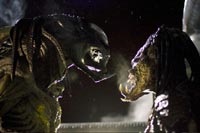 By comparison, AVP Requiem makes some flimsy attempts at character development, but they all fall flat as a pancake. Dallas (Steven Pasquale of TV's Rescue Me) is never clearly defined—he's an ex-con who returns to town to visit his brother Ricky (and no, the film doesn't explain why Dallas has the same name as Tom Skerritt's character in Alien). We meet Kelly (Reiko Aylesworth of TV's 24 and ER), a soldier returning from Iraq to reconnect with her husband and young daughter—comparisons to Ripley from the Alien franchise are obvious, but she's ultimately a nothing more than a caring mother with combat experience. That's convenient.
No one else really matters, and perhaps that's the point. By favoring action over storytelling and introducing one stock character after another, AVP Requiem is reduced to a horror film with sci-fi elements and slasher movie clichés. We meet a pretty waitress in one scene just so the Aliens don't have to kill a complete stranger in the next.
Moving the action to a heavily populated area on Earth naturally pumps up the horror aspects of the franchise—if it could happen at their local high school, then it can happen at yours! But the movie is less entertaining by focusing less on the characters and more on the varying ways the creatures can kill them. Boasting the highest onscreen body count, this is among the bloodiest of the Alien films, though maybe on par with the Predator films. Because the cast relies on unknowns, anyone is fair game to die … and that includes men, women, and children, as well as expectant mothers in a hospital maternity ward.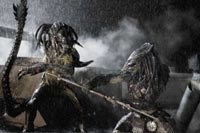 If that isn't sick enough, it's worth noting the movie released on Christmas Day. And the marketing campaign revels in that fact: "This Christmas, there will be no peace on earth." Lovely. What better way for us to spend time with family and celebrate the birth of Jesus? Also, late-night screenings on the day-before-official-release were insensitively—and tastelessly—billed as a "Midnight Mass-Acre."
Moral objections aside, AVP Requiem is not a complete turkey—I'd daresay it's slightly better than the first AVP. But like most sequels, it's typically inferior, constantly reminding you of how much better the original films were. There are at least enough special effects and exciting sequences to make it a worthwhile diversion for fans, but never enough reason to see it for anyone else. It has an interesting scenario, but falls short in the, um, execution. Two years from now, it'll be a regular feature on the Sci-Fi Channel. In other words, you already know if you want to see this. If you're unsure, then don't.
By now, it's apparent that prequels are usually a bad idea—knowing the outcome of the other films kills the suspense. (In this case, we already have some idea of how AVP Requiem will end since humankind is still generally unfamiliar with the Aliens in the future.) And by now, it's apparent that any attempt to revitalize these franchises will only pale in comparison to the benchmark movies that launched them in the first place: Alien, Aliens, and Predator.
As long as the AVP franchise continues to favor cheap, predictable scares over character development and suspenseful pacing, then it's just little more than another derivative monster match-up. Maybe Jason and Freddy can tag team against the Aliens and Predators next time, with Dracula and Frankenstein offering commentary?
Taking a cue from the Requiem of the title, it may be time to put these Aliens and Predators to rest once and for all.
Talk About It
Discussion starters
What draws people to the Alien and Predator franchises? Is it the mystery of these dangerous monsters? The special effects and "quality kills"? Or are they exciting and suspenseful survival/action movies? Do you think the movies say something about our greatest fears and finding the courage to overcome them?
What's your response to the government's actions in this movie? Is the government trustworthy? Do you think they place no value on human life, or is there such a thing as acceptable losses under the circumstances? What options are there to control an infestation of this kind?
How do you feel about movies released on Christmas day? Is it acceptable, knowing that not everyone celebrates Christmas, or that some families enjoy spending time together by seeing a movie? Are certain movies more acceptable on Christmas than others? Why do you suppose Hollywood is recently in the habit of releasing a horror movie on Christmas day?
The Family Corner
For parents to consider
Aliens vs. Predator - Requiem is rated R for violence, gore, and language. There's plenty of bad language, but it primarily earns its rating for violence and gore. Both creatures are indiscriminant in their slaughter of men, women, and children. The Aliens burst out of their host bodies after gestation, including a particularly nasty sequence in a maternity ward. The Predator uses an array of weapons to dispatch people, and like previous installments, leaves one victim skinned and hanging from a tree. This one's more violent than the other Alien and Predator films, and certainly not for kids or anyone who isn't already a fan of the franchise.
Copyright © 2007 Christianity Today. Click for reprint information.
What other Christian critics are saying: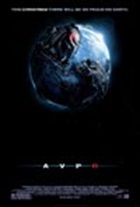 Browse All Movie Reviews By: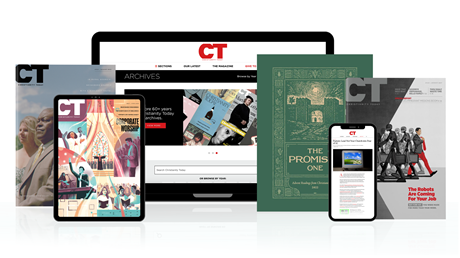 Annual & Monthly subscriptions available.
Print & Digital Issues of CT magazine
Complete access to every article on ChristianityToday.com
Unlimited access to 65+ years of CT's online archives
Member-only special issues
Subscribe
Aliens vs. Predator - Requiem
Aliens vs. Predator - Requiem