Robert E. Webber, a theologian well-known for his work on worship and the early church, died of pancreatic cancer on April 27 at his home in Sawyer, Michigan. He was 73. At the time of his death, Webber was the William R. and Geraldyn B. Myers professor of ministry at Northern Seminary in Lombard, Ill. He was also the president of the Institute for Worship Studies in Jacksonville, Florida, and professor of theology emeritus at Wheaton College in Wheaton, Illinois.
Webber, the son of a Baptist minister, received his bachelor's degree from Bob Jones University in 1956 and went on to earn a divinity degree from the Reformed Episcopal Seminary in 1959 and a masters degree in theology from Covenant Theological Seminary in 1960. Eight years later, he received his doctoral degree in theology from Concordia Theological Seminary.
Webber began teaching theology at Wheaton College in 1968. Dennis Okholm, a student of his in 1970, remembers Webber as avant garde. "Unlike all the other professors, he had long hair, wore an ascot, which was the trend then, had us sitting on the floor, and instead of reading Augustine's City of God (he never did like Augustine) had us reading Dooyeweerd and Schaeffer and the existentialists."
Okholm returned to Wheaton in 1988 as a member of the faculty. He says Webber remained a "great lecturer—the best lecturer that Wheaton had in our department," but by then, Webber's focus had shifted from existentialism to the early church. At that point, Webber had written Common Roots (1978), a book that examined the impact of second-century Christianity on the modern church's life, worship, witness, and spirituality.
He had also written Evangelicals on the Canterbury Trail: Why Evangelicals Are Attracted to the Liturgical Church, a 1985 book in which he described the reasons behind his own gradual shift away from his fundamentalist/evangelical background toward the Anglican tradition. Phil Kenyon, Webber's colleague at Northern Seminary, says Webber faced an enormous amount of criticism in response to that book. "It was like he had left the faith. He definitely went against the stream of current evangelical thought," Kenyon said.
Nevertheless, Webber's work was highly influential, and his ideas grew in popularity in evangelical circles.
In recent years, Webber sought to show the increasing relevance of patristic thought in a postmodern age. His more recent books include Ancient-Future Faith, Ancient-Future Time, Ancient-Future Evangelism, The Younger Evangelicals, and The Divine Embrace. In 2006, he organized and edited the "Call to an Ancient Evangelical Future," a document intended "to restore the priority of the divinely inspired biblical story of God's acts in history."
Edith Blumhofer, director of the Institute for the Study of American Evangelicals at Wheaton College and affiliate professor of church history at Northern Seminary, says of Webber, "If you stand back and look at his life, he represents one of the ways that evangelicalism has changed and unfolded, [especially] if you think about [his journey] from Bob Jones University to the Episcopal Church to all of this focus on remembering the ancient as we move into the contemporary."
During the latter half of his life, Webber took a special interest in Christian worship practices. Webber wrote more than 40 books on the topic of worship, focusing on how the worship practices of the ancient church have value for the church today.
"In many ways, Robert Webber paved the way for many Protestants, especially evangelical Protestants, to take worship seriously as a primary occupation both in the church and in the academy," said John Witvliet, director of the Calvin Institute of Christian Worship at Calvin College and Calvin Seminary. Witvliet called Webber "an inspiration" and "a real pioneer."
Kenyon, who serves as a deacon in an Anglican church, says he often uses Webber's works, such as Worship as a Verb and Worship Old and New, in book studies. "These books have just been excellent," he said. "They're scholarly, but you don't have to have a master's degree from Notre Dame in liturgical history to get through them."
Webber also received praise for his work as editor of The Complete Library of Christian Worship, published in 1995, an eight-volume series created to serve as a comprehensive reference for professors, students, pastors, and worship leaders. The series draws on several thousand texts and publications and covers topics like Old and New Testament worship and contemporary applications for music and the arts.
Webber founded the Institute for Worship Studies in Jacksonville, Florida, in 1993, which offers doctor of worship studies and master's of worship studies degree programs. It is the only institute in the country to focus exclusively on worship education.
Charles Hambrick-Stowe, professor of Christian history, vice-president for academic affairs, and dean of Northern Seminary, says when they met three years ago, "Bob Webber struck me immediately as a person of deep faith, intellectual curiosity and depth, and spiritual vigor."
He says that Webber was a key faculty member during his seven years at Northern Seminary. "In faculty meetings, he would sit there silently, letting the discussion unfold, waiting until the right moment, and then he would say a word," Hambrick-Stowe said. "It was often humorous, but it was always right on point, and often just pointed us in the right direction, or clarified what the issue really was, so that we could move to a resolution."
Webber also had a keen sense of humor. Okholm recalls, "One day I came in on a real slushy Chicago winter day, and I said, 'Well, Bob, this is the day the Lord has made,' and Bob said, 'Yeah, but he's done better.'"
Many remember Webber for his gracious spirit. "He was very generous and very gracious in acknowledging people and letting others know how they'd helped him," Kenyon said.
Webber is survived by his wife, Joanne, four children, and seven grandchildren.
Related Elsewhere:
Services will be held for Robert Webber in Oak Brook, Illinois, on Wednesday, May 16th 7:00 pm at Christ Church of Oak Brook, 31st & York Rd.; and also in Orange Park Florida, on Friday, June 15, 7:00 pm at Grace Episcopal Church, 151 Kingsley Ave.
The Robert E. Webber Institute for Worship Studies, Northern Seminary, and AncientFutureWorship.com have more on Webber. Northern also hosts Webber's "Call to an Ancient Evangelical Future."
Christianity Today editor David Neff interviewed Webber in 2006 about the AEF Call.
CT briefly reviewed Ancient-Future Evangelism in 2004, briefly excerpted Ancient-Future Faith in 2000, and briefly profiled Webber's work on "blended worship" in 1997.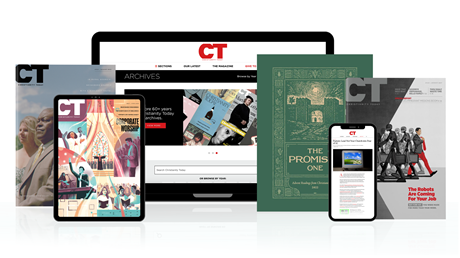 Annual & Monthly subscriptions available.
Print & Digital Issues of CT magazine
Complete access to every article on ChristianityToday.com
Unlimited access to 65+ years of CT's online archives
Member-only special issues
Subscribe
Robert E. Webber, Theologian of 'Ancient-Future' Faith, Dies at 73
Robert E. Webber, Theologian of 'Ancient-Future' ...