When Jaroslav Pelikan died at age 82 on May 13, 2006, the world of Christian scholarship lost its greatest living advocate and the best church historian America has ever produced. Words like "greatest" and "best" are frequently used in a loose manner simply to say something nice about someone—but in the case of Jary, as his friends called him, they are really true.
The achievements of his life are remarkable: He wrote nearly 40 books and over a dozen reference works on numerous aspects of Christian history. He taught several generations of students at Valparaiso University, Concordia Theological Seminary, the University of Chicago, and, since 1962, Yale University. He served as Dean of the Graduate School at Yale and was also President of the American Academy of Arts and Sciences. He received the Jefferson Award of the National Endowment for the Humanities in 1983 and the John Kluge Prize for Lifetime Achievements in the Human Sciences in 2004. He presented the Gifford Lectures at University of Aberdeen and the Gilson Lectures at the University of Toronto and was awarded honorary degrees from 42 universities around the world.
Many other accomplishments could be listed, but accomplishments alone do not reveal the deepest passion of his soul—to tell the story of the Christian tradition in all of its fullness, drama, coherence, romance, and rigor, thereby exposing the deepest textures of meaning inherent in the Christian message itself.
A Slavic heritage
Pelikan loved to quote this line from Goethe, his favorite poet: "What you have received as heritage, take now as task and thus you will make it your own." Pelikan's remarkable scholarly career was rooted in his Slavic family background. Both of his parents were born in Europe. Both his father and grandfather were Lutheran pastors. His mother was a schoolteacher who learned English by reading the essays of Emerson. They bequeathed to young Jary both a love for learning and a desire for God.
When he was a little boy and couldn't quite reach the dinner table, his parents had him sit on stacked-up volumes of Migne's Patrologia, a collection of patristic writings in the original languages. He later quipped, "I thus absorbed the church fathers a posteriori!" His facility with languages was astounding—not only the classical tongues of Greek, Latin, and Hebrew, but also German, Slovak, Czech, Dutch, Russian, Serbian, all the romance languages, and many more.  On occasion he would stay up late at night listening to a short-wave radio to keep fresh his language skills—including Albanian, which he once found useful in a conversation with a taxi driver. Pelikan's deep religious faith was nurtured on Luther's Small Catechism, the great chorales of J. S. Bach, and, above all, the Bible. Each of these—Luther, Bach, and the Bible—would play a major role in his scholarly work. Though he became an ordained Lutheran minister, Pelikan spent most of his life in the environs of the secular academy. But he never lost the rich faith he received as a small child. As he once confessed, "I was quite out of step with many in my generation, especially among theological scholars at universities, in never having had fundamental doubts about the essential rightness of the Christian faith, but having retained a continuing, if often quite unsophisticated, Slavic piety."
The grand scope of tradition
A precocious young Pelikan received both his seminary degree and a Ph.D. from the University of Chicago in 1946 at age 22. His first book, From Luther to Kierkegaard, came out a few years later (1950). Soon Pelikan established himself as one of the most prolific Luther scholars of his generation. He was general editor for the 55-volume American edition of Luther's Works and wrote a separate volume on Luther's biblical exposition. Pelikan always had a great interest in ecumenical affairs. His book The Riddle of Roman Catholicism (1959), written on the eve of the Second Vatican Council, offered an irenic introduction to the world's largest Christian community.
It is said that Karl Barth drew up a plan for his "collected works" at age 10! Just so, Pelikan had a clear, detailed plan of what he called his "big book" early in his career. He would write a comprehensive history of Christian doctrine, an account of what "the church of Jesus Christ has believed, taught, and confessed on the basis of the word of God."
Only Adolf Harnack, the great scion of German liberal Protestantism, had attempted such a massive project with his three-volume History of Dogma. Harnack, however, for all his erudition, had little sympathy with the doctrinal content of his subject and presented a version of Christianity freed from the dogmatic shackles of the past. Pelikan, working with the same historical rigor, approached his subject with much more sympathy. As he put it, "I found, not in theological liberalism and historical relativism (as so many of my predecessors, teachers, contemporaries did) but in tradition and orthodoxy, the presupposition from which to interpret any portion or period."
Pelikan's magnum opus eventually became five volumes that he called simply The Christian Tradition. Though Pelikan fully recognized the great diversity and varied expressions of Christian teaching across the ages, he also stressed the underlying unity and continuity of what the New Testament calls "the faith once delivered to the saints" (Jude 3).
Jesus on safari
As a capstone to his lifelong interest in the central texts of the Christian faith, Pelikan edited (with Valerie Hotchkiss) what could only be called a second magnum opus—Creeds and Confessions of Faith in the Christian Tradition, a four-volume critical edition with a one-volume historical and theological guide called simply Credo.
Judaism has its shema and Islam its shahadah, but Christians, responding to Jesus' question "Who do yousay that I am?" have produced literally thousands of statements of faith across the centuries. Pelikan's collection includes several hundred of these, among them the Masai Creed from Nigeria. This creed Africanizes Christianity by declaring that Jesus "was always on safari doing good." It also declares that after Jesus had been "tortured and nailed hands and feet to a cross, and died, he lay buried in the grave, but the hyenas did not touch him, and on the third day, he rose from the grave. He ascended unto the skies. He is the Lord."
This creed was brought to Pelikan's attention by one of his students, a woman who had been a member of a religious order working in a hospital in East Nigeria. Pelikan commented on his reaction to this text: "And so she brought it to me, and I just got shivers, just the thought, you know, the hyenas did not touch him and the act of defiance—God lives even in spite of the hyenas."
Living faith
Pelikan dealt with many deep and difficult subjects in his scholarly work, but he wrote in a simple, elegant style with a clarity that is compelling. He had a way of capturing profound truths in short, unforgettable statements. Among his most memorable are these: "Jesus Christ is too important to be left to the theologians"; "Everybody else is an expert on the present. I wish to file a minority report on behalf of the past"; and "Tradition is the living faith of the dead; traditionalism is the dead faith of the living." Though he never quite matched the popular appeal of his Yale predecessor, Roland H. Bainton, some of Pelikan's books did reach a wider audience, including his Jesus Through the Centuries and Whose Bible Is It? 
On March 25, 1998, the Feast Day of the Annunciation to the Blessed Virgin Mary, Pelikan and his wife Sylvia were received into the fellowship of the Orthodox Church in America. Pelikan remarked that while some might have been shocked by his act, few who knew him well could have been surprised. As he put it, "Any airplane that circled the airport for that long before landing would have run out of gas!" Indeed, Pelikan's tilt toward the East can be traced back to his Slavic roots, his love for the Eastern liturgy, his close friendship with the Orthodox theologian Georges Florovosky, and the sheer joy that permeates the pages of The Spirit of Eastern Christendom, the second volume of his history of doctrine. He spent the last years of his life serving on the Board of Trustees of Saint Vladimir's Orthodox Theological Seminary.
I never had Jaroslav Pelikan as a classroom teacher, but I was one of his students, as everyone seriously interested in Christian history has to be. As a young student of historical theology, I once determined to read everything Pelikan had written. It is a daunting task, let me assure you: A 1995 bibliography of his works, which does not include his last prolific decade, runs to some 50 printed pages. He was a generous colleague and friend, and a great encourager.
Pelikan thrived in the world of the arts and sciences and wrote learnedly about art, politics, law, poetry, educational theory, and public ethics, as well as history and theology. But he did all of this as a scholar who was also a Christian. Jary Pelikan had a love for all things human and humane, and his work will enrich every person who looks at the world with intellectual curiosity and moral imagination. But his legacy will shine especially bright among those who follow Jesus Christ, belong to his church, and see the world through the eyes of the Savior's love.
Pelikan's Bach Among the Theologians concludes with a chapter titled "Johann Sebastian Bach—between Secular and Sacred." Pelikan points out that Bach began his compositions by writing Jesu Juva (Jesus, help) and closed them by writing Soli Deo Gloria (to God alone be the glory). These are also good grace notes for one of the most diligent and faithful of the "Lord's remembrancers," as Cotton Mather called church historians.
Timothy George is dean of Beeson Divinity School of Samford University and an executive editor of Christianity Today.
Related Elsewhere:
ChristianHistory.net. Subscriptions to the quarterly print magazine Christian History & Biography are also available.
Mark Noll wrote a brief profile of Pelikan for Christianity Today in 1990.
Earlier this month, Chris Hall reviewed Pelikan's Whose Bible Is It?
Yale has a page devoted to Pelikan's work. St Vladimir's Orthodox Theological Seminary has a lengthy obituary.
Speaking of Faith broadcast an interview with Pelikan about the history and nature of creeds.
Previous Christian History Corners include:
Classic Faith for Modern Times: Thomas à Kempis | "What Good Is Knowledge Without Fear of God?" (July 28, 2006)
How Russia Became Christian | Saturday, Eastern Orthodox and Roman Catholic Christians commemorate the life of the Russian prince Vladimir. (July 14, 2006)
How We Worship | An ambitious new book takes us into the diverse world of Christian worship practices from the early church to today. (June 23, 2006)
Live Longer, Healthier, & Better | The untold benefits of becoming a Christian in the ancient world. (June 9, 2006)
How the Early Christians Worshipped | Originally addressed to the Roman emperor in defense of Christianity, Justin's description gives us a window into what early Christians actually did when they gathered together to baptize, celebrate the Lord's Supper, worship, and build community. (May 26, 2006)
Sweet Charity | The Quakers behind Cadbury chocolate. (April 7, 2006)
How We All Think Like Augustine | Take a mind-blowing journey with the great philosopher-saint in this audio course from the Teaching Company. (March 31, 2006)
Martyrs to the Spear | Fifty years after five missionaries were murdered in Ecuador, their story still inspires (Mar. 10, 2006)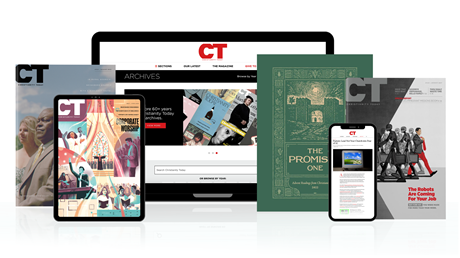 Annual & Monthly subscriptions available.
Print & Digital Issues of CT magazine
Complete access to every article on ChristianityToday.com
Unlimited access to 65+ years of CT's online archives
Member-only special issues
Subscribe
Delighted by Doctrine
Delighted by Doctrine