Today's Top Five
1. A soldier gets his star
A year after his death in Afghanistan, Sgt. Patrick Stewart's memorial plaque will be inscribed with a Wiccan pentacle (a five-point star inside a circle). His widow had lobbied for the emblem, but was turned down by the U.S. Department of Veterans Affairs. The VA allows for more than 30 symbols for other religions and denominations, but has no approved Wiccan symbol. The VA has not backed down, but Nevada officials say they'll grant the symbol in a state veteran's cemetery.
"The VA still has not determined yet if a Wiccan symbol can go on the headstone," Tim Tetz, executive director of the Nevada Office of Veterans Services, told the Associated Press. "But we have determined we control the state cemetery and that we therefore have the ability to recognize him for his service to his country."
In a June op-ed for Christianity Today Online, John Whitehead had argued that "by refusing to place the Wiccan symbol on Sgt. Stewart's memorial plaque, while permitting symbols of other religions and non-religions, the government is clearly engaging in viewpoint discrimination."
2. Did repealing blue laws encourage sinfulness?
The Washington Post's Richard Morin today highlights a National Bureau of Economic Research study that suggests that the people who argued against Sunday shopping may have been right. MIT's Jonathan Gruber and Notre Dame's Daniel M. Hungerman looked at states that repealed its blue laws and found that it really did seem to lead to less church attendance and greater wickedness. Morin writes:
Before the shopping ban was lifted, about 37 percent of people in a state on average attended religious services at least weekly, Hungerman said. "After the laws are repealed it falls to 32 percent"—a drop "not driven by declines in religiosity prior to the law change."
Instead of going to church, many of the faithful apparently were going astray. Marijuana use increased by 11 percentage points among church attendees, compared with those who never went to services, after the shopping ban was lifted. Cocaine use increased by nearly 4 percentage points, and heavy drinking increased by about 5 1/2 percentage points among churchgoers compared with those who never went to services, with frequent attendees even more likely to go on benders.
The abstract itself notes, that the increase in drinking and drug use "is found only among the initially religious individuals who were affected by the blue laws. The effect is economically significant; for example, the gap in heavy drinking between religious and non religious individuals falls by about half after the laws are repealed."
"Why would the elimination of blue laws suddenly provoke such an outburst of sinning among the religious?" Morin asks. "After all, there are six other days of the week to shop (or drink) until you drop. And it's not legal to buy cocaine or marijuana on any day of the week." Hungerman replies, "That's the million-dollar question," and offers some guesses. But we're guessing that he won't be the only one seeking to explain this somewhat surprising data.
3. PCUSA, ECUSA "gay fights" continue
Okay, okay, so conservatives in churches hate it when we call them fights over homosexuality, and they're always telling us how homosexuality is just the "presenting issue," and that the fights are really more over the authority of Scripture, the nature of the church, and much more important issues. Yes, they are. And yet homosexuality is still the presenting issue..
In the Presbyterian Church (USA), Janet Edwards is the latest pastor to face a church trial for conducting a same-sex wedding. But Presbyterian News Service notes that while homosexuality is the presenting issue in the case, it's not the only issue. Yes, it was a lesbian wedding. But it was also a syncretistic Christian-Buddhist ceremony. Evan Silverstein writes: "Edwards was also cited for omitting references to the Trinity, Bible readings and intention to enter into a Christian marriage, and misstating the authority by which the ceremony was performed. … She said the rite was called a 'wedding' and integrated the couple's Buddhist and Christian traditions." (The Pittsburgh Post-Gazette also notes the Buddhist angle.) We noted the Edwards case in March, and yes, she's a descendant of Jonathan Edwards.
Over in the Episcopal Church, it's stalemate time. "We had honest and frank conversations that confronted the depth of the conflicts that we face," said a statement released by the 11 participating bishops. "We recognized the need to provide sufficient space, but were unable to come to common agreement on the way forward." That's the bottom line, but you can of course parse things out a million different ways over at Anglican blogs like titusonenine..
4. Klingenschmitt guilty after court martial
It took a jury only 20 minutes to find the Navy chaplain guilty of disobeying an order not to wear his uniform at news conferences. At a press conference last night, he wore a clerical collar but not his uniform. "I will not be broken," he said, as former Alabama Supreme Court Chief Justice Roy Moore stood by in support. "I have not yet begun to fight." He also explained that he didn't call any witnesses in his defense because "In the trial of Jesus Christ, he never opened his mouth in his own defense." Huh. Interesting biblical allusion, considering that right before the trial of Jesus Christ, he promised that he would be broken.
5. Get ready for loads of Pope vs. Islam analysis
"Show me just what Muhammad brought that was new, and there you will find things only evil and inhuman, such as his command to spread by the sword the faith he preached." That's the juicy outtake of Pope Benedict XVI's Regensburg address that's likely to be widely discussed over the next few days.
Benedict was quoting the 14th-century Byzantine Emperor Manuel II Paleologos, but Muslim leaders are already accusing him of "attacking" Islam. Actually, in a speech that had little to do with Islam, Benedict's aside wasn't really about Islam either but about the history of violent conversion in Islam contrary to the Qur'an's statement, "There is no compulsion in religion." Immediately after quoting the emperor, Benedict continued:
The emperor goes on to explain in detail the reasons why spreading the faith through violence is something unreasonable. Violence is incompatible with the nature of God and the nature of the soul. … The decisive statement in this argument against violent conversion is this: Not to act in accordance with reason is contrary to God's nature. As far as understanding of God and thus the concrete practice of religion is concerned, we find ourselves faced with a dilemma which nowadays challenges us directly. Is the conviction that acting unreasonably contradicts God's nature merely a Greek idea, or is it always and intrinsically true? … In the Western world it is widely held that only positivistic reason and the forms of philosophy based on it are universally valid. Yet the world's profoundly religious cultures see this exclusion of the divine from the universality of reason as an attack on their most profound convictions.
Reading the speech, it's clear Benedict was talking about a clash of civilizations. But which civilizations? And is there more than one clash?
Quote of the day
"Christians should be having great sex lives! We should be having better sex than anybody else!"
—Family Dynamics president Joe Beam, who lectures Christians on how to have better sex and is reportedly pursuing a Ph.D. in sexology from the University of Sydney. Beam apparently rejects natural law arguments on human sexuality in favor of a more literal, if-the-Bible-doesn't-explicitly-ban-it-it's-okay approach. He was profiled this week by MSNBC.
More articles
Wiccan soldier gets his pentagram | Naval chaplain guilty | Politics | Politics and religion books | Life ethics | Education | Money and business | Media | Music | Church life | The latest Presbyterian church trial over homosexuality | Episcopal stalemate | Catholicism | Pope | Pope's anti-jihad speech | Islam | 9/11 | Crime | India | Other stories of interest
Wiccan soldier gets his pentagram:
Navy chaplain found guilty of disobeying order | Klingenschmitt was convicted Wednesday, the second day of a Navy special court-martial, for disobeying an order not to wear his uniform for media appearances (The Virginian-Pilot, Hampton Roads, Va.)


Chaplain convicted of disobeying order | A military jury found a Navy chaplain guilty Wednesday of disobeying an order by appearing in uniform at a White House protest (Associated Press)


Be not afraid | Five books on the religious right raise necessary alarms about the movement's ever-increasing power. But goodness, is the situation really quite this grave? (Peter Steinfels, The American Prospect)


Rewriting our religious history | Why are many religious conservatives obsessed with invoking the Founding Fathers? (B.J. Paschal, The News-Sentinel, Ft. Wayne, Ind.)


Democrats to roll out plan to curtail abortions | It promotes such preventive measures as funding for contraceptives and expanded sex education geared toward avoiding pregnancy as well as support for adoption and services to new mothers (Chicago Tribune)


Plan B is a bad plan | With bad news to come (Jennifer Roback Morse, National Review Online)


Mumps outbreak at suburban college | Seven Wheaton College students have contracted mumps, and DuPage County health officials are investigating three other cases (Chicago Tribune)


Warped Tour dropouts defend their faith | The official reason was that Underoath band members needed time out to "focus on their friendship", but according to Aaron Gillespie, it goes much deeper than that (Straight.com, Vancouver)


A stardom just out of reach | Long-running Christian band Starflyer 59 still aims for success (Los Angeles Times)


Old school rappers try holy rhymes | Gangsta tales dumped for stories of Christ (The Charlotte Observer, N.C.)


Prayer and parties | Strip District building morphs from nightclub to church each weekend (Pittsburgh Post-Gazette)


Worshippers discover faith in different places | Storefront churches are flourishing (Spartanburg Herald-Journal, S.C.)


Raleigh landmark to be church again | Unity Church will hold services in downtown's Long View Center, the facility's owner says (The News & Observer, Raleigh, N.C.)


Beer glass Jesus to lead Christmas campaign | An image of Jesus is to appear in pint glasses in commercials this Christmas as part of a campaign to encourage young people back to the Church (The Telegraph, London)


The latest Presbyterian church trial over homosexuality:
Minister accused of violating church law | Presbyterian pastor conducted marriage ceremony for lesbians in 2005 (Pittsburgh Post-Gazette)


Minister charged in same-sex marriage | The Presbyterian Church has charged a Squirrel Hill minister with breaking church law by performing a marriage ceremony for two women last year (Pittsburgh Tribune-Review)


Church trial in Presbyterian gay case | A Presbyterian minister has been charged with breaking church law for performing a marriage between two women (Associated Press)


No deal at Episcopal meeting | Inching toward a break with the church over homosexuality, conservative Episcopal bishops failed to win approval Wednesday for their request to stay in the denomination without answering to its national leader, who supports gay relationships (Associated Press)


Gay issues again stump Episcopal church leaders | "We were unable to come to common agreement on the way forward," 11 bishops representing differing views on the volatile issues said after a two-day meeting in New York (Reuters)


Episcopalians fear split over gays | They express their concerns as 11 bishops declare a stalemate on the issue (Press-Enterprise, Riverside, Ca.)


Find fulfillment in service, O'Malley says | In an appeal that was alternately passionate and humorous, Cardinal Sean P. O'Malley yesterday called on Catholics to turn to religious vocations in their search for self-fulfillment (The Boston Globe)


In hot pursuit of a saint's shoulder blade | I'm on the trail of the shoulder blade of St. Valentine, a religious relic believed to have been brought to Prague in the 14th century by Charles IV, Holy Roman Emperor and King of Bohemia (Carol Perehudoff, Toronto Star)


Pope wraps up 6-day Bavarian homecoming | Pope Benedict XVI set aside his sermon and gave an encouraging talk to priests Thursday in the cathedral where he was ordained — a spontaneous gesture ending a nostalgic, six-day homecoming to Bavaria (Associated Press)


Pope tells overworked priests even he can't do all | Pope Benedict said on Thursday even he could not do everything that was expected of him and advised German priests not to burn themselves out trying to make up for the growing shortage of Roman Catholic clerics (Reuters)


"He must finally take some action" | Hans Küng, a respected scholar of theology and philosophy, likens Pope Benedict XVI in some ways to US President George Bush. He says both need to come down from the sky and take a look at the reality on the ground (Deutsche Welle, Germany)


Benedict sheds image of dour theologian | He is not only growing into his job after 17 months in the papacy, but appears to enjoy it. (Associated Press)


The pope tackles faith and terrorism | In a provocative speech citing the concept of jihad and referencing the Muslim prophet by name, Benedict sends the world a signal that it's time for hard questions—not hugs and handshakes (Time)


Pope's speech stirs Muslim anger | Muslim religious leaders have accused Pope Benedict XVI of quoting anti-Islamic remarks during a speech at a German university this week (BBC)


Also: Muslim leaders assail Pope's tough speech on Islam | Some of the strongest words came from Turkey, possibly putting in jeopardy Pope Benedict XVI's scheduled visit there in November (The New York Times)


The fascist disease | "Islamic fascism" is an accurate--and important—term (Joseph Loconte, The Weekly Standard)


9/11's effects persist in the pews | There is no single view, but in several dozen interviews over the past month, clergy at many of the major houses of worship in Greater Boston say they sense numerous subtler, sustained changes in their remaining congregations: a persistent sadness, a greater interest in poorly understood faiths, an uneasiness with war, and a yearning for security (The Boston Globe)


A prayer for after 9/11 | In this time of bitter partisanship, America would do well to remember who its real enemies are (Marc Gellman, Newsweek)


Anti-conversion law Modi-fied | Shackled for nearly three years on a subject close to the heart of Chief Minister Narendra Modi, the state government on Wednesday moved a step ahead in its quest to check religious conversions by attempting to clear some of the legal hurdles coming in the way of the controversial law (The Times of India)


Government order on student intake in Christian institutions to be withdrawn | It said 50 p.c. of seats in schools had to be reserved for members of the community (The Hindu, India)


Christian missionaries attacked near Patiala | Certain unidentified miscreatns attacked  the Christian missionaries in Sanaur town near here on Wednesday while they were distributing literature of Christianity in some schools there. (Punjab Newsline)


One preacher's message: Have hotter sex | Minister Joe Beam says good Christian marriages walk on the wild side (MSNBC)


Britain withholds World Bank donation | Protesting conditions placed on poor countries (Associated Press)


Religion news in brief | Greek priests barred from hearing students' confessions, Slovak Catholic bishops lobby against Mormon church, Thousands gather for extended revival near Asheville, Religion Newswriters Association issues awards (Associated Press)


Related Elsewhere:
Suggest links and stories by sending e-mail to weblog@christianitytoday.com
See our past Weblog updates:
September 14
September 6 | 1 | August 29
August 25 | 24 | 23
August 15 | 11 | 10
August 4 | 1
July 28 | 27 | 26
July 21 | 19
July 14 | 13 | 12b | 12a | 10
Weblog
Launched in 1999, Christianity Today's Weblog was not just one of the first religion-oriented weblogs, but one of the first published by a media organization. (Hence its rather bland title.) Mostly compiled by then-online editor Ted Olsen, Weblog rounded up religion news and opinion pieces from publications around the world. As Christianity Today's website grew, it launched other blogs. Olsen took on management responsibilities, and the Weblog feature as such was mothballed. But CT's efforts to round up important news and opinion from around the web continues, especially on our Gleanings feature.
Ted Olsen is Christianity Today's executive editor. He wrote the magazine's Weblog—a collection of news and opinion articles from mainstream news sources around the world—from 1999 to 2006. In 2004, the magazine launched Weblog in Print, which looks for unexpected connections and trends in articles appearing in the mainstream press. The column was later renamed "Tidings" and ran until 2007.
Previous Weblog Columns: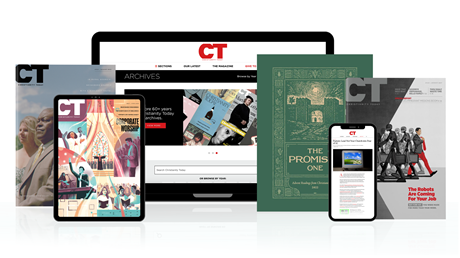 Annual & Monthly subscriptions available.
Print & Digital Issues of CT magazine
Complete access to every article on ChristianityToday.com
Unlimited access to 65+ years of CT's online archives
Member-only special issues
Subscribe
A Win for Wicca
A Win for Wicca