Today's top five
1.Ron Luce makes The New York Times front page
Just as Jesus Camp and Righteous are provoking fear nationwide that a bunch of freaky theocrat kids are being trained to take over the country, along comes a New York Times front page story covering Ron Luce and his claim that "Christianity in America won't survive another decade." (Actually, that quote doesn't appear in the Times, but it's the bold print in Luce's ads, which bear the National Association of Evangelicals' imprimatur. Haven't seen the ads? Subscribe to CT, you naughty freeloader.)
"I'm looking at the data," Luce tells the paper, "and we've become post-Christian America, like post-Christian Europe. We've been working as hard as we know how to work — everyone in youth ministry is working hard — but we're losing."
Luce's "data" is his much quoted claim that only 4 percent of teenagers will be "Bible-believing Christians" (or, in his ads, "evangelical believers") as adults. The Times rightly calls the claim, first promoted by Barna Research, "highly suspect" and notes that it has been questioned by Group magazine and others. Among them, Christian Smith, whose landmark book Soul Searching: The Religious and Spiritual Lives of American Teenagers won a Christianity Todaybook award this year.
"A lot of the goals [of the new evangelical youth campaign] I'm very supportive of," Smith said, "but it just kills me that it's framed in such apocalyptic terms that couldn't possibly hold up under half a second of scrutiny. It's just self-defeating."
We wish we could hear the reaction to the article at the National Youth Workers Convention in Austin this week. But some bloggers involved in youth ministry are criticizing Luce as a fearmonger. New Testament scholar Ben Witherington isn't so sure and has his own critiques of contemporary youth ministry.
One of the more interesting observations comes from Evan Derkacz at the liberal site Alternet. He remembered the 4 percent figure from another recent context: It's the percentage of Muslims James Dobson suggested want to kill "us." The Pittsburgh Post-Gazette reported that Dobson told the September 20 Stand for the Family rally:
"We are at war in this country with an enemy who wants to destroy us," he said. He stressed that only a small minority of Muslims believe that their faith justifies violence, "but let's say 4 percent of Muslims want to kill us. … That's 48 million people who want to bring us to our knees."
"To hear the Religious Right properly, then," Derkacz said, taking a bit of license, "we're headed for a battle in which 4 percent of 'Bible-believing' Christians do battle with 4 percent of murderous Muslims. Sounds like a fair fight."
Anyway, Christianity Today thinks Christianity in America will survive another decade. We remember hearing something about the gates of hell not prevailing something something. We're so confident, in fact, that we asked a bunch of people about the next 50 years of youth ministry. Interestingly enough, Luce was among those we talked to for that piece, and while he was in alarmist mode, he still figured that American youth ministry would be around in a half century.
2.Evangelicals still like GOP, but no longer like like GOP
Let's keep playing with that 4 percent number for a second. The Washington Post notes today that a poll from the left-leaning People for the American Way Foundation found that support for Democrats is up 4 percentage points among frequent churchgoers. That, the Post suggests, is not a very high number, especially when you consider that the same poll found support for Republicans down 14 percentage points. As Michael Cromartie told the paper, "Erosion for evangelicals doesn't necessarily lead to Democratic voting. It leads to nonvoting."
The erosion is real—a new Pew Research Center poll, the Post's Alan Cooperman reports, "found that 57 percent of white evangelicals are inclined to vote for Republican congressional candidates in the midterm elections, a 21-point drop in support among this critical part of the GOP base."
3. Political Pentecostals
Speaking of Pew Research Center polls, the Pew Forum on Religion and Public Life's new 10-country survey on Pentecostals and charismatics is getting a fair bit of attention today. While the bulk of the survey looks at such things as whether these believers have experienced divine healings and what their religious beliefs are, one of the survey's four sections looks at political attitudes. The New York Times's Laurie Goodstein summarizes:
In the past, Pentecostals had been known as rather apolitical, being more inclined toward "supernatural" and "other worldly" solutions to their problems, Mr. Lugo said. But the survey found that Pentecostals and charismatics were likely to say that religious groups should be involved in politics, and that it was important for political leaders to be religious. They are also highly concerned about what they see as moral decline.
John C. Green, senior fellow in religion and American politics at the Pew Forum, said, "This is a group much more interested in politics and public affairs than we anticipated."
We'll be looking at the survey in closer detail. In the meantime, be sure to read Religion News Service's coverage of what the survey found about speaking in tongues.
4.Wacky conspiracy theory of the day
You have to love the theory that Bush's comments that the Iraq war will be seen as "just a comma" is somehow code to the Religious Right. The Washington Post reports: "A lively Internet debate has broken out about the origins of the phrase, with some speculating that Bush means it as a coded message to religious supporters, evoking the aphorism 'Never put a period where God has put a comma.'" That aphorism, coined by comedian Gracie Allen, is at the heart of a marketing campaign by the United Church of Christ—which tends to be politically liberal and is not, by any stretch, part of the Religious Right. Among those who think that Bush is trying to ride the UCC's coattails is UCC marketer Ron Buford, who launched the comma campaign. "It's ironic that, as savvy as they are about using these quotes to strengthen their base, that he would use a quote that we've been using lately," he told the Post. Not that Bush actually used the Gracie Allen line. Perhaps it would be more accurate to say, "It's ironic that both Bush and the UCC believe that punctuation can rally people."
5.What Ethiopia clash?
Last week, Muslims and Christians clashed in the remote Ethiopian town of Dembi. That's about all we know. The Islamic Affairs Supreme Council of Ethiopia says about nine Muslims have been killed, and that "some Christians have also been killed," but they didn't know how many. Government and Orthodox church sources say there were at least four deaths, two churches were destroyed, and the violence started when Muslims objected to preparations for the annual Meskel festival (which celebrates the reported discovery of the True Cross).
Honestly, we don't know where Dembi is. MSN's atlas lists 10 different Ethiopian locations named Dembi, Google Maps lists two, and news sources say it's 305 miles (AFP), 273 miles (AP), and 215 miles (Reuters) west of Addis Ababa. We do hope, however, that news agencies are able to overcome the problems caused by Dembi's remoteness and can inform the world of what happened there.
Quote of the day
"Shoot me first."
—The reported request from Marian Fisher, 13, the oldest of the five girls shot at West Nickel Mines Amish School on Monday. Her 11-year-old sister, Barbie, then added, "Shoot me second," according to midwife Rita Rhoads. Both girls were shot; Barbie survived. Rhoads also said that attacker Charles Roberts's final words were "Pray for me." "That's kind of interesting because he said he hated God," she told ABC News. "He must have recognized the faith in them, God in them."
More articles
Missions and evangelism | Jesus Camp | Other films | Art and entertainment | Books | Politics (U.S.) | Politics (Australia) | Poverty | Environment | Church and state | SLU suit | Education | Foley accusations | Foley scandal | Homosexuality | Abuse | Home-schooled teacher gets two-years | Crime | Amish shooting | Christian hijacker | Ground Zero cross | War and violence | Darfur | Islam | Catholicism | Church life | Pentecostal survey | Spirituality | Other stories of interest
Home-schooled teacher gets two-years:
Related Elsewhere:
Suggest links and stories by sending e-mail to weblog@christianitytoday.com
See our past Weblog updates:
October 5 | 4
September 21 | 15b | 15a | 14
September 6 | 1 | August 29
August 25 | 24 | 23
August 15 | 11 | 10
August 4 | 1
July 28 | 27 | 26
July 21 | 19
Weblog
Launched in 1999, Christianity Today's Weblog was not just one of the first religion-oriented weblogs, but one of the first published by a media organization. (Hence its rather bland title.) Mostly compiled by then-online editor Ted Olsen, Weblog rounded up religion news and opinion pieces from publications around the world. As Christianity Today's website grew, it launched other blogs. Olsen took on management responsibilities, and the Weblog feature as such was mothballed. But CT's efforts to round up important news and opinion from around the web continues, especially on our Gleanings feature.
Ted Olsen is Christianity Today's executive editor. He wrote the magazine's Weblog—a collection of news and opinion articles from mainstream news sources around the world—from 1999 to 2006. In 2004, the magazine launched Weblog in Print, which looks for unexpected connections and trends in articles appearing in the mainstream press. The column was later renamed "Tidings" and ran until 2007.
Previous Weblog Columns: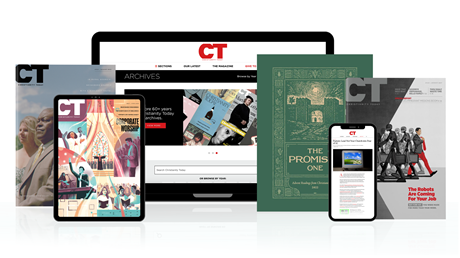 Annual & Monthly subscriptions available.
Print & Digital Issues of CT magazine
Complete access to every article on ChristianityToday.com
Unlimited access to 65+ years of CT's online archives
Member-only special issues
Subscribe
'Christianity in America Won't Survive Another Decade'
'Christianity in America Won't Survive Another Decade'