true
"I've never been the kind of man who hits his knees/Got no answers for big questions/I don't know, maybe tomorrow lightning will hit me on the head/And we can find out if we're just a joke/Jesus I'm told can build a bridge finer than any other man/There's a certain peace to a country road with a wheel in your hand"—from "Road to Heaven"
For close to ten years, John Ondrasik has been recording with various bandmates under the moniker Five for Fighting, a hockey term for the penalty given to brawling players. Things started off with the 1997 release of Message for Albert, but it took the sophomore effort America Town to put Ondrasik on the map in 2000. A Platinum-selling effort that eventually earned him a Grammy nomination as a songwriter, the album was spearheaded by the hit single "Superman (It's Not Easy)," which became a post 9/11 anthem for New York's fallen heroes.
It was the perfect vehicle for the burgeoning artist's gifts—introspective writing, a distinctive falsetto-drenched vocal, and piano-based balladry inspired by '70s mainstays like Elton John and Billy Joel. And if "Superman" made a humbling introduction to a broader audience, it also paved the way for Ondrasik's increasingly maturing perspective in songwriting, evidenced by 2004 follow-up The Battle for Everything with the breakout smash "100 Years" about making the most of our days on this earth, not to mention "If God Made You," which explores faith in the tragic aftermath of a friend losing a child.
"That song took me aback after I wrote it," Ondrasik told Christian Music Today. "I've always looked at faith analytically, but that one was pure love, loss, and hope. It made me rethink my own interpretation of faith. 'If God made you, He's in love with me' is still my favorite line from the album."
Now comes Two Lights, an album even more inspired by world events, familial relationships, and yes, a little bit of soul searching. "Perhaps the biggest factor is becoming a father," says Ondrasik when asked about the newfound spiritual focus. "I now have new eyes to look through. But like so many, I have been looking to understand our place in existence my entire adult life."
His latest hit single "The Riddle" does indeed ask the bigger questions about why we're here in this life, ultimately serving as a love song to his 5-year-old son—"There are secrets that we still have left to find/There have been mysteries from the beginning of time/There are answers we're not wise enough to see/He said, 'You looking for a clue, I love you free.'" Such musings on mortality and eternity didn't come easily to the Los Angeles songwriter. "It took me over eighteen months to write, which I likely deserve for undertaking such subject matter. I have three phonebooks worth of research and readings for that song—Popes, theologians, philosophers, comedians, skeptics, scientists, and Bible passages."
Does that mean Ondrasik is a Christian? "My sister Shelley and I were raised in a Christian household, though we were not regular churchgoers. Shelley is currently in the process of ordination in the Presbyterian Church. I think you'd be correct in describing me as a seeker. But it's interesting how much religion—imagery, symbolism, or exploration—finds its way into my lyrics. I rarely start out with such intent, but God keeps finding his way into my songs."
The Almighty does come up, for example, in "Freedom Never Cries," a moving ballad that hearkens back to The Eagles' "Desperado." In it, Ondrasik sings about cherishing life ("I only talk to God when somebody's about to die") and appreciating the freedom we enjoy at the sacrifice of those who face enemies in war. He told us, "I've recently realized that I only have conversations with God when someone I love is ailing. I guess it's human nature to appreciate things more in time of need, and perhaps that realization is in the pavement of the road [to grace]." Similarly, the gorgeous title track finds a Vietnam veteran almost prayerfully coping with fear and pride for his son who chose to serve in Iraq.
The album's most overt exploration of faith comes with "Road to Heaven" (excerpted at the top of this article). With a mellow and soulful style straight out of the '70s, the ballad finds Ondrasik thinking out loud about what he believes. "On the way to my Grandmother's funeral, my son looked to a big cloudburst and asked, 'Daddy, what if there was a road to heaven?' It is the truest song for me in its sincere desire for a path to salvation."
The chorus of the song concludes, "If there was a road to heaven made of gold or made out of clay/Would the angels wave me up the hill, or in my mirror just fade away … If there was a road to heaven, it'd be one long and crazy ride/If there was a road to heaven babe, that's a road that I'd like to find." Perhaps one day—as Ondrasik continues to reflect more deeply with every album that he writes, it seems like he's that much closer finding the answers—and maybe the Answer—to life's greatest riddles.
Unless specified clearly, we are not implying whether this artist is or is not a Christian. The views expressed are simply the author's. For a more complete description of our Glimpses of God articles, click here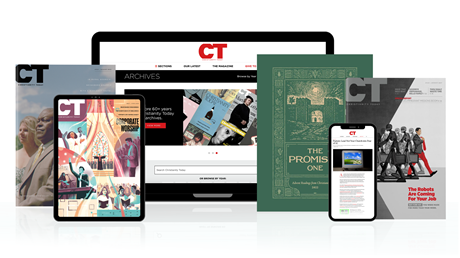 Annual & Monthly subscriptions available.
Print & Digital Issues of CT magazine
Complete access to every article on ChristianityToday.com
Unlimited access to 65+ years of CT's online archives
Member-only special issues
Subscribe
Two Lights
Two Lights