Appeals court says "health coverage" beats free exercise of religion
A New York law passed in 2002 requires employers' insurance plans to cover prescription contraceptives. "Religious employers" are exempt—but it's the law's definition of a religious employer that's the trouble. The only groups that qualify under the "Women's Health and Wellness Act" are those where "(1) the inculcation of religious values is the purpose of the entity; (2) the entity primarily employs persons who share the religious tenets of the entity; (3) the entity serves primarily persons who share the religious tenets of the entity."
In other words, if you're a church, you're fine. If you're a parachurch ministry, you almost certainly don't qualify. It's not terribly surprising, then, that the Roman Catholic Diocese of Albany (qualifies), which runs Catholic Charities (doesn't qualify), fought the law and sued over it when it was implemented. Perhaps more surprising is that the Catholics were joined by Baptist churches that don't oppose artificial contraception. They're concerned that the law lays the groundwork for requiring religious organizations to pay for abortion.
Yesterday, a New York appeals court ruled 3-2 in favor of the law, and against the religious organizations. The law indeed burdens the churches' right to the free exercise of religion, the court said, but giving them an exemption "may ultimately cause a greater number of women employed by nonexempt religious organizations to be without adequate health coverage."
The Christian groups had argued that funding artificial contraception would also create the impression that they supported such contraception. The court told them, in essence, that they should just preach louder to counter such impression. When words conflict with actions, the court suggested, words win out. (Parishioners, the court confidently said, would see the funding as "compliance under protest.")
That's baloney, said the two dissenting judges: "It is the fact that their opposition is so public and widespread which makes the Catholic plaintiffs, in particular, more susceptible to charges of hypocrisy, especially since, as has been emphasized, these plaintiffs could avoid supporting contraceptive use by choosing not to provide any prescription coverage to their employees."
The dissenters also criticized the majority and the New York legislature for making pronouncements about what groups are "religious" and what groups are "secular."
"We fail to see where the record establishes that an organization is automatically secular and not religious in nature if it employs or serves persons of different faiths or engages in the provision of charitable or social services," wrote Presiding Justice Anthony V. Cardona. "Nor do we see that making such assumptions and engaging in the formulation of 'religious tests' is an appropriate area of inquiry for the Legislature or the courts. … We have great difficulty with a statutory scheme which explicitly dissects the laudable activities of a given religious organization into two unequal parts, i.e., secular and ecclesiastical, and affords only the ecclesiastical portion an exemption from mandated conduct which the entire organization deems objectionable."
The New York State Catholic Conference has vowed to appeal.
"This case is not about the right to contraception," executive director Richard E. Barnes said in a press release. "We have never challenged employees' right to use contraception. We have simply maintained that our religious beliefs prevent us from paying for something we teach is sinful. We believe that the advocates of this legislation have their sights set on mandating coverage for abortion, in an attempt to destroy the Church's network of social services, hospitals, nursing homes and schools, which serve millions of New Yorkers every year."
Not that the debate is limited to New York. California went through this debate in 2004, with Catholic Charities eventually losing there, too. The U.S. Supreme Court refused to hear an appeal; let's hope that the justices recognize a growing constitutional debate when they see it and hear this case.
More articles
Abortion:
Life ethics:
War:
Bishops urge U.S. to transition out of Iraq | In a statement sent to Bush and Congress, Catholic prelates avoid the word "withdrawal," but say American troops should leave "sooner than later" (Los Angeles Times)


Statement: Catholic bishops call for "responsible transition" in Iraq; Urge "serious civil dialogue" (United States Conference of Catholic Bishops)


Supposing we could inoculate against religion | Life on Earth would be simpler and less blowy-uppy if religion didn't drive so many of its followers crazy—so why isn't anyone researching a drug that can cure it? (Charlie Brooker, The Guardian, London)


Mehmet Ali Agca:
Freedom could be fleeting for man who shot the Pope | Within hours of Mehmet Ali Agca's release the Turkish Justice Ministry and the Armed Forces were both threatening to curtail his new-found liberty (The Times, London)


Shooting of John Paul II: The man who nearly killed the Pope | As Mehmet Ali Agca spends his first night as a free man in 25 years, Rupert Cornwell recalls the day shots rang out in Rome, leaving one of the greatest conspiracy riddles of the 20th century (The Independent, London)


Why did he do it? | The release from prison of Mehmet Ali Agca, the Turk who narrowly failed in his attempt to assassinate Pope John Paul II in 1981, has understandably revived interest in one of the great unsolved whodunnits of the 20th century (Editorial, The Telegraph, London)


Crime:
'Rise in attacks on Christians' | Alleging 45 percent rise in crimes against missionaries during the last two years of Bharatiya Janata Party rule in Madhya Pradesh, the Madhya Pradesh Christian Association today claimed that fake cases were being registered against Christians, accusing them of being involved in religious conversion (Hindustan Times, India)


Judas:
Theology:
Stuck in the middle no more | The Catholic Church ends "limbo." What now? (Kenneth L. Woodward, The Wall Street Journal)


Evangelical Christians: another stereotype crumbles | Thousands of young, and it seems extremely hip, evangelical Christians are gathering in Sydney this weekend. As I understand, or at least hope, the message they're getting is anything but right-wing (Andrew West, The Sydney Morning Herald)


Pat Robertson:
Pat Robertson, a prophet to his believers | To those who share Robertson's conservative and "charismatic" Christian beliefs, his comments are less a sign of arrogance than of modern-day prophecy and a vivid sense that Bible-based forecasts are playing out in modern times (The Virginian-Pilot)


The U.K's new satanic panic:
'Pastor' held over abuse claims | Police have arrested a pastor allegedly involved in a case of child abuse, in which the parents were told their son was possessed by demons (BBC)


Pastor is arrested over 'child witch' cruelty claims | The pastor of a London-based African church has been arrested on suspicion of child cruelty after claims that he had been branding children as witches and ordering that they be sent back to Africa where he would pray for them to die (The Times, London)


Pastor is arrested after inquiry into claims of cruelty to 'child witches' | A London-based pastor has been arrested on suspicion of inciting child cruelty following an investigation into allegations of witchcraft at an evangelical Congolese church in Tottenham (The Telegraph, London)


The U.K's old satanic panic:
When Satan came to town | In 1990 the Devil came to Rochdale (BBC)


Lost years of 'satanic panic' children | Their children—now grown up—have never before spoken of their ordeal because of a court gagging order (BBC)


Children sue in false abuse claim | Twelve children who were wrongly taken from their families because of false allegations of Satanic abuse, are suing the local council for compensation (BBC)


Church and state:
ACLU takes up cause of inmate banned from preaching | Prison officials maintain that allowing convicted murderer Wesley Spratt to preach poses a "security risk." (The Providence Journal, R.I.)


Principal under fire for assemblies led by religious group | Lawyers for Chicago Public Schools are investigating whether the principal of Lane Tech High School violated district policy by holding mandatory assemblies led by an evangelical Christian ministry group (Chicago Tribune)


ID and evolution:
Federal judge seeks to define 'creationism' | The definition of "creationism" has become cloudier with a federal judge's decision last Dec. 20 that barred mention of "intelligent design" theory when schools treat evolution (Associated Press)


Making a case for ID and evolution in classrooms | If evolution is allowed in the classroom, creation should be also. Plain and simple: To leave one out is censorship (Alva James-Johnson, South Florida Sun-Sentinel)


Missions &ministry:
Churches left to continue work of Graham festival | Office here to close 2 months after event that drew more than 27,000 (The Shreveport Times, La.)


Church groups back cardinal's remarks on 're-Christianising' | The head of the Roman Catholic Church in Scotland last night won support for his controversial claim that other faiths needed to realize they lived in a Christian country (The Scotsman)


Church life:
Church split suit again denied | An Orange County judge on Thursday struck down a final attempt by the national Episcopal Church to sue for the property of three breakaway churches, including All Saints Church in Long Beach (Long Beach Press-Telegram, Ca)


Also: Judge: Breakaway Episcopal congregations can keep property (North County Times, San Diego)


Ethiopians in D.C. region mourn archbishop's death | Leader nurtured Orthodox Church in Americas (The Washington Post)


In the footsteps of Christianity | For theology student Daniel Miles, the 'view from here' is Greek Orthodox history (The Huntsville Times, Ala.)


TV and film:
'God or the Girl,' A& E's faith-based initiative | Notwithstanding the tight shot of the tight T-shirt on the well-endowed woman in the clips shown to critics, the docu-soap "God or the Girl" treated the four young men trying to decide whether to enter the priesthood with the utmost respect, said executive producer Darryl Silver of the project for A&E—the network of "Dog the Bounty Hunter," "Criss Angel Mindfreak," "Dallas SWAT" and "Rollergirls" (The Washington Post)


'Brokeback' conviction | The "gay cowboy" movie everybody is talking about is a reminder of what we're called to do as Christians — and how we're called to do it (Gary Schneeberger, Family News in Focus, Focus on the Family)


'Narnia' invites all who see it to find Christ | The Chronicles of Narnia: The Lion, the Witch and the Wardrobe is a far more effective witness to the redemptive power of sacrifice than The Passion of the Christ will ever be (Steve Gushee, Palm Beach Post, Fla.)


Other stories of interest:
King family Bible will be auctioned | The old family Bible, stained and worn and encased in black leather, is inscribed simply "Alberta W. King, Feb. 23, 1962" (The Atlanta Journal-Constitution)


Taxpayer-funded study recommends repealing law that bans polygamy in Canada | "Criminalization does not address the harms associated with valid foreign polygamous marriages and plural unions, in particular the harms to women," says Justice Department report. (Canadian Press)


Jerseys sport biblical tone | Istead of hearkening back to classic NBA or NFL uniforms, ristian Throwback Jerseys invoke books of the Bible (The Birmingham News, Ala.)


Holistic specialist strips away emotional junk | Does this bitterness make my butt look big? (Cathleen Falsani, Chicago Sun-Times)


Related Elsewhere:
Suggest links and stories by sending e-mail to weblog@christianitytoday.com
See our past Weblog updates:
January 13a | 10
January 6 | 5 | 4
December 28 | 21 | 16 | 14 | 12
December 9 | 7 | 6
December 2b | 2a | November 30
November 23 | 22 | 21
Weblog
Launched in 1999, Christianity Today's Weblog was not just one of the first religion-oriented weblogs, but one of the first published by a media organization. (Hence its rather bland title.) Mostly compiled by then-online editor Ted Olsen, Weblog rounded up religion news and opinion pieces from publications around the world. As Christianity Today's website grew, it launched other blogs. Olsen took on management responsibilities, and the Weblog feature as such was mothballed. But CT's efforts to round up important news and opinion from around the web continues, especially on our Gleanings feature.
Ted Olsen is Christianity Today's executive editor. He wrote the magazine's Weblog—a collection of news and opinion articles from mainstream news sources around the world—from 1999 to 2006. In 2004, the magazine launched Weblog in Print, which looks for unexpected connections and trends in articles appearing in the mainstream press. The column was later renamed "Tidings" and ran until 2007.
Previous Weblog Columns: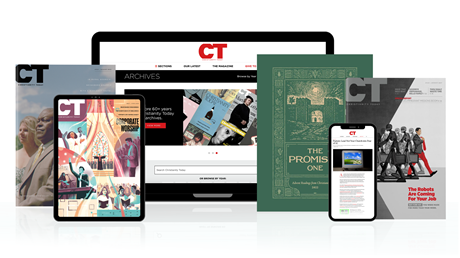 Annual & Monthly subscriptions available.
Print & Digital Issues of CT magazine
Complete access to every article on ChristianityToday.com
Unlimited access to 65+ years of CT's online archives
Member-only special issues
Subscribe
N.Y. Court: Religious Groups Must Pay for Contraceptives
N.Y. Court: Religious Groups Must Pay for Contraceptives