Campus ministries have spurred tremendous growth in the evangelical movement during the last 50 years by shaping minds and stirring hearts for missions. Mid-20th century ministries, such as Campus Crusade for Christ and the Navigators, have much in common with movements at the University of Cambridge during the 18th and 19th centuries that directly led to InterVarsity Christian Fellowship.
Evangelical faith garnered a cold reception at British universities during the late 18th century. Church of England stalwarts at Oxford were hostile to the Methodist movement led by the Wesleys. In 1778, Oxford expelled six students for organizing a Sunday-night Bible study.
Cambridge was not much different. Charles Simeon was a typically nonreligious student when he enrolled at King's College, Cambridge, in 1779. Yet Simeon took required participation in Communion seriously. "Satan was as fit to attend as I," he admitted. But after Holy Week meditations on Christ's sacrifice, he woke up Easter morning exclaiming: "'Jesus Christ is risen today; Hallelujah! Hallelujah!' From that hour," he said, "peace flowed in rich abundance into my soul, and at the Lord's Table in our chapel I had the sweetest access to God through my blessed Savior."
During three years of college, Simeon did not meet a single serious Christian. After graduation, he began serving as vicar of Holy Trinity Church near the college in Cambridge. When Simeon began his tenure at Holy Trinity, only a few Church of England clergy considered themselves evangelical. Partly due to his vibrant, Cross-centered preaching, evangelicals increased their share to one-third by Simeon's death in 1836.
Under Simeon's preaching in 1827, four students organized a Sunday school for Cambridge's impoverished children. On their first Sunday, 220 kids attended the class, dubbed the Jesus Lane Sunday school.
The Jesus Lane lot spun off other groups. Former Jesus Lane teachers encouraged two first-year students to launch the Daily Prayer Meeting in 1862. They attracted around 100 of the university's 2,000 students and featured evangelistic speakers, prayer, singing, and Scripture reading.
By 1877, there was enough evangelical activity that students from across Cambridge's 17 colleges organized the Cambridge Inter-Collegiate Christian Union (CICCU), which focused on evangelism and encouraged students to pursue missionary careers. CICCU president J. E .K. Studd invited D. L. Moody and Ira Sankey to Cambridge in 1882. Studd's father had earlier professed faith in Christ during a Moody visit to London.
Moody and Sankey's visit to Cambridge got off to a rocky start. The first night, the students jeered Moody throughout his message on Daniel. Not many bothered to show up the next two nights.
Studd scrambled to salvage the visit. As captain of the cricket team, he had some influence. So he composed a letter for the school newspaper that appealed to his classmates' pride. A warm reception for Moody, Studd explained, would dispel rumors that Cambridge students could not behave "even as well as those far below them in the social scale" or—gasp—Oxford students. During Moody's last nights at Cambridge, large audiences listened attentively. After Moody departed, missions giving increased and more students showed interest in Cambridge's graduate theology school.
More than a century later, CICCU still witnesses for Christ as Cambridge's longest-tenured student group, and its legacy extends across the Atlantic. CICCU joined similar groups from other campuses to form British InterVarsity in 1919. Nine years later, InterVarsity leader Howard Guinness left for Canada to aid Christian students there. Scattered evangelicals on U.S. campuses heard about InterVarsity in Canada and requested help starting their own chapters.
Evangelical faith still may not be the most popular thing at universities. Without these forerunners, though, today's campus ministries might not be nearly so vibrant.
Related Elsewhere:
More Christian history, including a list of events that occurred this week in the church's past, is available at ChristianHistory.net. Subscriptions to the quarterly print magazine Christian History & Biography are also available.
Previous Christian History Corners include:
Dorothy Sayers: "The Dogma Is the Drama" | An interview with Barbara Reynolds. (Dec. 16, 2005)
Sharing Stories from the Heart | The lessons of history are fair game for use today. (Dec. 9, 2005)
Eat, Drink, and Relax | Think the Pilgrims would frown on today's football-tossing, turkey-gobbling Thanksgiving festivities? Maybe not. (Nov. 18, 2005)
Is It Wrong-Headed to Translate the Gospel for Culture? | Christian History Corner takes on the Christ and culture debate. (Oct. 28, 2005)
Old Words, Vibrant Faith | Christian pop/rock band Jars of Clay explains why the church needs more Redemption Songs. (Oct. 21, 2005)
J.S. Bach: For the Glory of God | Such humility is exceedingly rare among those who have gained worldwide fame (Oct. 14, 2005)
Article continues below
Bringing Peace to Paradise | The wave of the future needs the wisdom of the past (Oct. 7, 2005)
Emergents, Meet Saints! | The wave of the future needs the wisdom of the past (Sept. 30, 2005)
From Mutual Aid to Global Action | How the Anabaptist emphasis on practical acts of love led a tightly knit enclave to reach out to the world. (Sept. 23, 2005)
The Trailblazer | The first evangelical missionary to India set out to prove that the gospel does not destroy culture but transforms it from within. (Sept. 16, 2005)
Reformation Reoriented | Mark Noll and Carolyn Nystrom evaluate the Catholic/evangelical detente in Is the Reformation Over? (Sept. 2, 2005)
Ministries of Mercy: Mother Teresa | She stirred a generation by touching the untouchables. (Aug. 26, 2005)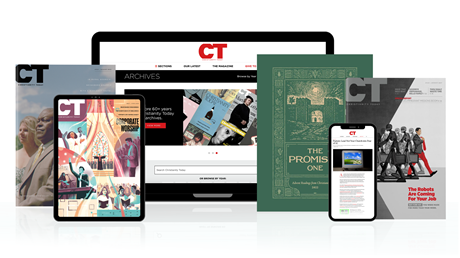 Annual & Monthly subscriptions available.
Print & Digital Issues of CT magazine
Complete access to every article on ChristianityToday.com
Unlimited access to 65+ years of CT's online archives
Member-only special issues
Subscribe
Campus Ministry Cambridge Style
Campus Ministry Cambridge Style