Before launching into this business, we should pause to note the passing of the writer Susan Bergman, a Books & Culture contributing editor, who died on January 1. Her book Anonymity (Farrar, Straus and Giroux, 1994) is one of the finest memoirs to be published in the last half of the 20th century. Both in its literary excellence and in its unsparing truth-telling, it set a high standard for Christian autobiography. We'll have more on Susan in the pages of the magazine.
So many books, so many magazines, so many words—one great blooming, buzzing confusion, but with an order underlying it all, the outlines of which we are able to grasp and the splendor of which—in all its magnificent excess—demands praise. In a recent issue of the journal Markets & Morality (Vol. 8, No. 1, 2005), John Schneider of Calvin College has a review of Christopher J. H. Wright's Ethics for the People of God (InterVarsity, 2004). I recommend both the book and the review, which is largely critical. Schneider observes that, "on the matter of human flourishing, Wright omits discussion of creation narratives—most notably Eden—and he works very hard to remove all traces of extravagance from key narratives of the Land, so as, we suppose, to bring them into line with a Christian ethics of temperance and moderation. In consequence, the exorbitant description of God's vision of Israel's (Deut. 8) flourishing in a good land, flowing with milk and honey, bursting with copper and iron, where their herds and houses will become large, and so forth, gets distilled into a paradigm of sufficiency." Consider this Corner an homage to divine extravagance.
Here then are some subjective "awards" for the past year or so:
Best Reader:Remembered Past: John Lukacs on History, Historians, and Historical Knowledge, edited by Mark G. Malvasi and Jeffrey O. Nelson (ISI). Talk about "extravagance"! Bless ISI for giving us this splendidly fat sampling from Lukacs' prodigious output (including a bibliography of his writings). And Lukacs is still at work; his latest, June 1941: Hitler and Stalin, is due in April from Yale University Press. Down the road from ISI: a Solzhenitsyn Reader, including some previously untranslated material.
Greatest Triumph of Scholarly Publishing:The Correspondence of William James (Univ. of Virginia Press). The publication of the 12th volume, edited by Ignas K. Skrupskalis and Elizabeth M. Berkeley, on the cusp of 2005 marked the completion of a great treasure for scholars and enterprising readers more generally. Look for more on this edition in our pages.
Most Intriguing Literary Discovery of the Year: Philip Terzian, Books & Arts editor for The Weekly Standard, was browsing in the 1928 Summer Social Register when he discovered a mock-entry supplied by T. S. Eliot in which Eliot gave himself and his first wife, Vivien, three nonexistent daughters (Betty, Verona, and Aurelian) and a castle in East Coker. As Terzian observes, Eliot's "marriage was a source of constant tension and anxiety, and friends were disturbed by his breakdowns and torment." It was then, also—in 1927—that Eliot became a British citizen and was "baptized and confirmed in the Church of England." If "Eliot's state of mind" at this time remains mysterious, "cloaked by reticence and deliberate obscurity," nevertheless, Terzian concludes, "Old Possum appears to have lurked near the surface, the squire of Castle Eliot and his three adoring daughters." Terzian's essay and a copy of the mock-entry appeared in the September 19, 2005 issue of TWS.
Favorite Book-Jacket Designer of the Year: Gabriele Wilson at Knopf. In my list of favorite books for 2004, I mentioned Wilson's marvelous design for Peter Steinhart's The Undressed Art: Why We Draw. She continued to do excellent work in 2005. See for example the cover she designed for Lynn Nicholas' Cruel World: The Children of the Europe in the Nazi Web. It's very difficult to design a cover on this subject without falling into kitsch or cliché or, on the other hand, distancing the reality of it in an attempt to be hip. Wilson solved this problem brilliantly with a cover that imitates design of the 1940s, giving it a slightly faded look, as of a document retrieved from obscurity. Her colleague at Knopf, Chip Kidd, is justly famous, but Wilson too deserves to be recognized. We'll be reviewing the Nicholas book along with a related book just coming out this month from Knopf, Witnesses of War: Children's Lives Under the Nazis, by Nicholas Stargardt.
Favorite Magazine Article of the Year: Burkhard Bilger, "Sole Survivor: One man's quest to find the best shoes ever made" (The New Yorker, February 14 & 21, 2005). It was very hard to make the final choice for this award. I read so many outstanding articles in the course of the year, in so many genres, in so many different keys—and some of you who emailed me with your nominations sent me to gems I had missed. I love Bilger's essay for many reasons, not least because I am a lifetime walker, and it reminded me (among other things) of many walks I've taken over the years with my son, Andrew. Another reason is the figure at the center of the piece, Petr Hlavacek, a "professor of shoe technology at Tomas Bata University, in the Czech city of Zlin," a man whom Bilger portrays with the virtuosity of John McPhee at the height of his powers. Yet another reason is the Central European setting and the curious history of this particular city. And then there is Hlavacek's fascination with the footwear of the frozen man found in a glacier in South Tyrol, who was thawed out after more than 5,000 years. Hlavacek painstakingly constructs a replica of the ancient shoes and pronounces them superior to many that are currently on the market. Did I mention that the piece is superbly written, from the very first sentence?
Next week: some coming attractions from 2006.
Related Elsewhere:
Also posted today is:
Books & Culture's Top Ten Movies | We open the New Year with a look back at the films of 2005. Here are the Top Ten lists of B&C regulars Roy Anker and Peter Chattaway.
Books & Culture Corner and Books & Culture's Book of the Week, from Christianity Today sister publication Books & Culture: A Christian Review (want a free trial issue?), appears regularly on Tuesdays at Christianity Today. Earlier editions include:
Not Just Looking | Books for the eye. (Dec. 27, 2005)
The Top Ten Books of 2005 | A charming bedside miscellany, a new novel by P. D. James, and much more. (Dec. 20, 2005)
How to Survive a Bookalanche | Some more keepers from 2005. (Dec. 13, 2005)
'Tis the Season for Books (And Lists of Books) | Part one of our 2005 roundup. (Dec. 6, 2005)
Taizé in the Fall | A parable of community. (Nov. 29, 2005)
'Have Mercy on Me, O God' | A report from AAR/SBL. (Nov. 22, 2005)
The Shrine Next Door | A superb study of Chinese popular religion helps to set the context for the appeal of Christianity in China today. (Nov. 8, 2005)
Dissecting Divorce | A new book by Elizabeth Marquardt offers a child's-eye-view of divorce. (Oct. 25, 2005)
Heavenly Real Estate | A geography of art in New York at the midpoint of the 20th century. (Oct. 18, 2005)
Narnia Etc. | A chronicle of reading. (Oct. 11, 2005)
How Wide the Divide? | A proposal for compromise between "value evangelicals" and "legal secularists" on church-state issues. (Sept. 13, 2005)
Poet with Three Heads Talks with King Solomon | Conversation touches on Hebrew parallelism, marriage, and the making of many books. (Aug. 30, 2005)
For book lovers, our 2005 CT book awards are available online, along with our book awards for 2004, 2003, 2002, 2001, 2000, 1999, 1998, and 1997, as well as our Books of the Twentieth Century. For other coverage or reviews, see our Books archive and the weekly Books & Culture Corner.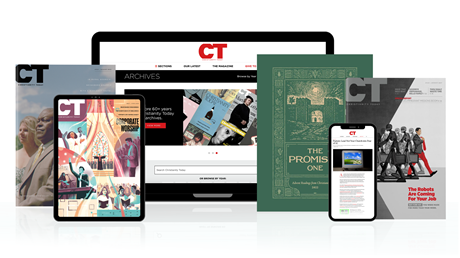 Annual & Monthly subscriptions available.
Print & Digital Issues of CT magazine
Complete access to every article on ChristianityToday.com
Unlimited access to 65+ years of CT's online archives
Member-only special issues
Subscribe
Ring Out the Old Year
Ring Out the Old Year