true
Garnering almost 43 percent of the vote, The Chronicles of Narnia: The Lion, The Witch and The Wardrobe was the clear choice for No. 1 among almost 3,000 voters. That's more than double the number of last year's voters, when readers voted The Passion of The Christ the top movie of 2004.
For the second straight year, we have a runaway winner in our Readers' Choice Awards.
We had already named our choices for the best films of 2005 in two lists—our Most Redeeming Films list and our Critics' Choice list. And now it was the readers' turn.
And like last year, the only question was not who would finish No. 1, but No. 2. A year ago, it was The Incredibles, and for 2005 movies, it's Cinderella Man, with 7.8 percent of the vote. Crash finished third with 5.9 percent, just edging fourth-place Walk the Line.
Rounding out the top 10 are Batman Begins, Star Wars: Episode III—Revenge of the Sith, March of the Penguins, Pride & Prejudice, Harry Potter and the Goblet of Fire, and Hitch.
Finishing just outside of the top 10 were Charlie & the Chocolate Factory, King Kong, Madagascar, and The Constant Gardener.
We also asked readers for comments on their No. 1 choice, and here's a sampling of what they were saying about the top three films:
The Lion, The Witch and The Wardrobe
"It just has a beautiful feel to it. You get wrapped into their world throughout the movie, and it has a great sense of hope."
"I was impressed with the faithful adaptation that Walden Media did with LWW as well as Because of Winn-Dixie. As a children's librarian, I always want readers to compare the book to the movie, and these are two examples of good comparisons."
"The part of Aslan laying his life down for a boy showed a picture of how Christ laid his life down for me—such a wonderful thing."
"I walked away feeling like a child again. It was so engaging and uplifting."
"A beloved book brought to life, and so true to the book. Was a little disappointed in the way Aslan was portrayed; he was more of a majestic presence in the books than in the movie. Still, in all, it was a satisfying experience."
"C.S. Lewis intended the story of Narnia to serve as an allegory for the story of the gospel—of Christ's suffering, death and resurrection—and the movie delivers the message with flair."
"It's timeless."
"Entertaining, meaningful and family oriented."
"The Christian message came through loud and clear."
"True to the novel—I only wish the message wasn't as obscure as it was."
"A magical, wonderful film about the power of redemption and sacrifice. Beautiful to watch and the child actors all brought such life to their characters."
"I had more goose bumps with this movie than with The Passion."
"It appealed to my whole family, so I did not have to get a babysitter to go!"
"Verbal pictures were convincingly transferred to visual images."
"It was a truly inspiring film and it was wonderful to see a movie with no profanity, ungodliness, etc."
"I truly enjoyed how they brought the Allegory to life. It stirred my heart and reminded me of being a kid all over again! Long live Aslan!"
Cinderella Man
"It depicted a man of integrity. He taught his son what was right and followed through with him. He kept his word."
"A good story of hope, courage and determination."
"I like true life stories that especially are inspirational. Story, directing and acting all excellent."
 "A story of a family that fought as a family to get through hard times together. The portrayals were honest, heartfelt and poignant. By far the most touching story told on the screen on 2005."
"Good movie that is set in a very difficult time in American history. Realistically showed the tender and heartbreaking situations families had to endure. It made me appreciate all the blessings I have in my life and realize how hard my grandparents had to work just to survive."
"It was a story of perseverance and hard work during a very difficult time in the life of a family that needed to hang on to hope."
"It demonstrated so well the triumph of the human spirit over adversity. The everyday hero looked destitution squarely in the eye. Against his devoted wife's objections, he built himself up to take one more shot in the ring. He was too old and too injured to pursue that route, but his young family suffered without food and heat—too deep in poverty for him not to find a way out. He kept his family together. That was Braddock's greatest desire—not money or fame, but the ability to be a man and a provider for his household."
"The fact that the family depended on faith and each other was wonderful. They thanked God for what little they had and refused to be pulled apart."
"A great story of family love, fighting to survive and make it in a tough world, and never giving up!"
"I always like to see something good about an Irish-Catholic American!"
"A real life Rocky with a real actor, Crowe. Inspiring. 'Don't give up' message. Underdogs do win."
Crash
"The first movie to responsibly deal with all forms of racism and race relations is absolutely amazing!"
"Incredibly well written and acted. Faced real issues of race, gender and class. Kept your attention and was definitely intense. I found it compelling and moving. Bravo!"
"It powerfully and effectively conveyed a needed message."
"The story unfolded uniquely, with a human interest message regarding judging others."
"It stayed with me."
"Makes a person think about life."
"A brilliant look at how deeply imbedded racist attitudes are—and how redemption can only come through understanding each other."
"An interesting ensemble piece that addressed the many faces of racism, including how we can be hypocritical within ourselves about it."
"One of the most truthful movies I have seen. It depicts the human condition, and hatred for what it really is—the human condition consists of deceit, hatred and abuse—but still a flickering a love comes out when least expected."
"Deeply moving, gritty, insightful, with some of the most powerful dramatic movie moments of the year. Superb ensemble acting. Can't stop thinking about it."
"It isn't Hollywood formulaic where there are 'good guys' and 'bad guys,' because it shows that each person has strengths and weaknesses. It does a fantastic job correlating human fear with unfair prejudices."
"I am an African-American who deals with the racism that is woven into the fabric of our society. I am not asking for sympathy or special treatment, but I would like others to understand that it's not easy being African-American because of the negative stereotypes. The movie conveyed what I have tried to explain to others."
"People forget that no matter what race, creed, gender, age or religion, we were all made in God's image. We are all here for each other and to look out for each other. I think everyone needs to see this movie."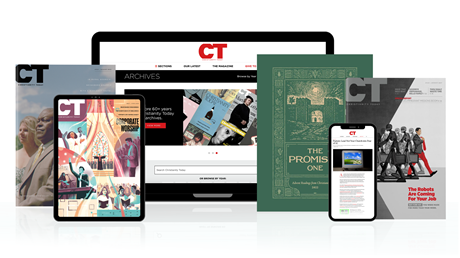 Annual & Monthly subscriptions available.
Print & Digital Issues of CT magazine
Complete access to every article on ChristianityToday.com
Unlimited access to 65+ years of CT's online archives
Member-only special issues
Subscribe
Readers Pick Narnia
Readers Pick Narnia