true
Our heroine is one half of an attractive Atlanta couple, living in a luxurious home as the partner of a handsome professional. When they're out together, people seem to bask in their easy glow: They're such a lovely couple. But all isn't as it seems …
Wait. Wasn't that Diary of a Mad Black Woman?
Well, how about this: A hardworking young woman is wounded and alone because her mother neglects her, choosing instead to lavish attention on her sister. The young woman's inner and outer beauty goes unnoticed until the day a handsome "prince" comes along and …
And it would be easy to say that if you've seen Diary—or Cinderella—that you've seen Madea's Family Reunion. That's a fair critique, but it's not quite the whole story.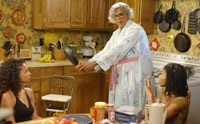 The film starts with the story of Lisa (Rochelle Aytes), who lives with fiancé Carlos (Blair Underwood) in a palatial 30th floor condo. It's clear almost from the beginning that, despite the boulder on her left hand and his romantic gestures, Lisa's rightfully terrified of Carlos, an investment banker and self-described "collector of fine things" who can't seem to stop battering his favorite one.
When Lisa confides in her mom, Victoria, the cunning, leonine mother of the bride (played tautly by Lynn Whitfield) shocks her daughter—and the audience—by telling her to grow up and be a good wife, because there are just some things a woman must endure to be comfortable. After all, she doesn't want to end up like her sister, does she?
That sister, Vanessa (Lisa Arrindell Anderson), works in an upscale bridal shop to support herself and her two young children. They're just getting by for now, living with Madea (Tyler Perry), who has been ordered by Judge Mablean Ephram to take in hardened foster child Nikki (Keke Palmer) or face prison time for removing the monitoring bracelet she picked up in Diary. Vanessa's prince, Frankie (Boris Kodjoe), arrives early, but must help Anderson's deeply emotive Vanessa face her fears about love.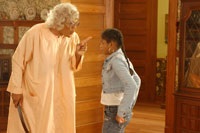 Vanessa's story is actually the more interesting and conflicted of the two sisters, and she's the character who truly overcomes her difficulties and experiences a much-deserved fairytale ending. Aytes and Underwood portray a tense relationship, and Underwood and Whitfield reveal their own, different kind of tension in an unexpected plot twist. The film also includes exceptional, breathtaking moments featuring Cicely Tyson and Maya Angelou as matriarchs who seem to glow with wisdom, peace and joy. The always-fabulous Jenifer Lewis plays an ultra-serious wedding planner who designs an absolutely gorgeous wedding.
As always, Perry's Madea is fierce and funny, coming to the easy, no-holds-barred defense of those she loves, schooling the women on how to protect themselves (think breakfast and Al Green) and keeping mouthy kids in check. She's responsible for most of the film's hilarity, creating several gut-busting moments with her rapid wordplay, her even faster fists and her own dramatic interpretation of one of Sofia's monologues from The Color Purple. (Speaking of pop culture references, watch the scene from a famous episode of Good Times playing on the TV in the background as Madea irons and prepares to, uh, discipline Nikki).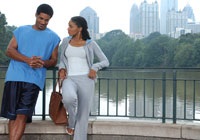 Madea's Family Reunion follows multiple storylines, using dramatic peaks and valleys and abrupt, 0-to-60-in-10 emotional speeds before culminating in two climactic moments—one related to the plot, and the other (in fact, the titular moment) deeply powerful but only incidentally related. As a result, it feels like it's been transferred to the big screen rather than adapted for it.
It picks up and drops storylines in ways that detract from its storytelling potential. For example, all Nikki needed was some hard words, someone to help with homework and a good belt-whippin', and she's a model child. It also relies on dramatic expository scenes when it could focus on character development. Why's Vanessa so wounded? Hang on, she'll tell you—and start moving past it—in the same scene. How does the audience know that Lisa is so passive and weak because someone's always done her fighting for her? Well, she just said so. And in case Vanessa and Frankie's more natural hairstyles and visit to poetry-and-paint night at the club don't contrast starkly enough with Lisa and Carlos' appearance and night out: The first is the more natural couple.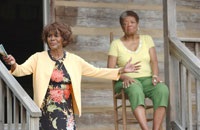 Still, one hopes that some of the more subtle messages about race and class are accidental. Madea's Family Reunion is the second Perry film in which a leading character's professional, brown-skinned husband is shallow and abusive. Diary's Helen and this film's Vanessa find love with lighter-skinned blue-collar men who also happen to have the souls of poets. These men are willing to live through the drama of the woman who's been burned by love. The wise, grounded folks have stayed close enough to the 'hood to be in touch with reality. They know how to defend themselves, live by their values, and help the upper-middle-class folks, whose money or bourgeois values have sheltered them from real life.
This may not be the film that transforms Perry's haters into congratulators (unless they are looking at the box office receipts; the movie grossed more than $30 million its first weekend, finishing No. 1). But in case no one's noticed, that's never really been the point. Perry's plays—and his films—reach an audience many in Hollywood weren't aware existed. He tells stories of dreamy black heroines who find their voices, features attractive and attentive Prince Charmings, highlights the beloved matriarchs who care for their families and solve problems with gentle wisdom and peace (or, in Madea's case, wisecracking wisdom and a piece), and hilarity that includes cultural in-jokes while walking that line between merely bawdy and truly blue. Some characters are Christians whose faith has transformed their lives in normal but significant ways. Although his work isn't high art and is occasionally problematic, he's telling stories that aren't often told, and he has created his own niche by tapping an untapped market. It's a start. And for that, this black woman can't be too mad at him.
Talk About It
Discussion starters
When Aunt Ruby observes her younger family members gambling and dancing lewdly at the family reunion, she asks, "Is this what we paid for?" What does she mean? How do you feel about Aunt Myrtle's comments afterward?


Lisa's mother tells her that there are some things a woman puts up with so she can have security. What trade-offs do people make for relationships? When is that a good thing, and how can it be bad?


Lisa says she's never had to fight for herself, because people have always fought for her. What is the value of learning to hold your own? Is it possible to guide or protect a child too much?


Madea doesn't hesitate to use corporal punishment. What are your thoughts about spanking or striking children? When is it appropriate? Inappropriate?


If Vanessa and her mother were able to have a truly healed relationship in the future, what do you think it would look like?
The Family Corner
For parents to consider
This PG-13 film is not appropriate for children. Themes include domestic violence and several scenes of implied and actual physical and psychological abuse. Sexual scenes include a tension-filled discussion between two characters, older male relatives ogling a young woman and an appearance by a stripper. An unmarried couple shares a bed, but does not have sex. Language is frequently coarse and includes flatulence jokes.
Copyright © 2006 Christianity Today. Click for reprint information.
What Other Critics Are Saying
compiled by Jeffrey Overstreet
from Film Forum, 03/02/06
Apparently there are more pages in that Diary of a Mad Black Woman.
Madea's Family Reunion brings back writer/director Tyler Perry in the role of the obese black woman who punishes anyone who gets in her way. It follows a couple of plot threads: Madea's endeavors to give guidance to a young troublemaker (Keke Palmer), and the domestic abuse suffered by another woman (Rochelle Aytes) at the hands of her fiancé (Blair Underwood). Maya Angelou and Cicely Tyson show up later as the film narrows to deliver an exhortation to live responsibly and conscientiously.
But do these disparate elements hold together well?
Adam R. Holz (Plugged In) calls it "a curious—and compelling—film. Even though it's been marketed as a comedy (and it does have many comedic scenes), at its core it's a sober movie about serious issues. Domestic violence. Sexual abuse. Family dysfunction. Wealth and poverty. God's redemptive work. These aren't the kinds of subjects I'm used to seeing in a comedy. Hence my use of the word curious."
He goes on to congratulate Perry "for creating strong characters whose lives rest on bedrock principles of morality, discipline and, in Vanessa's and Frankie's cases, faith. Unlike so many depictions of Christians in recent years, Madea presents the pair as three-dimensional people whose love for God shapes their decisions." But then he wonders why the director had to include "the more salacious and gratuitous content in the film."
David DiCerto (Catholic News Service) says it's "a heartfelt and agreeable affirmation of faith, family and forgiveness — highlighted by emotional speeches by Cicely Tyson and Maya Angelou (in cameos) about black dignity — that's easy to applaud, despite its message-heavy sentiment and intermittent vulgarities."
Chris Utley (Hollywood Jesus) raves, calling it "hilarious, romantic, intense and deeply profound … Like a good plate of soul food, the film sticks to your ribs as you leave the theatre with a huge smile on your face! I can't wait to see it again!"
Mainstream critics aren't very comfortable with Madea.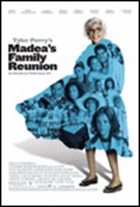 Browse All Movie Reviews By: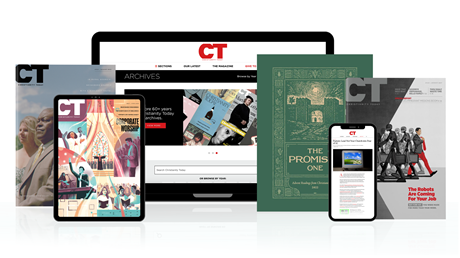 Annual & Monthly subscriptions available.
Print & Digital Issues of CT magazine
Complete access to every article on ChristianityToday.com
Unlimited access to 65+ years of CT's online archives
Member-only special issues
Subscribe
Tyler Perry's Madea's Family Reunion
Tyler Perry's Madea's Family Reunion